Over the past few years, we have received numerous book recommendations by MBA students (some of whom are now alumni) of the most interesting and insightful books that teach lessons not just on business or management but also on life. These are the best MBA books to read for those aspiring to join business schools, as well as for those already in their dream B-schools, looking forward to their life in the corporate world.
Here, we have compiled 25 of the best MBA books recommended by B-schools students (some of whom are now alumni) on InsideIIM.
Man's Search For Meaning - Viktor E. Frankl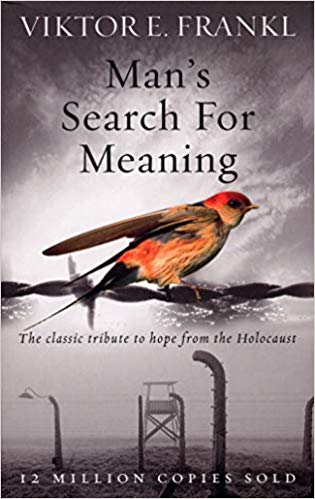 Viktor E. Frankl, a holocaust survivor, explains in this book the lessons on social survival that he and fellow prisoners grasped during his time in Nazi camps. He tries to bring out the message that one cannot avoid suffering but we can choose how we cope with it and move forward in our lives. This poignant but thought-provoking book is still a best-seller and a favourite of bibliophiles across the world.
· "How is it possible to write dispassionately of life in a concentration camp in such a way as to engender great feeling in the reader? This is how Frankl dealt with his experience of those terrible years. The dispassionate writing makes the horrors of the camp extremely distressing, more so than writing that is more emotionally involved. It is almost reportage."
· "This book stands out as one of the most helpful tools I've found in my life-long search for the way to live and be useful to others despite depression."
This book is available in paper-back at Amazon.in for Rs. 160.
This book is a compilation of the research the author conducted for his other best-seller books, and focuses on sending out the message that the ultimate power that everyone seeks is Mastery at what they do, and who they are. Robert Greene draws from the lives of icons such as Charles Darwin, Benjamin Franklin, Albert Einstein and Henry Ford, among others, along with interviews of various masters of the modern world, and analyses patterns of success that exist(ed) in their lives.
· "Best book I've read in a while, mainly because it's one of the few books I've found on long-term skill and personal development for excellence."
· "Definitely one of the greatest books I've ever read. Greene brings together the stories of various masters over the centuries - from scientists to pilots to boxers to writers - to show how one truly masters a field."
This book is available in paper-back at Amazon.in for Rs. 480.
Zero To One - Peter Thiel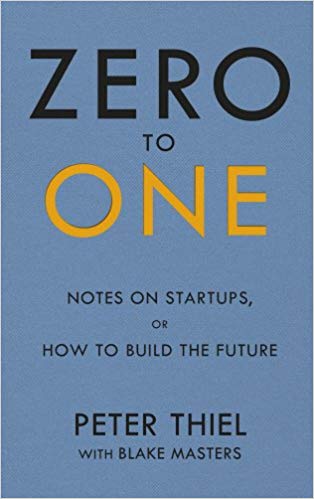 'Zero To One' is an insight into the mind of Peter Thiel, an American entrepreneur and the founder of PayPal. The books speaks about Peter Thiel's journey from founding PayPal to becoming a billionaire by the age of 35, wherein he shares his experiences and learnings from being a successful entrepreneur, and explains his business philosophy and strategy. This is a must read book for future business leaders and entrepreneurs.
· "A fascinating book, great for investing and entrepreneurs. I like how he really focuses on contrarian thinking, and his mental models for it."
· "The premise of Zero to One is enlightening. We always think of business in terms of cut-throat competition. But Thiel makes a very convincing argument that most successful businesses avoid competition whenever possible. The natural extension of that is one should only found a business with a clear path to monopoly. For me, at least, it kind of turned everything I thought I knew about corporate America inside out."
The paper-back version of this book is available for Rs. 200 at Amazon.in.
How To Win Friends And Influence People - Dale Carnegie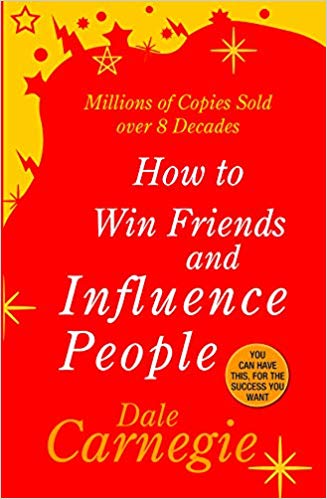 Another master-piece by Dale Carnegie, this was the American author's first major book which, to this day, is a best-seller, and features in TIME magazine's 100 Most Influential Books ever written. The book is one of the most influential books in American history. It comprises 6 major sections that target topics such as ways to make people like you, fundamental techniques to handle people, how to become a leader etc. A lot of interesting stories related to this book have also come out in the public domain, such as its use by cult-leader and infamous criminal Charles Manson, its importance in the life of investment baron Warren Buffet, etc.
· "This is a book for people. It's not about being evil or admitting you're nerdy; it's about how to get along with people. Anyone who ever has problems getting along with people should read this book. I know I do, but this book has completely changed my perspective. This really comes close to a life changing book. "
· "This book is a life changer ! Really, I'm not making this up. This was exactly what I needed. Some things that are described in this book I realized before reading this book, but there were a lot of things I never thought about myself but are so true."
The paper-back version of this book is available on Amazon.in for Rs. 190.
The Rise And Fall of Nations - Ruchir Sharma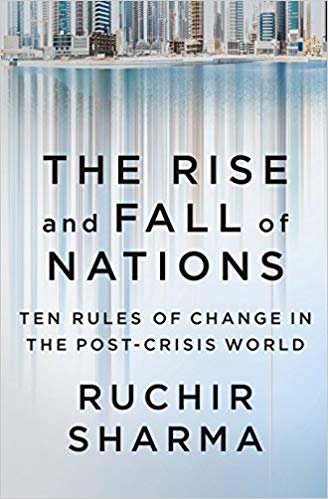 Ruchir Sharma, an SRCC graduate and a business leader and strategist at Morgan Stanley, talks about the 10 rules on which the economies of countries are based, and allows one to understand the potential rise or fall in growth of global economies in the near future. The 10 rules revolve around topics such as inflation (shown in the context of onion prices), cheap currencies, manufacturing etc.
· "This is clearly one of the best books on forecasting international economic growth. The author had done lots of research by not only relying on published numbers by the governments , but also going on the ground to gather information from the locals."
· "Required reading for the amateur economist seeking a nuanced understanding of what makes some countries grow and some to stagnate. What's refreshing about the book is that Ruchir Sharma always wears the pragmatic investor's hat and unlike many 'experts', doesn't shy away from admitting he doesn't know."
This book is available in paper-back at Amazon.in for Rs. 430.
Predictably Irrational - Dan Ariely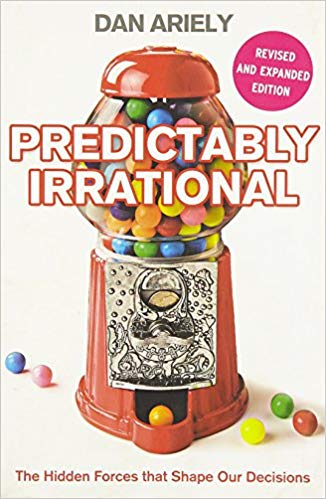 This book by a professor at Duke University questions the perceived rationality of our decisions - are our decisions as rational as we think they are? To support his argument, he draws from certain behavioural experiments and highlights the simple mistakes we make on a daily basis - mistakes driven by a decision making process skewed by factors such as social norms and expectations, emotions and other 'hidden forces that shape our decisions'.
· "This is a wonderfully interesting and amusing book. Every time I had a few spare minutes, I would leap back into it with gusto. Some of the things I read I had already seen elsewhere - but much was new to me."
· "If I had to describe Predictably Irrational using two words they would be "thought provoking."
This book is available in paper-back at Amazon.in for Rs. 700.
Outliers: The Story of Success - Malcolm Gladwell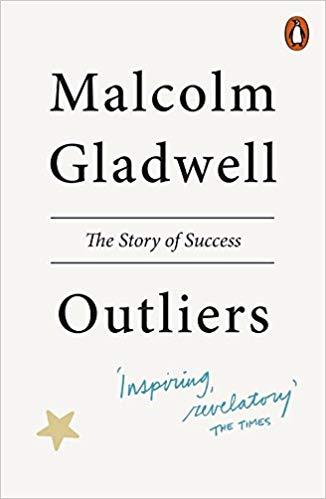 'Outliers' takes a look at the various elements responsible for the success of high-achiever, and elucidates what makes these achievers different from the rest. In this best-selling book, Malcolm Gladwell talks about the importance of luck (could the birth-month of hockey players have anything to do with them ending-up playing professional hockey?), practice, practical intelligence, cultural issues (that can lead to plane crashes) etc. This book makes for a very interesting read and draws interesting conclusions from various examples.
· "This is an extremely eye-opening book that comes highly recommended. I couldn't stop thinking about it or talking about it."
· "Wow! This book was incredible. This goes directly on the very tiny pile of books that I can say have drastically shifted the way I understand and view the world. I know I've heard this author's work referred to many times in other books and IRL, but I didn't realise how much of a paradigm shift in understanding human success and reality it actually was. "
This book is available in paper-back at Amazon.in for Rs. 300.
How To Stop Worrying And Start Living - Dale Carnegie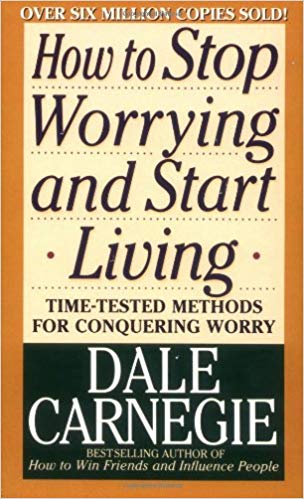 Dale Carnegie was an American author whose books are bestsellers even today, 5 decades after his demise and 6 decades after the book first came out. This particular book is a self-help book which takes a look at the daily life issues that we face, and targets topics such as analysing and conquering worry, breaking the habit of worrying, preventing mental fatigue etc. Essentially, the book is a guide on how you can live your life in a more fulfilling and stress-free way. The author takes multiple examples from his own life and that of other figures in his life, and explains the process of conquering worry in eight sections. Along with the aforementioned book titled 'How To Win Friends And Influence People', this is one of Carnegie's most popular works.
· "The advice Carnegie gives is all stuff you've heard before, but he pairs it with compelling stories about people who've taken the worrying to an extreme and who've totally turned their lives around by ditching their angst."
· "This "holy" book contains tremendously effective, practical and scientific-based solutions to overcome stress and a state of being worry for different scenarios that might happen for a person. A marvelous, must-read book for everyone."
This book is available at Amazon.in in paper-back for Rs. 375.
Good To Great - Jim Collins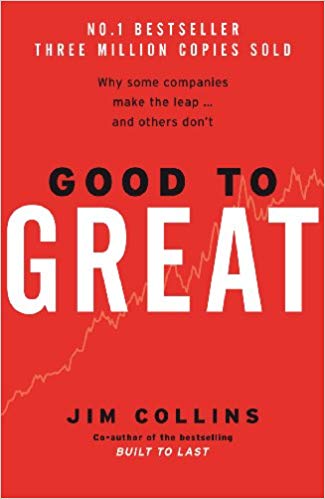 Jim Collins is a Stanford Business School and McKinsey alumnus turned researcher, author and lecturer on subjects such as business management, and business expansion and growth. This book by Collins delineates how one can turn a good or an average company into a great company, and provides a useful model for the same. The book is largely based on 3 major elements that Collins considers to be the building blocks of a 'great' company - Disciplined People, Disciplined Thought, and Disciplined Action. The book comprises 6 sections, each targeting a specific topic such as leadership, decision making, etc.
· "This book gave a lot of insight into why companies are able to climb in growth and industry, but that same insight can be applied in most of life circumstances where people are grouped together. I recommended this book to multiple people working in large companies, but also to my pastor at the time. It's relevant!"
· "This is a very clear, concise and easily understood book. The author and his team spent years understanding why some companies beat the market and others did not. This was done after first having carefully made a selection and the conducted in-depth interviews. Then they drew the conclusions into lucid and enlightening chapters. Definitely recommended!"
The hard-cover version of this book is available for Rs. 630 at Amazon.in.
Fault Lines - Raghuram Rajan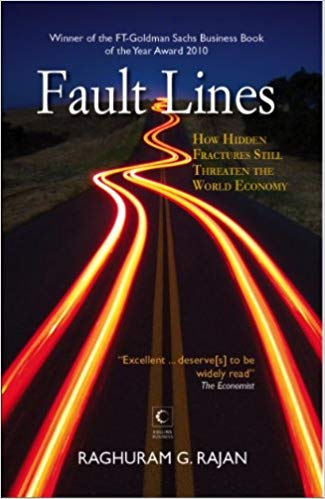 Raghuram Rajan, a former RBI Governor and an IIM Ahmedabad alumnus, has highlighted the various reasons for the global financial crisis of 2008, and explains the various underlying economic flaws that exist in the world. Readers of the book recommend that you have a basic understanding of Economics to understand and appreciate the argument the former IMF Chief Economist pens in this book.
· "Very well articulated, Prof Rajan had not hesitated from making his opinion on most aspects quite clear. Hence the book is not just another case of fiscal and monetary policy levers explained, it takes a stand and from what I see 7 years later in 2017, quite a prophetic stand at that."
· "India's new RBI chief has a lot of expectations on his shoulders, and this book shows why. His analysis is holistic, comprehensive, convincing and rational. He traces the roots of the crisis to at least 40 to 50 years before, and takes it from there on."
This book is available in hard-cover at Amazon.in for Rs. 550.
Thinking, Fast & Slow - Daniel Kahneman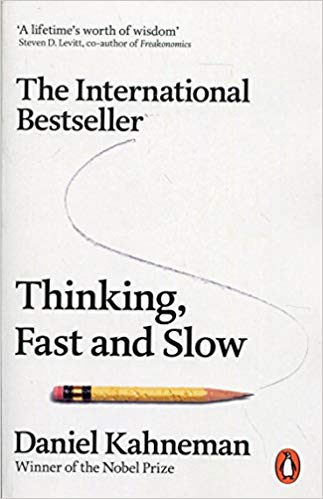 This book by Daniel Kahneman, a noble prize winning Psychologist and Economist, is a commentary on the why humans behave the way they do. It delves deep into the minute details of human nature, and explains his hypothesis of the existence of two systems in our minds that dictate how we behave. Though lengthy, this book is a must-read for those looking to gain insight into human behaviour.
· "Hands down, one of the best books in its genre. The book is a lengthy, self-conscious and a challenging read but highly recommended if you're interested in why human beings behave the way they behave. It's given me so much 'oh snap, so that's why we're so dumb' moments that at this point I don't even want to admit I'm a human to any space-time traveling race that comes in collision of 21st century Earth."
· "One of the best books I have ever read in my life (if not the best). It lays the foundation to unbiased approach to thinking. You need to have a look at how cognitive biases limits your thinking big time."
This book is available in paper-back at Amazon.in for Rs. 250.
How We Got To Now: Six Innovations That Made The Modern World - Steven Johnson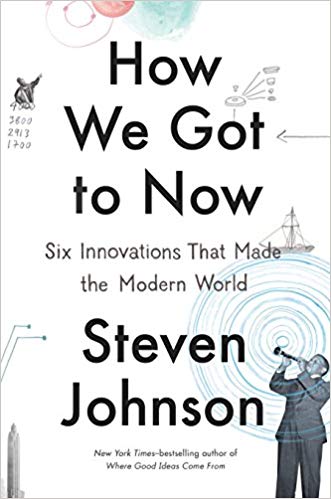 This best-seller is a collection of six innovations that changed the modern world, but what makes it interesting is the inter-linking of seemingly unrelated fields that led to the innovations in this book. For instance, how could air-conditioning enable the largest migration in the history of humanity? How could potable water lead to the possibility of manufacturing computer chips? Steven Johnson explains in this master-piece.
· "How We Got to Now is a reasonably entertaining and easy to read survey of six topics which shaped the world we live in now, in various ways. The main benefit is that Johnson tries to look across disciplines and from different angles, and tries to capture the whole of the picture."
· "Fascinating! The author looks at the topics of glass, cold, sound, clean, time and light and explains how one discovery led to others, with very unpredictable results."
This book is available in hard-cover at Amazon.in for Rs. 500.
You Only B-School Once - Kunj Sanghvi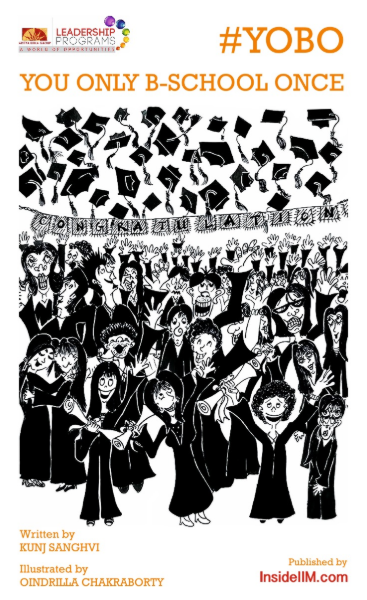 Did you know that making a great CV for your placements could come down to you asking the right questions? Or that having the best electives in your second year is an elaborate management game in itself? Did you know that the rules of dating work differently on a business school campus? Or that there is no such thing as a bad summer internship? This and many more such insights are explored in this book to give you a definitive primer on what to do to make the best of your most important two years – the B-school years.
The book will help you visualise, strategize and plan your life at a business school. You won't just enter ready, you will also find road-maps at important junctures along the way. You can purchase this book for Rs. 150 here.
I Do What I Do - Raghuram Rajan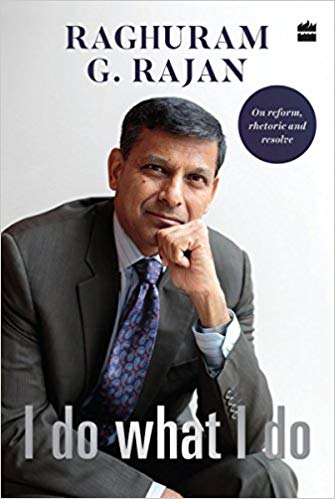 In this book, Raghuram Rajan shares his journey as the Governor of the RBI, and explains various Economic concepts pertinent to the Indian economy. He makes use of the various speeches he gave during his tenure, and aims to give insight into the mind of an astute economist and central bank worker. Some readers have called the book "Central Bank 101". Once again, it is recommended that you have a basic understanding of Economics concepts before you pick up this book.
· "An outstanding offering by way of speeches and articles by a man who was perhaps the only person who predicted the 2008 meltdown. The analyses of the problems that beset Indian Economy, his diagnosis and the prescription are fairly precise and logical."
· "An excellent read. The book gives you a great insight into how the mind of a central banker workers. A collection of speeches, essays and "random pieces" by RR, this collection gives an excellent perspective into how the RBI plays a pivotal role in managing the nation's economy."
This book is available in paper-back at Amazon.in for Rs. 480.
The 7 Habits of Highly Effective People - Stephen R. Covey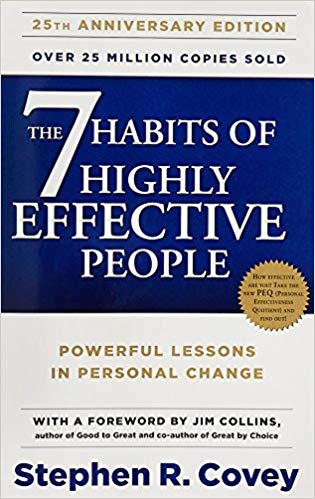 This book by late Stephen Covey, one of the most influential people in the world in the '90s, is a list of 7 principles that can help you become more effective in your personal and professional lives, such as Pro-activity, Thinking of winning, and Synergy, among others. As one reader says, "You'll either love it or you'll hate it."
· "This book explains 7 principles that make a person more effective personally and professionally. Covey shows how a principle-centered, character-based life helps you build the healthy relationships that are key to an effective life. This classic is well worth reading for its perspective and practical advice."
· "Inspirational, developmental, and practical -- what a combination! The principles of behavior covered in this groundbreaking and long-respected book are of great worth to anyone seeking success in career, family, or any other aspect of their life."
This book is available in paper-back at Amazon.in for Rs. 370.
Fooled By Randomness - Nassim Nicholas Taleb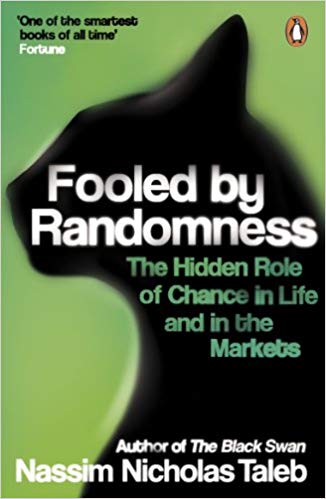 This is a very interesting book and does not hesitate in packing punches at established financial institutions and people. The author is a somewhat controversial figure and his manner of speech does not help him make friends. But the core message of the book has been very well explained, which is how financial markets are usually very random movements and that financial success of individuals and institutions can usually (not always) be just due to them being in the right place at the right time and not due to their financial skill as such.
· "This is the best book I have read all year, closely followed by his other book, The Black Swan. Fooled by Randomness is one of that select group of books that changes your mind entirely. Once I read it I could never look at the world the same again, nor could I take my old assumptions for granted."
· "I'm astounded by the quality of Taleb's writing. His theory is both scientific and poetic, his insights are always useful and reflect what I often experience in my life...the one thing that really impressed me in this book, however, was his ability to tell a great story."
This book is available in paper-back at Amazon.in for Rs. 380.
The Fortune At The Bottom of The Pyramid - C.K. Prahalad
This book by late C.K. Prahalad, an IIM Ahmedabad and HBS graduate, talks about the fast-emerging market at the bottom of the pyramid - billions of impecunious individuals have untapped buying power, according to Mr. Prahalad. This book is about building the bottom of the pyramid markets and innovative and unconventional methods of poverty reduction, with an ultimate goal of bringing about a revolution by thinking about the poor as consumers.
· "This is a book with fresh, innovative ideas towards the eradication of poverty. It doesn't rail against capitalism and its exploitative instincts nor does it look at the world's poor with a condescending 'poor you' attitude. "
· "I liked this book because it helped me view the world's poorest population in a different light -- no more victim mentality, but rather as a huge market opportunity for companies willing to serve their unique needs."
This book is available in hard-cover at Amazon.in for Rs. 530.
For God's Sake - An Adman On The Business of Religion - M.G. Parameswaran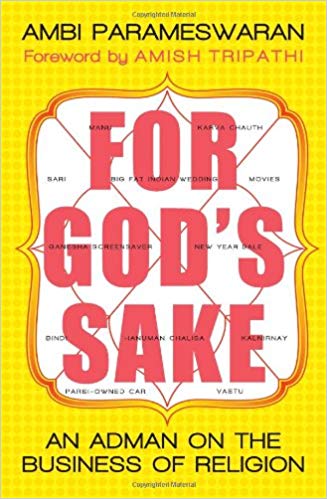 M.G. Parameswaran, the Founder of Brand-Building.com and an IIM Calcutta alumnus is a Brand Strategist and a Brand Coach with over 30 years of experience as an Adman. 'For God's Sake' is a commentary by M.G. "Ambi" Parameswaran on how religion in India drives daily lives and businesses across the country. The book attempts to answer interesting questions like, 'Why has the bindi disappeared from Indian advertisements?', 'Are Muslims in India open-minded shoppers?', and 'Why do people who have no interest in the practical application of an MBA degree still get an MBA degree?', among others.
The book has personal stories and lessons from Parameswaran's journey in advertising and brand strategy.
· "This book is what it claims to be: (A commentary by) An Adman on the Business of Religion. It talks about how religion specifically in India drives businesses. From the very first sentence of the book, it dives into religious symbolism, how it drives daily lives in India, and where business fits in it."
· "Well written, flows well and very easy read. Full of sharp observations culled over many years of experience, my friend Ambi's book is a treasure house of information and anecdotes about how Indians view religion (and for God's sake they view it very differently than most others!)."
'For God's Sake' is available in paper-back at Amazon.in for Rs. 400.
Alibaba's World - Porter Erisman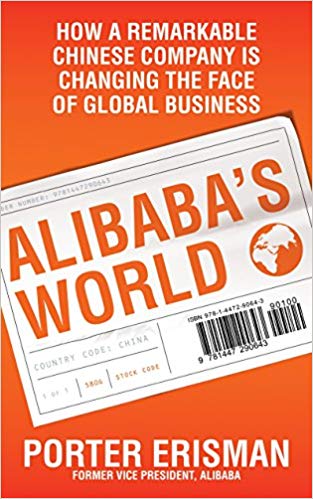 Alibaba's World by Porter Erisman takes a look at one of the world's largest e-commerce companies - Jack Ma's Alibaba. Erisman, an ex-Alibaba employee himself, shows how Jack Ma, who was a school teacher, founded and led a struggling startup to immense success.
· "The book is well written and is written in an engaging style making it easy to read. The book is well researched and will probably find its way onto the book shelf of the average college business student."
· "One of the best books about Alibaba. It portrays Alibaba from an insider point of view. Many of the strengths and weaknesses of Alibaba were well explained. A definite must read for anyone who wants to learn more about Alibaba."
This book is available in paper-back at Amazon.in for Rs. 360.
The Case of The Bonsai Manager - R. Gopalakrishnan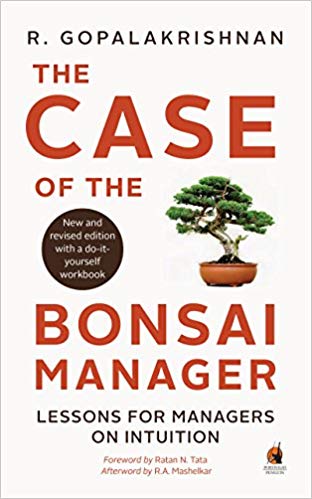 The author is an ex-Unilever and current Director of Tata Sons, and in this book, shares anecdotes from his experiences in the corporate world. He correlates the various aspects of nature with work-life and attempts to nurture intuition in the reader. This book comes highly recommended by management students and professionals alike!
· "Book offers career wisdom and enlightenment based on lessons from nature and from Author's own experience of working across geographies in leadership roles. A must read for every manager."
· "Don't go by the simple book cover. The book is a goldmine for management learning if you can extend the learning to situation at hand, and for future use. Mr. Gopalakrishnan says the book is for nurturing and enhancing intuition, or the gut feeling when making decisions"
This book is available in paper-back at Amazon.in for Rs. 360.
We Are Like That Only - Rama Bijapurkar
Another alumna of IIM Ahmedabad, Rama Bijapurkar talks about what it takes for a company to stay in the Indian market, and highlights 12 facets of the Indian consumer. The author also provides strategies to understand and approach the Indian markets and consumers. A must-read for those interested in building their knowledge about Indian consumer behaviour.
· "Rama Bijapurkar has given us a great insight in to the consumer India. The title is also correct. 'We are like that only'. This books shows how India is totally different and challenging then other developed as well as developing countries."
· "Regardless of whether you are trying to establish a business in India or not this book is a must read for anyone to understand how heterogeneous India really is even when sliced across income segments. This book puts an end to generalisations and stupid comparisons of India with the West and even China. This is not an opinion of the author but facts based in numbers and real success and failures."
This book is available in hard-cover at Amazon.in for Rs. 520.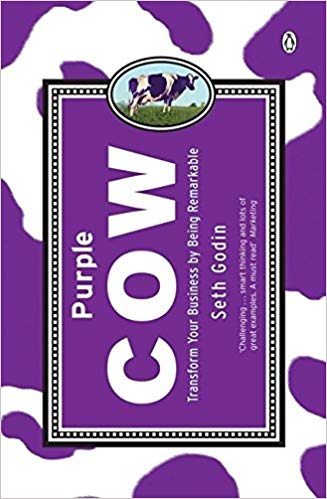 MBA students are aware of the famous 4 Ps of marketing. In this book, Seth Godin, American author and entrepreneur, talks about the 5th P of marketing - Purple Cow. Purple Cow explains how traditional marketing should now be replaced by innovative marketing - marketing that stands out. It is a self-help book for entrepreneurs that nudges them to go beyond the conventional forms of marketing and advertising, and encourages them to make some noise to prevent themselves from becoming invisible.
· "It's a simple book with a powerful message supported by examples. Godin is right on the money with trying to get people to change the way they think about business and marketing. That's the key to this book, it gets you to think a different way."
· "Seth Godin's book "Purple Cow" is still as much fun as it was when I read it first. And with that Godin proves the his "Purple Cow" is a purple cow in itself. Marketing books are supposed to talk about campaigns, analyze data, show proven ways. Godin does the opposite. He invites the reader to go for the unknown, the things that have not been done before."
This book is available in paper-back at Amazon.in for Rs. 370.
The Art of Thinking Clearly - Rolf Dobelli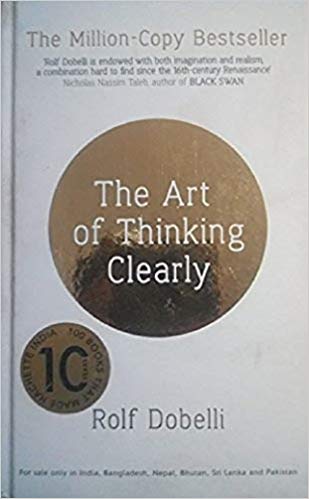 Rolf Dobelli, known as "the self-help guru the Germans love", is a Swiss businessman popularly known for this best-selling book which was initially published in German under the title 'Die Kunst des klaren Denkens' in 2011. The book essentially explains the day-to-day errors that we make, and talks about how we can identify these errors and improve our decision making. The book comprises 99 short chapters on topics such as fighting against confirmation bias, the Swimmer's Body illusion, pattern recognition, and peer pressure, among others.
· "Rolf Dobelli has collected all the cognitive biases established by research, and written up each of them into a concise chapter of just a few pages. Each cognitive bias is explained, illustrated with an example, and remedy suggested . Rolf Dobelli's writing is crisp, conversational, and peppered with wit - sometimes acerbic, sometimes wry, sometimes ironic - making you chuckle as you read. This book is to be read and re-read."
· "The author has given many examples to explain the thinking type. This way we are able to relate that what fallacies are we executing in daily life and how to avoid it. Moreover the chapters are very nicely created that we can read from any chapter or can reread it. Would recommend the book to young working professional and those who have just started their career. Its a good self help book."
'The Art of Thinking Clearly' is available in paper-back at Amazon.in for Rs. 330.
Connect The Dots - Rashmi Bansal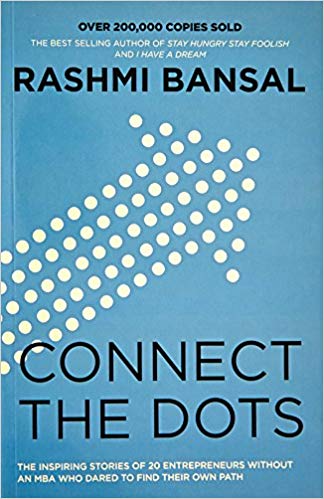 This book by entrepreneur Rashmi Bansal comprises 20 real-life stories of non-MBA entrepreneurs and their journeys. The author captures and categorises these stories in 3 parts - Jugaad (Resolve), Zubaan (Strong Mindset), and Junoon (Passion). If you want to do something big in life, use this book and its stories as motivation.
Goodreads Rating - 3.7/5
Reviews
· "Amazing book! Umm...okay, take that back! Wonderful! Nah, take that back,too. How about one which gives you "air time" and rushes adrenaline through your endocrine system. Yep, that's it!"
· "I got to read this book during a 400 km trip. The trip was not very well though, but the book I had filled me with immense joy and optimism. This book is so full of enthusiasm that it can explode your conscience with passion. "
This book is available in paper-back at Amazon.in for Rs. 270.
Snapshots From Hell: The Making of An MBA - Peter Robinson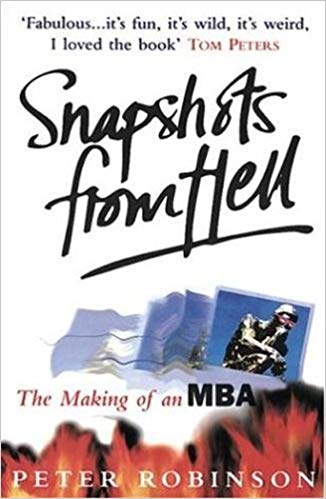 Peter Robinson, a graduate of Stanford Business School, answers in this book the question on the minds of MBA aspirants - "What is business school really like?". In the book, he majorly talks about his life at Stanford as an MBA student, and adds a witty and hilarious undertone to it. This is a must-read for all MBA aspirants.
· "It is a delightful read, and I would recommend it highly to people who have anything to do with an MBA. I would handcuff people, gag them and forcefully read the book to the people who have airs of being a superhero because of an "MBA" from a prestigious B-School. Just to remind them to get real."
· "A book you should read if you are an MBA aspirant or a MBA degree holder. It portraits a series of character quite meticulously and gives you a choice of what part you would like to play upon joining the MBA course yourself."
This book is available in paper-back at Amazon.in for Rs. 350.
How many of these have you read? If you have any book recommendations of your own, please share them in the comments section for the benefit of our community!