How A CA Cracked The IIM Kozhikode Interview

How a CA cracked the IIM Kozhikode interview – 
If we take a survey of 3 things people fear the most, the answers would most probably be God, Death and IIM interviews! We all have got Whatsapp forwards challenging us to solve random IIM interview questions. But what happens when you actually sit in the classroom and have 3 sets of eyes staring at you? Let me share my experience.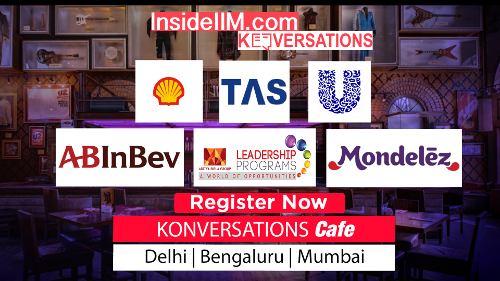 IIMK has 3 rounds – Written Aptitude Test, Group Discussion and Personal Interview. WAT and GD happen initially and are on the same topic. Then one by one, candidates proceed for PIs.
My profile –
10th/12th/Bcom– 87.7%; 80.5%; 82.4%
Profile – CA, MCom. Have cleared all levels of CFA and FRM.
My WAT Topic – 30 Crore Indians do not have electricity. Should we still focus on Smart Cities?
I am the first candidate in the entire school to be interviewed that day. With a file in my hand and a smile on my face, I enter the room. 2 interviewers greet me. No handshakes.
Interviewer 1 – Tell me about yourself.
Me – I worked for 18 months with an Investment Bank as a debt syndication executive. My qualifications are CA, CFA, FRM. My hobbies include dancing, writing, etc.
Interviewer 1 – You are quite an achiever. You have done so much, why MBA now?
Me – Stated my long-term goal which is to head the finance vertical of a business. Correlated it with how MBA will help me achieve that. In the end, I stated, "I also have leadership potential".
Interviewer 2 – Ok. What are the qualities of a good leader?
Me – He should know how to plan, how to delegate. A manager should know how to get the work done. That's the difference between a CA and MBA. CA knows how to do the work. MBA knows how to get the work done.
Interviewer 2 – Oh, so you want to just sit back and relax? *laughs*
Me – *I laugh as well* No sir, I want to work as well as get work done simultaneously.
Interviewer 1 – Ok you are earning xyz salary. Do you know how much salary you would need to benefit yourself from the program?
Me – Job is not the only criteria I am looking at for doing an MBA. I will get to meet a diverse set of people. I will have a strong alumni base. I will get to learn from teachers, etc.
Interviewer 2 – Ok. What do you do at your current job?
Me – I told him my responsibilities. 1 of them was – I project financial statements.
Interviewer 2 – How do you project that?
Me – Tried giving some insights into how I do that in case of a real estate company. He did not seem convinced.
Interviewer 1 – Ok. *Gives me pen and paper* Show me financially how MBA will benefit you.
*Made Cashflows for 5 years and showed him how I will be able to recover the costs*
*He then asked me to make an income projection without MBA and compare it with earlier projection*
*Asked me to justify why Option 1 is better*
Me – I am not looking at a 5-year trajectory only. The MBA degree will be with me for a lifetime. MBA will give me many more opportunities as compared to a non-MBA. It will also lead to faster growth.
Interviewer 2 – Why are your college marks low?
Me –   *He was referring to one semester* Gave a weak explanation, said will not repeat the same mistakes at IIMK.
Interviewer 2 – What do you do apart from studies?
Me – I like to learn new things. Told him about a Facebook page I co-managed, having 15000+ likes.
Interviewer 1 – Are you updated about current affairs?
Me – Yes. *Did I have the option of saying No?*
Interviewer 1 – Current Defence Minister of India?
Me – Nirmala Sitharaman
Interviewer 1 – Which PM came to India recently?
Me – Israeli PM Benjamin Netanyahu
Interviewer 1 – No. currently who is in India.
Me – Oh, Currently Canadian PM Justin Trudeau. He just gave a lecture at IIM-A
Interviewer 1 – Why was he not given a warm welcome in India?
Me – He has 4 cabinet ministers, who are Khalistani sympathisers.
Interviewer 1 – Ok. Which state had an election recently?
Me – 1 of the 2 North Eastern states – Tripura or Meghalaya. Results will be out in a couple of days.
Interviewer 1 – Ok fine. I am done. *Looks at another panellist*
Interviewer 2 – So what kind of dance do you do?
Me – I do Bollywood dance. I have been a part of Shiamak Davar Dance Institute (SDIPA) for a couple of years and also performed at annual ICAI events.
Interviewer 2 – Who is Shiamak Davar?
Me – 1 of the top choreographers in India. He has choreographed in various movies.
Interviewer 2 – Ok. Have you done any stage shows?
Me – Yes sir. 4-5 at SDIPA and 2 performances at ICAI functions. Overall 7-8 performances.
Interviewer 2 – Ok. You started the GD right. Why did you assume that the 30 crore people belong to rural India only?
Me – Rural India faces more problems regarding electricity shortage than urban areas. Metro cities like Mumbai, Bangalore would hardly be facing issues.
Interviewer 2 – So you mean to say everyone in Mumbai gets electricity?
Me – Actually I am not sure about that sir, but most of the people get it.
AND DONE FOR THE DAY!!
I leave the room. Interviewer 1 comes out a minute later, saying "Hey Akshay, Give me my pencil back." I tell him only if you give me an admit letter. Lol (P.s. I never said that. I just gave it to him)
Final Verdict – Konverted!!
– From my current desk at IIMK, God's own Kampus 😀 –
Akshaykumar Sirsalewala
Akshaykumar Sirsalewala is a Chartered Accountant and has cleared all levels of CFA and FRM. He is currently a student of IIM Kozhikode 2018-2020 batch, where he is pursuing MBA finance. When he is not studying, he is either guiding young minds or writing on Quora for CA aspirants.