Anyone familiar with the world of Management Consulting will know that the 'MBB' firms, i.e. McKinsey, BCG, and Bain are almost always right at the very top of the most sought-after firms to work with. Now we know why! These firms, which hire only the cream of India's talent pool (including MBA grads) are the best paymasters in the world of Consulting, at least in India. Accenture, one of the top recruiters at b-schools across various tiers, pays its Consultants an eye-watering median base salary of nearly ₹24.00 lakhs a year!
Salaries In India For The Role of Management Consulting
Consulting Salary data split location wise
---
Convinced that Consulting is a career worth exploring and dreaming about?
---
Salaries In India For The Role Of Management Consulting
Consulting Salary data is split by years of work experience.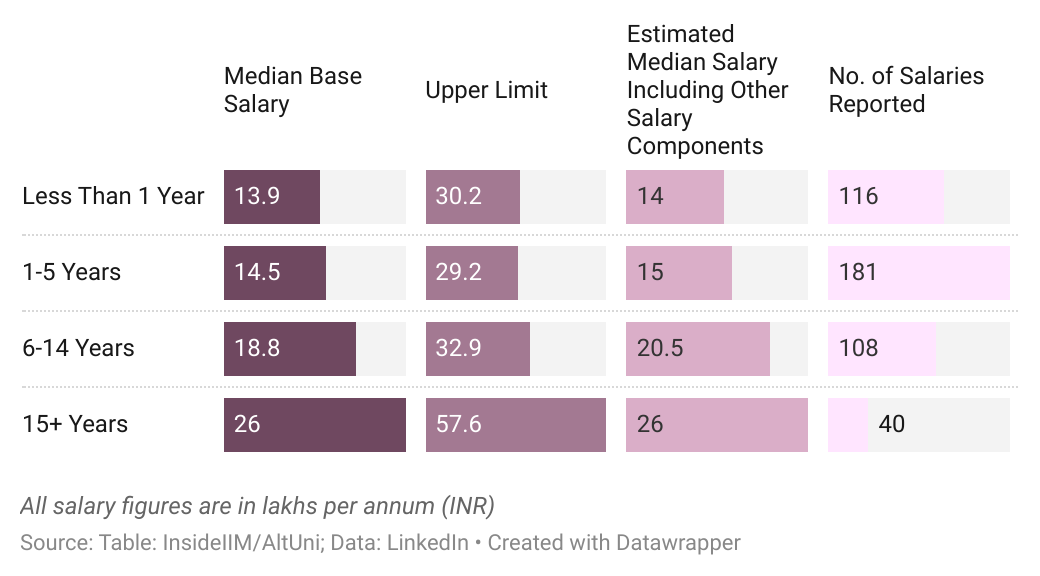 Salaries Offered In The US By Top Consulting Firms For The Role Of Management Consulting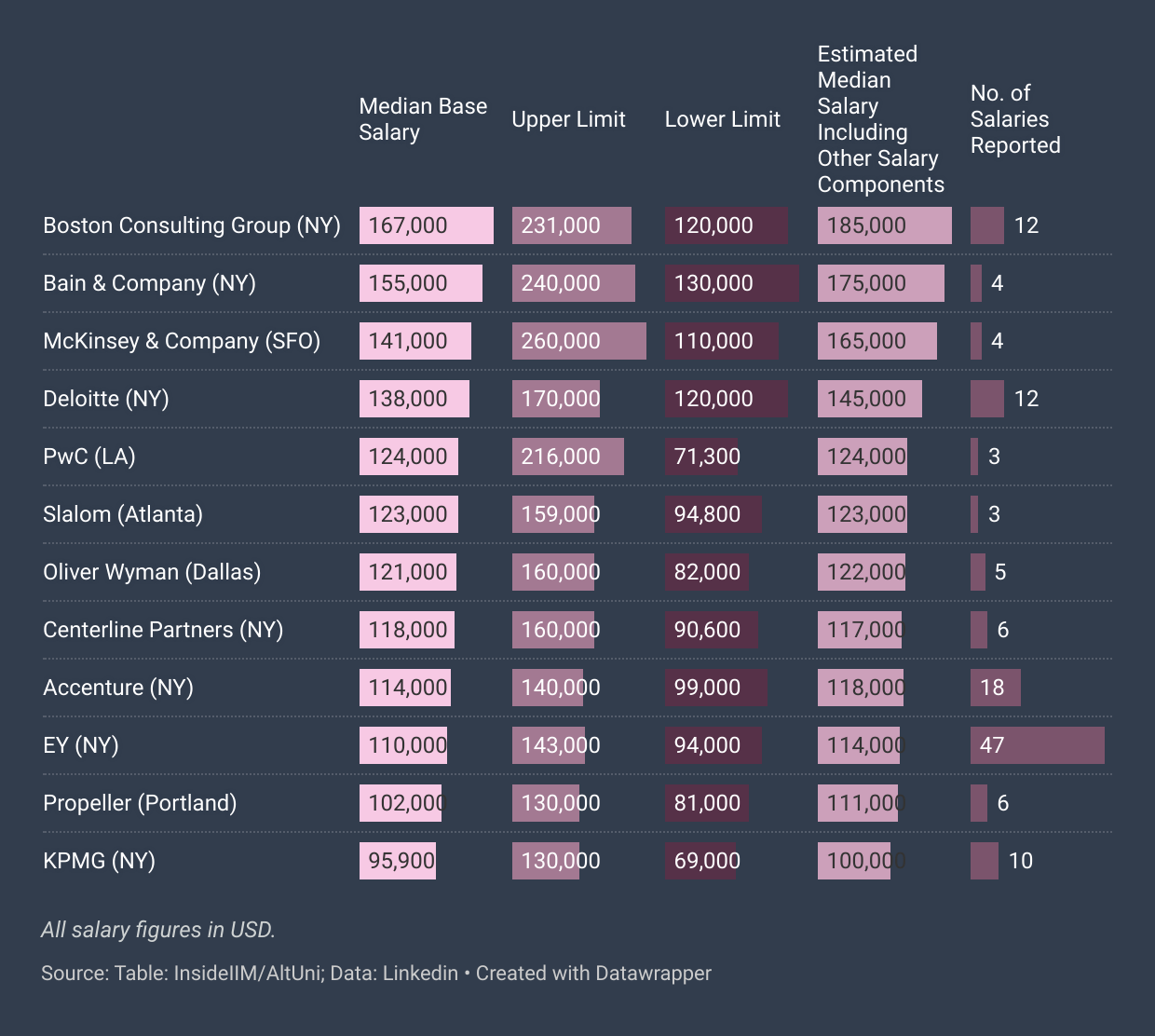 Many of the world's top Management Consulting firms are headquartered in major US cities. Even in the US, Consultants are some of the highest paid professionals sitting in the high rises of Manhattan, Atlanta, or Los Angeles. Consultants who are graduates of the world's top b-schools are especially well-paid and can earn base salaries well beyond $160,000. Once again, the MBB firms emerge as the best paymasters in the US, with the BCG office in New York city offering its Consultants a median base salary of a cool $167,000. That's ₹1.3 crores and this doesn't even include bonuses and perks! Did you know - the average Management Consultant in NYC earns a base salary of $110,000, and can earn up to $35,000 as an annual bonus? It's also no surprise that the top paying firms are all based out of the Big Apple - New York City!
---
---
Salaries Offered In The UK By Top Consulting Firms For The Role Of Management Consulting
The UK (or London specifically) is an exception to the dominance of the MBB firms as paymasters. Here, The Berkeley Partnership - an independent management consultancy based out of New York and London tops the chart of the top paying Consulting firm in the UK, offering its Management Consultants a whopping 110,000 GBP just as a median base salary. That's upwards of ₹1 crore a year!
---
---
One of the three MBB firms does, however, feature among the top 3 Consulting paymasters in the UK, followed by the Chicago-based global consulting firm, AT Kearney.
So It's Clear: The Consulting Salary Trends Are Great - But Is A Consulting Career Really Worth It?
The Consulting industry is expected to grow at a

compounded annual growth rate of 30% & is set to become a USD 3.8 billion industry in India alone!
The InsideIIM Recruitment Survey reveals that

close to 23% of MBA students who took the survey voted it as their most preferred sector

& more than 60% chose Consulting as one of their top 3 sectors.

Top B-schools like ISB witnessed 22% of the total job offers in the big three Consulting firms (MBB).

According to an Economic Times report, to the surprise of many, Consulting firms like McKinsey, Bain, BCG, Kearney, Accenture, and PwC have recruited heavily from

undergrad schools

also.
Overall, the state of the industry is in good shape and a consultant's job role has always been necessary for the industry since companies require knowledgeable advisors who can help them navigate obstacles on the way to success. Therefore, Management Consultants are always in-demand.
So how do you get into Consulting? What are the skills required and how do you acquire them? What are the interviews like and how do you prepare for them & get into top Consulting firms?
The Consulting Festival was one of the first programs we launched and continues to remain one of our most popular programs with ratings of 4.56 out of 5. AltUni is launching yet another batch of the program with more detailed and better designed!
What will you get?
100+ hours of expertise

from accomplished professionals of

BCG, PwC, Morgan Stanley, HUL
Live Industry project

&

Live Business Simulation

with the global partner of Microsoft & AIMA BizLab

Case Interviews/ Guesstimates

Cracking skills

Mastering tools like -

Data Analytics with SQL, Excel, Power BI & Dashboarding.

Career Services:

Profile building, 1-1 Mock Interviews, Personal Branding, Job essentials, etc
Last but not least-
Chance to join the

International Business Immersion in Singapore!
What's a better chance than this?
Apply to the AltUni's Certification In Management Consulting now|Batch starting in few weeks. Hurry Up!