Who are Data Scientists & what do they do?
Every day, businesses generate humongous amounts of data; data understands the customer's requirements and allows the company to make decisions that favor their customers. That eventually leads to better customer satisfaction and bigger revenue. A data scientist uses this data to understand and explain the phenomena around them and help organizations make better decisions. A data scientist significantly impacts the company's value, leading to them being highly compensated for their efforts and skills, which is one of the reasons a data scientist's salary is high. Being a data scientist can be very rewarding and profitable, but what can you expect in terms of salary? This is where the role of data scientists becomes essential... As you consider whether or not this career path is right for you, the information here will help guide you along the way.
Data Scientist Salaries In India - Which Companies Pay The Most To Data Scientists?
The average company does pay well for data science jobs, but the more prominent names tend to pay much more than the average. Undoubtedly, prestigious firms dominate the charts of the highest-paying salaries for data jobs. They also hold a reputation for increasing wages by 15% annually. Some of the data scientist's salaries provided by top firms are: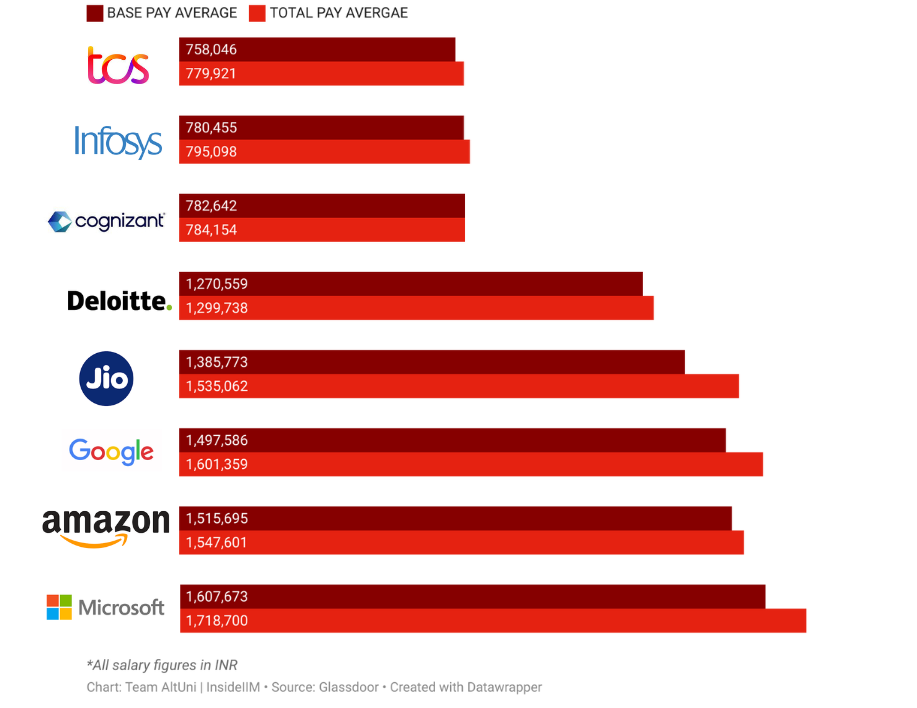 Microsoft, Amazon, and Google are the highest-paying companies for Data Scientists. Jio and Deloitte are two more firms that pay well for this position. Tata Consultancy Services delivers the least. Infosys and Cognizant India are on the low end.
---
Data Scientist Salaries In India - Does location affect the salary of Data Scientists?
The location plays a vital role since this governs the average payout and the kind of customers the company caters to. The following countries' average data scientist salaries are plotted. Over the past few years, the United States has consistently remained at the top in providing the highest salaries in the field of Data Science. While some of the reasons for this may be obvious: the big tech/FAANG companies are all located there, and a higher cost of living in 2022, this may also be due to the economic changes that have led to inflation, among other factors.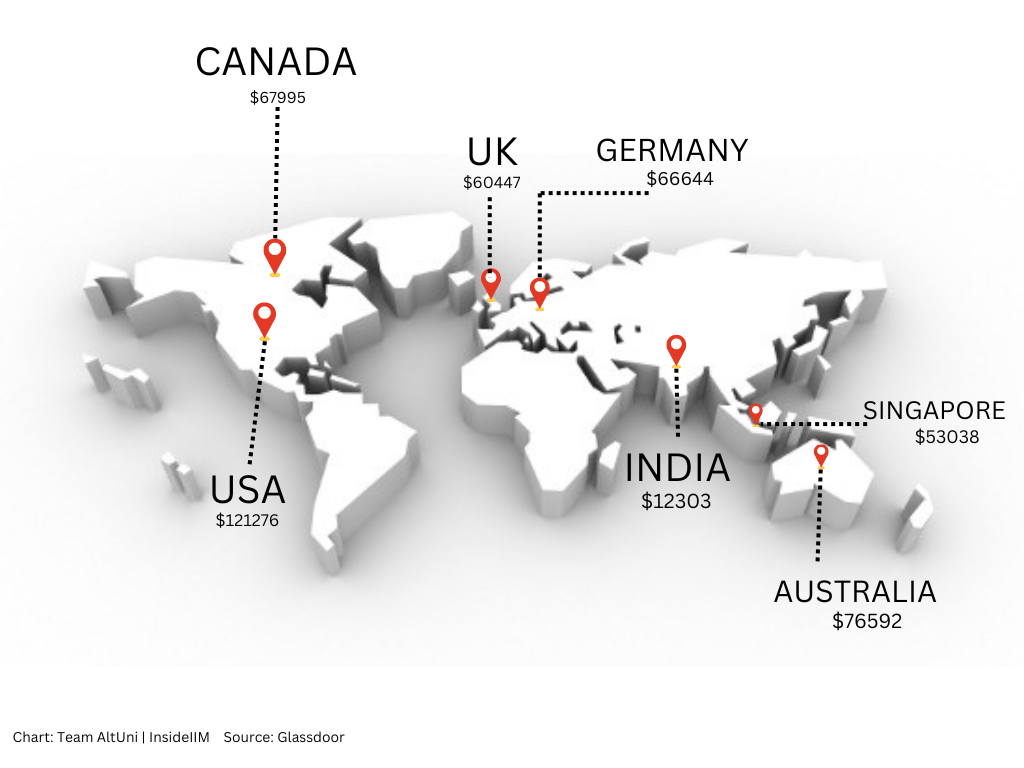 ---
---
Working as a data scientist in Canada, Germany and Australia also consistently nets a salary on the higher end of this list. Data Scientists' average salary in India is on the low end of the range approximating $12k (~INR 9.6 LPA), which matters a lot on the country's cost of living and other factors. According to JobTed, average DS salaries in India are more than most other occupations (with equivalent work experience).
---
Data Scientist Salary In India - Salaries According To Profile
While Data Science is a broad topic under which there are several smaller and well-defined areas, there are several jobs that you can take up. These roles include a data analyst, data scientist, data engineer, ML engineer, Etc. Generally, the more a data science professional engages in managerial tasks—such as leading team projects, identifying business problems to be solved with analytics, or communicating with external parties—the higher the salary.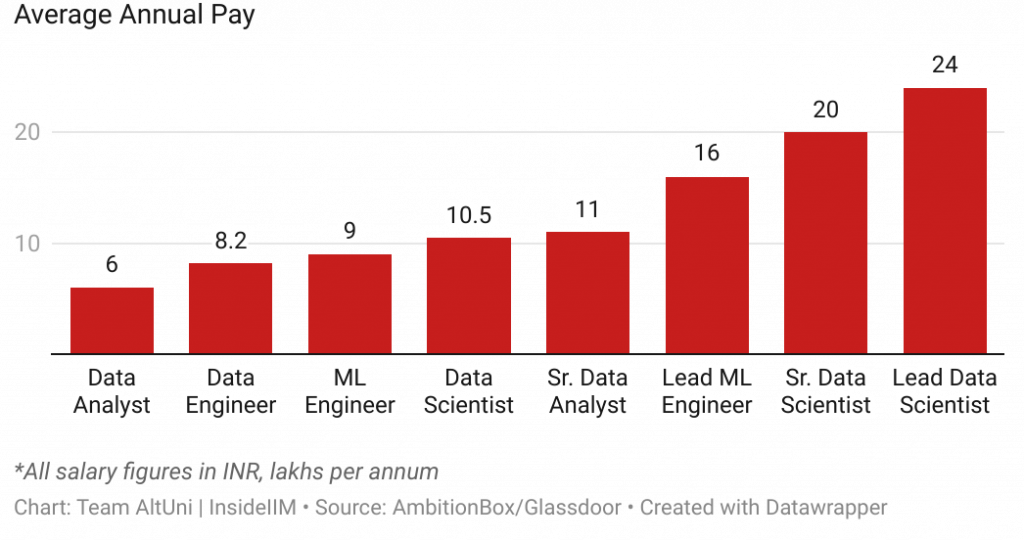 As evident, an entry-level data analyst in India having 1 – 4 years of experience has a gross earning (including tips, bonus, and overtime pay) of INR 6 LPA, while a senior Data Analyst with 5 – 15 years of experience can make up to INR 20 LPA based on the organization and the location of the working place. Junior Data Scientists usually have an experience of a minimum of 2 years in the field of data science. He earns an average salary of INR 10.5 lakhs per year, according to Glassdoor. Senior Data Scientists are the ones who have been engaged in data science for many years and are acquainted with the very depth of this field. A Senior Data Scientist in India earns, on average, a salary of INR 20 Lac per annum. In contrast, the leading topping the chart with INR 24 LPA.
---
---
In summary, a data science unicorn knows machine learning and data analytics has domain knowledge, and can communicate their insights.
The opportunities for Analysts and Data Scientists are currently at their prime in India. With the large volumes of data being generated by businesses and the availability of data and tools to extract it – and the urge to gain insights from it. It includes the rise in Data Analyst salaries and Data Scientists' salaries in India.
We hope you liked our article on Data Scientist salary in India. These numbers above are not set in stone. The real influencer of your salary is your skills, the mastery you have attained over them, and how quickly you grow and make the company grow. You will likely receive an annual salary bump of around 15%. This will increase with the years of work experience and the number of skills you've mastered. Therefore, whether you're starting from scratch or already experienced in the field of data, you'll always have this motivating factor driving you in your career!
---
What You Should Do Now
Becoming a data scientist might require some training, but an in-demand and challenging career can be waiting. While skills and competencies are the single most significant factor contributing to a good salary, developing these can be the start of an exciting data analytics journey that leads you along a fascinating and well-remunerated career path. To learn more about some of the techniques, you'll need to flourish as a data scientist, check out AltUni's Certificate Program In Data Science.
---