The 13th edition of Horizons- the Annual Management Conclave of IIM Kozhikode organised by the Industry Interaction Cell was held from the 9 – 11th of November, 2012, with a host of speakers from domains ranging from Banking, Telecom, IT, Consulting, Venture Capital, Media, Advertising, Internet to Education, Healthcare, Non-Profit Organizations, Social Activism, Politics and Policy Making, who brought forth a multi-faceted discussion on the theme of the event- Ideate, Innovate and Integrate.
The inaugural day of the event was marked by the gracious presence of Mr. Shyam Srinivasan, MD&CEO, Federal Bank, Mr. Jitendra Kalra, CEO, Dr. Reddy's Foundation, Mr. Chandan Ghosh, Chief, International Wholesale& Carrier Business, Dr.T.H.Chowdary, Founding Chairman and MD – VSNL and Karthick Sridhar, Director, Wockhardt Foundation. In his inaugural address, Mr. Srinivasan elaborated on the future landscape of the industry in India- Capital requirements, Regulations, Governance and Risk among others. While Mr. Kalra shared an inspiring story of how his organization helped increase the employability of 2,70,000 youths, Mr. Ghosh laid strong emphasis on innovation as a strategy for companies looking to make a quantum leap. Opening his speech in the middle of a standing ovation to his exemplary achievements, Mr. TH Chowdary discussed the Indian Telecom Industry. Mr. Sridhar touched upon the issues of access, affordability and availability in the context of Healthcare in India. A panel discussion on the topic "Diffusion of Technological Innovation in the Media Industry" was held later brought to light the various aspects of the role played by technology in the media industry. The discussion was ably moderated by Mr. Ashwin Punnen, Senior Editor of The Economic Times.
The 2nd Day of Horizons 2012, arranged by the Industry Interaction Cell of IIM Kozhikode, hosted eminent speakers like Jai Prakash Narayan, Ajit Balakrishnan, Subrata Bagchi, S. Subramanyeshwar and Paramita Banerjee.
Popularly known as JP, Dr. Jai Prakash Narayan, an Indian politician, political reformer and founder of Lok Satta Party, held a very interactive session with the audience in the afternoon session. He first raised the question "what's wrong with politics?" According to Dr. Narayan you cannot separate political and economic reforms. Once we start an institutional system and bring in some organization, which we lack, we should be able to address the political issues of our country.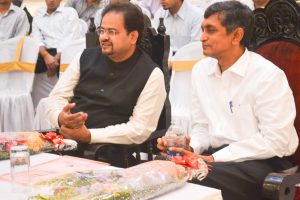 The next speaker Mr. Ajit Balakrishnan, founder, Rediff.com- India's leading online community portal, spoke on entrepreneurship. With a few examples he proceeded to explaining the different technical waves that took place in the world or are expected to take place, right from 1800 to 2025. Mr. Balakrishnan spoke of the technical progress that has happened so far. He also threw light on how there was angst among people during the declining phases. Mr. Balakrishnan concluded by giving the audience a preview of his newly published book "The Wave Rider- A Chronicle of the Information Age".
The evening session continued with a guest lecture by Subrata Bagchi, Partner, Deloitte Consulting. He talked about what Deloitte has done with innovation and how risk and innovation go hand in hand. He threw some light on what it takes for a person to become a professional. He elaborated upon the three pillared philosophy of passion, affiliation and power. He spoke of the innovations which Deloitte is involved in, including creating an innovation centre to help clients innovate. He concluded by saying that passion coupled with innovation and originality can take one places.
The next session was a lecture on branding by S. Subramanyeshwar, better known as Subbu, the National Planning Director with Lowe Lintas & Partners. He talked about brands representing a 'point of view' and how they should capture the spirit of the society. He ended the session by sharing a deep insight about a brand's point of view. According to him, a point of view does not mirror the audience rather it transcends categories rooted in cultures. The expression may be that of time but the truth is timeless.
The last speaker for the Day 2 at Horizons was Dr. Paramita Banerjee. Dr. Paramita Banerjee is the Associate Director of Programs at SAATHI- an organization working towards providing universal access to HIV/AIDS prevention and care. She started the session with a question: 'where are the good people' and what exactly do we mean by the word 'good'. It was a very interactive session wherein she asked the audience about their views on CSR and the relevance and importance of the CSR law.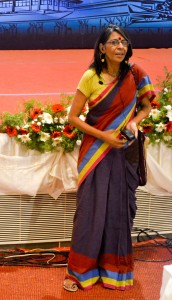 Day 2 of Horizons ended with Battlefield, the management debate themed "It's all about the money, honey" with Mr. S. Subramanyeshwar, Chandan Ghosh and Ankit Doshi speaking for the motion; and Siddharth Aggarwal, Subrata Bagchi and Paramita Banerjee arguing against the motion. The debate was moderated by Professor A.F. Mathew.

Day 3 of Horizons saw speakers from various walks of life coming up and sharing their experiences. The day started with a session by Mr. Akash Gautam, one of the most proficient and effective motivators that the Indian youth has witnessed over the past decade. He talked about the importance of an idea in an entrepreneurial venture and explained how getting a "backdoor entry" becomes vital for a venture to succeed. According to him, the primary target for any new venture should be to reach the No.1 spot in its micro-market. There is no place for mediocrity and people would always approach the best player in the market, however niche that market may be.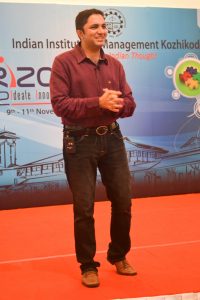 The next speaker for the day was Mr. Mahesh Murthy, founding partner at Seedfund, India's leading early-stage venture capital fund which has helped establish the likes of CarWale, EduSports , RedBus, RupeeTalk and Sportskeeda. He has over 26 years of marketing and communications experience, of which 15 years are in online marketing. He talked about the new-age developments in the field of marketing. With social media gaining popularity and other factors contributing to the ever-changing atmosphere, the old conventions for successful marketing has now changed. He remarked that an entrepreneur should be able to spot fast changing trends even before they are out open in the world through any form of media. He concluded by saying that in his journey of life he has realized that there may be no pot of gold at the end of the rainbow, but walking on the rainbow itself is an enriching experience.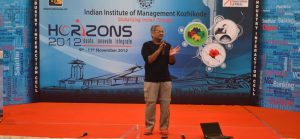 It was followed by a session from Deepu Chandran- Director and co-founder at Innomantra. He brings with him extensive experience in innovation, new product management, strategy and marketing. In the past, he has worked on strategic consulting assignments alongside leading consulting firms like PRTM and Arthur D. Little. He began his career at Larsen & Toubro, where he worked in the areas of strategic planning and new product management. Deepu has been a speaker at several conferences including the CII India Innovation Summit, 2011. In 2008, he was awarded the India Innovation Prize by the Government of Karnataka and the Confederation of Indian Industry (CII). He spoke about the importance of developing empathy and connecting with the target group while embarking on a business venture. According to him, spreadsheets and business models on papers are not implementable however good and viable they may look on paper, unless the prior field work has been done.
The evening session started with a very interesting talk delivered by Sidharth Agarwal, Director, Teach for India. He joined Teach For India as a Fellow in its first cohort in 2009 and decided to join the Teach For India staff after graduating from the 2 year Fellowship. Before that he has worked as a senior consultant at Genpact (strategy and operations). He received an MBA from S.P.Jain, Mumbai in 2006 and Bachelors in Economics and Maths from Fergusson College in 2002. He talked about his journey in Teach For India and said by taking the 'road less traveled' he has actually been able to experience an internal satisfaction which might not have come had he gone the conventional way.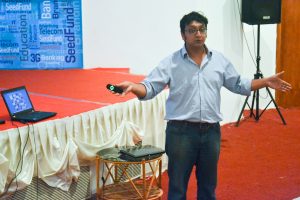 Next in line was a session by Ankit Doshi. Ankit Doshi is the creator of KiRa Education which runs the management education portal insideiim.com Ankit conceptualized InsideIIM.com in the final term of his MBA at IIM Indore inspired by the positive feedback on his writing on ankit9doshi.com. Over the last 12 months, InsideIIM has emerged as a must-visit portal with regards to recruitment and career related information for management education aspirants and students. Ankit worked at Bank of America Merrill Lynch for 14 months before plunging full time into his own venture. He has also worked for start-ups like WhatsonIndia.com (no longer a start-up!) and CPLC (acquired by MT Educare) prior to his MBA. He talked about his journey of InsideIIM.com from the inception to the execution stage stating various challenges he had to face in the journey.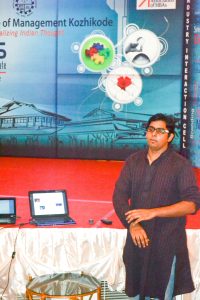 The day ended with a thank you note from Industry Interaction Cell, IIMK expressing gratitude to all the speakers who graced the occasion during the 3 day conclave.