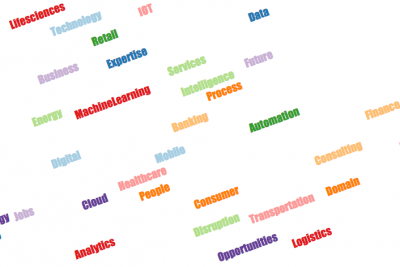 For the past few months, I have been hearing a lot about the upcoming downturn in the IT industry and also getting a lot of queries from b-school students/aspirants about the prospects in IT sector in India, whether they should pursue their careers in the Industry.
This sudden curiosity stems from a new trend observed in the media. And - "No", I am not talking about the possibility of H1-B visa restrictions. Surprisingly, most people in the industry and those who follow it, understand that any H1-B disruption will be temporary. The industry is strong and flexible enough to manage any impact in the short term. I am talking about the spectre of changes that automation and cloud computing is bringing about.
Artificial Intelligence, IOT, Cloud Computing, Machine Learning, Digital have been buzzwords for some time now in the industry. But recently, media and experts have been predicting these changes might negatively impact its
future prospects
.
The former CFO and HR Head at Infosys - T V Mohandas Pai commented that at a minimum 10% of incremental jobs that are created will disappear. That means every year if the industry creates 2 to 2.5 lakh jobs, 25,000-50,000 jobs will disappear, resulting in loss of upto half a million mid-level jobs in the next decade. This seems to be already happening as
hiring has slowed down this year
. BPO and non-technical work (Telemarketing) will either get automated or shift to the Philippines.
There is increasing pressure on IT companies to develop more business value and reduce costs. IT expertise in India was always going to move up the value chain. It was a question of when and not if. The author himself was busy automating testing processes a few years ago seeing the transition. The fact is, it is a good thing we are talking about the upcoming changes today and making plans.
Any transition brings about its share of disruptions and new opportunities. Taking a positive note, I have tried to share what roles in the industry could see positive changes in the future.
There are 3 Roles where new opportunities will probably come up:
1) Technology Experts: The number of platforms/software applications have multiplied over the years. With a mix of what works and what might work in the future - Developers would need to master more than one technology/software platform and at an earlier stage with multiple certifications.
Focus on product development will also give opportunities to more high-value graduates with a Masters/PhD degrees in niche areas like Speech Recognition, AI, Neural Networks and those from a non-engineering background like U/X Designing. These new hires might help IT Companies to focus on product design & develop niche capabilities to help clients.
2) Domain Experts: This is a safe field and will not be impacted negatively by technology changes. Healthcare, Life-Sciences, Retail and Banking are going through a flux, but the basics have not changed. If the Domain experts keep up with the technology changes, they will continue to grow.
3) Consulting: The industry has been trying hard to make inroads into the Consulting world for quite some time. Cognizant, Infosys, Accenture have expanded the role of their IT Consultants to include more Business Consulting expertise. However, IT Consulting with focus on technology remains the bread and butter till today. Reduction in overhead costs will help free up capital for the industry to pursue this. Business Consulting expertise along with IT at competitive pricing will become a key differentiator in the future.
In addition, I see the lines between the 3 roles blurring. With many years of experience, Consultants usually gain understanding in a few technology platforms and domains. Technology experts gain knowledge of a particular domain. A few years from now, technology changes will make teams leaner and there will be a need for more All-Round experts who can wear all 3 Hats at a time.
For future engineering b-school & Engineering aspirants: IT will remain a major recruiter on campuses but no longer a bulk (& safe) recruiter.
Although it looks disruptive today with slowing growth prospects, this transition will result in organisations having lower costs and higher profit margins. On the other hand, the impact on the workforce will depend a lot on
how quickly they adapt
.
This article was originally published on
Linkedin
.
---------------------
About the Author:
Ravi Singh is a Consultant working with Cognizant in their Analytics and Information Management practice. He completed his MBA from NMIMS, Mumbai in 2015. He is also a Computer Science Engineer with 4.5 years of IT Industry experience. You may reach out to the author through
Linkedin
.