Dr. Sanjay Dhir is DMS IIT Delhi's Professor of the Year in 2020! A Fellow from IIM Lucknow, Dr. Dhir holds many positions including coordinator for Executive MBA program at IIT Delhi. Find out why students at DMS IIT Delhi love his classes!
Note - The winner(s) of the InsideIIM Professor of The Year at any given campus has/have been chosen by current MBA students of that campus. The voting process began in the month of February 2020, and MBA students could nominate their favourite professors here. The professor(s) with the maximum number of votes has/have been declared the winner(s) in 2020!
Meet Dr. Sanjay Dhir - Associate Professor, DMS IIT Delhi & InsideIIM Professor of The Year In 2020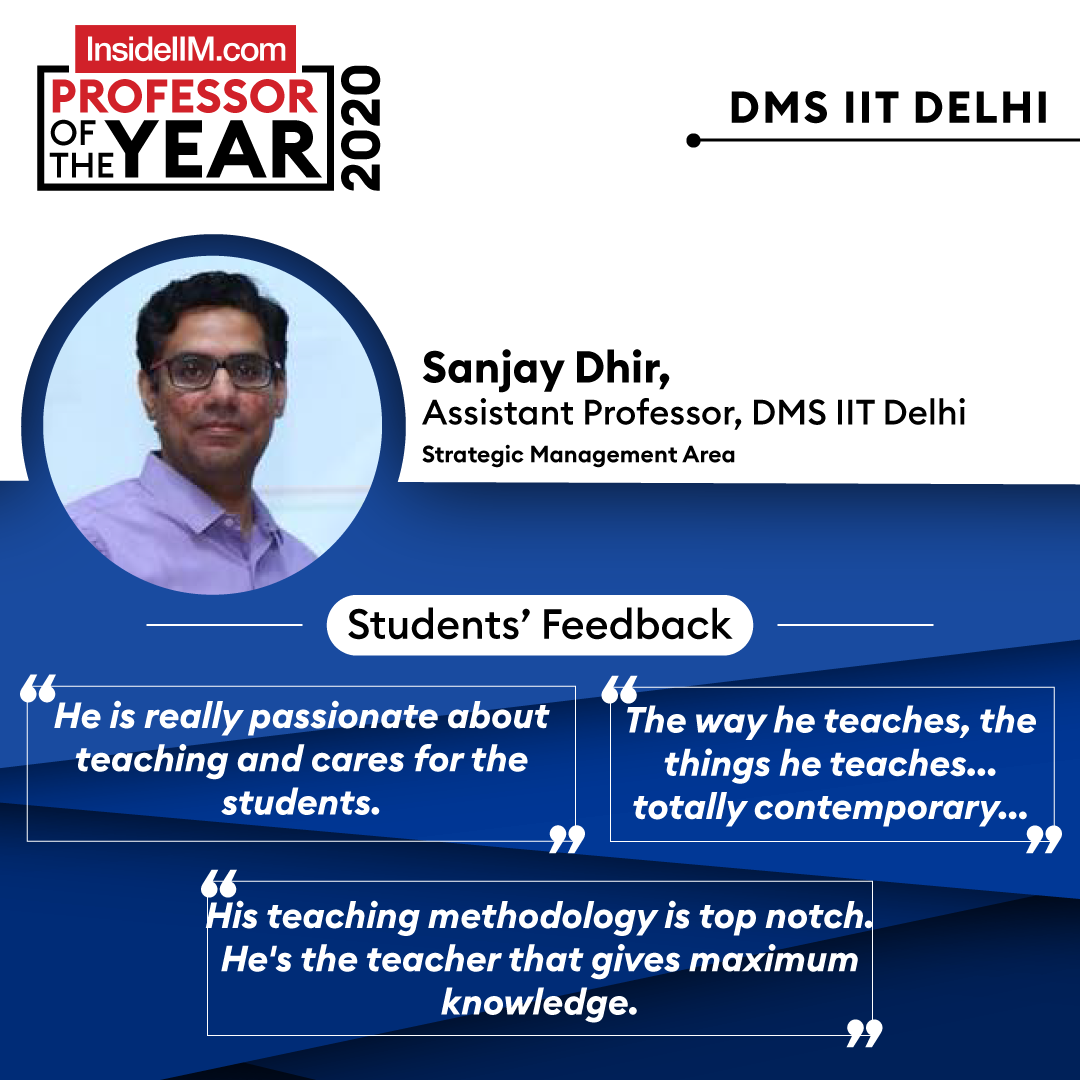 Dr. Sanjay Dhir is Assistant Professor in Strategic Management Area at Department of Management Studies (DMS), IIT Delhi. He is a Fellow (PhD) from the Indian Institute of Management (IIM) Lucknow. He is also the Chairman of Alumni Relations at DMS, IIT Delhi. Having worked in the corporate sector – Mahindra and Mahindra Ltd (Automotive), R&D Department, Nasik – for 3.5 years, Dr. Dhir has been involved in several consulting and research projects. These include – Ministry of HRD, Ministry of Minority Affairs, ICSSR, Integrated Child Development Services (ICDS, Bihar); National Skill Development Corporation (NSDC, New Delhi); Bihar Prashashnik Sudhaar Mission (BPSM, Bihar) and Directorate General of Supplies & Disposals (DGS&D, GoI, New Delhi).
Awarded the 2014 AGBA Fellow (by Academy for Global Business Advancement, USA), Dr. Dhir was also a core committee member of the Government of India's project – 'Unnat Bharat Abhiyaan'. He has published several research papers in leading international journals including case studies at Richard Ivey School of Business, Western Ontario jointly distributed by Ivey and Harvard Business School. His areas of interest include Strategic Management, Strategic Alliances / Joint Ventures, International Strategy, Innovation Management, Technology Transfer, Creative Problem Solving and Management of Change and Transformation.
InsideIIM Professor of The Year 2020 - What DMS IIT Delhi Students Have To Say About Dr. Dhir
"Through his teaching, you can see that he is really passionate about teaching and cares for the students."
"Exceptional approach toward teaching, practical and full of discussions, pertaining not only to the international but also the Indian context."
"Excellent discussion about the concepts of strategy management used in actual business scenarios."
"Teaches very well in a fun way but also strict with timings as well as assignments."
The following are professors at DMS IIT Delhi who just missed out on winning the title of InsideIIM's Professor of The Year in 2020, but are loved by IIT Delhi students:
Dr. Mahim Sagar: "The professor is well updated in the real life deep industry insights which he provides and keeps the students immersed in knowledge getting 100% attention throughout the 3 hours lecture."
Prof. P.K.Jain: "He is one of the most reputed and experienced faculty of finance in the entire country. I have studied from his books in my bachelors and now I have this great opportunity to be taught by him. He is a great teacher."
Dr. Harish Chaudhry: "Teaching the subject through experimentation and examples. The idea of mugging up stuff for exams is not how he operates; he tests the ability to apply concepts in real world situations."
Liked This? Here's What We Recommend What You Look At Next: