So what was the bare minimum that you needed to get a final admit at IIM Indore last year?
We have some official data given to us by the Admissions team at IIM Indore for the flagship programme at Indore and the PGP programmes at Mumbai and UAE.
The data below is the minimum that people have scored in the CAT 2011 exam and in important academic exams of their life which had a significant weight in the shortlisting and the final selection. Please bear in mind that IIM Indore uses a normalization formula and hence 62% in a particular board/stream may be higher than 70% in another.
All the scores below are the minimum. The maximum percentile would be 99.9%ile +

| | |
| --- | --- |
| Total No. of Students admitted through GMAT | 2 |
| Minimum GMAT Score | 720 |
Now the above need to be looked in the light of the shortlisting criteria last year, which was -
CAT 2011 Section 1 (20 per cent) + CAT 2011 Section 2 (30 per cent) + SSC (15 per cent) + HSC (15 per cent) + Bachelor's Degree (15 per cent) + Professional Diversity (5 per cent). Total – 100 per cent.
That explains the higher VA/RC cutoff and a relatively lower Overall Percentile cutoff. IIM Indore until CAT 2008 never gave interview calls to anyone below overall percentile of 98.5 in the general category. Overall Percentile had no weight last year except that it had to be more than 90 percentile.
It is pertinent to note that the 5% professional diversity didn't affect the overall composition of the batch as 93% of the batch was made of engineers. They have dropped it from the criteria of CAT 2012.
(Please note that getting more than the minimum percentiles/acad scores does not mean you should have got a call. There was a composite score based on the criteria above which was used to call people and post that interview and WAT scores were added to it. The table above just tells you the minimum in each of those various parameters. A combination of those parameters would give a composite score and a merit list is prepared on that composite score. Also, normalization was done for Xth/XIIth/Grad scores.)
Looking forward - CAT 2012
This year the Overall percentile cutoff could be lower (not lower than 90 though as that is the cutoff). Sectional cutoffs this year are 80 percentile. However, once these basic benchmarks are crossed, your final call is dependent only on your past academics. Normalization will be done. But Xth/XIIth with weight of 35% and Graduation score 30% hold the key. Decent past acad scorers with as low as 91%ile can be hopeful of a call as CAT has no weight in the shortlisting merit list. 2140 general category students will be called. So the top 2140 general category students who have more than 90,85,85 %ile in Overall, Section1, Section2 of CAT 2012 will be sorted based on the composite score obtained from their acads after normalization for various boards. And hence a person with 99.99%ile could be out of the game if he/she has screwed up one of the 3 important exams in his/her life. Read this year's criteria here
After Interview and WAT, the final admit will be based on a final composite score:
SSC 17% + HSC 17% + Grad 16% + PI 35% + WAT 15%
One can be quite sure that the number of 74 women (which went down from 90+ in the Class of 2013) will touch the 3 figure mark with this criteria in place. IIM Indore will still have a smaller pool of women to choose from as compared to IIM Kozhikode which has no sectional cutoffs and an overall percentile cutoff of 85 percentile. Plus, IIM Indore does not offer extra marks based on gender which IIM K does. Hence, number of women at IIM K will surely be more than at IIM I for the Class of 2015.
Also note that number of general category students finally admitted is slightly higher than the 213 originally supposed to be admitted. That is because all the candidates in the reserved categories fulfilling the basic minimum criteria for that category would have been exhausted. The empty seats must have been filled by general category students in the waitlist. This would be the case in a lot of IIMs .
Let's also look at the PGP Mumbai and PGP UAE stats for the Class of 2014.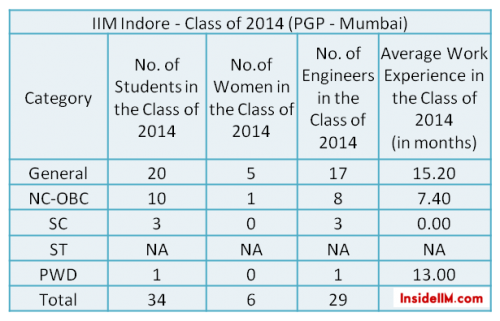 | | |
| --- | --- |
| Total No. of Students admitted through GMAT | 5 |
| Minimum GMAT Score | 680 |
It is a small batch of 34 students but the profile of students admitted at PGP Mumbai is at par. Given the fact that they have the same professors (and at times more accomplished visiting faculty) they shouldn't feel out of place when they do their 4th Term at IIM Indore with the flagship PGP students.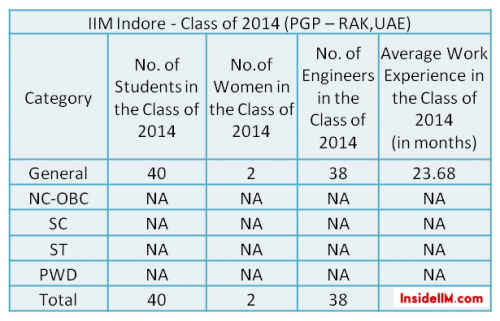 | | |
| --- | --- |
| Total No. of Students admitted through GMAT | 5 |
| Minimum GMAT Score | 640 |
Clearly, both CAT and GMAT scores seem to drop for the RAK,UAE PGP programme.
We would like to thank the Admissions team at IIM Indore for sharing this data with us. We believe it will help students and potential applicants immensely.
We are hoping to get more data from a lot of other Top Business Schools. It is difficult to get it most times but we try our best at InsideIIM.
You may also like to read :