IIM Indore completed placements for what is possibly the biggest ever PGP batch to graduate out of an IIM. The number of 475 includes 30 odd students from the PGP batch at Mumbai as well. (This would come as a surprise to many and one wonders if the students from the flagship PGP at Indore campus protested against it.)
The fact that such a large batch was placed is definitely an achievement. There are plenty of quality opportunities in all domains and sectors except in the FMCG sector where the names and numbers are visibly thin. Banking & Finance is relatively strong despite a tough market and Consulting is very impressive for a school that is just 15 years old. Sales & Marketing (ex-FMCG) is the strongest in terms of sheer numbers. As mentioned earlier on this website, IIM I seems to do better during Final Placements than during Summer Placements.
All the top MNC banks have offered their middle office I-banking and Markets roles. Corporate and Transaction Banking regulars are also there. Deutsche Bank continues to recruit in big numbers from IIM Indore and is not only the top recruiter in the Finance domain but one of the top recruiters overall. Standard Chartered, HSBC, Goldman Sachs, J.P.Morgan and the new entrant Royal Bank of Scotland make up a very strong foreign banks line-up. Bank of America Merrill Lynch is missing which has hired in 2011 and 2013.
BCG hired from IIM Indore for the fourth consecutive year( However, they didn't visit the campus and it was a batch day hiring) . Deloitte S&O hired in big numbers at Indore this year. The wide range of names includes KPMG, Infosys Management Consulting and Cognizant Business Consulting. TAS is missing from the General Management list which had been hiring for the last 2 years. GE, Mahindra, Robert Bosch, Reliance make up a strong list of names.
Google and Amazon are marquee Technology names. There is a wide variety of Retail, Consumer Products, Telecom, Auto and Media names. Pharma sector hiring continues to grow at IIM Indore as is the case with most other top schools. In fact, we have been debating internally at InsideIIM whether Pharma is the new IT when it comes to managerial hiring.
61 PPOs is an healthy increase as compared to last year. (Not all companies below may have visited for finals as PPOs are offered. Check Summer Placement Report for this batch here)
Only 2 people have opted for Entrepreneurship as against 3 last year.
We would have preferred if IIM Indore had revealed the number of students who signed out.
Given below are Highlights sent to us by the IIM Indore Placement Committee :
- Sales & Marketing and Finance were the most sought after domains with almost half of the batch (46%) opting for them
- There was a 52% increase in the number of PPOs with majority coming from the Sales & Marketing domain
- Senior management roles such as VP-Marketing, VP-Business Development, COO Operations, National and Regional Sales Managers were offered to IIM Indore participants by various firms
- Google and RBS were some of the prominent recruiters who visited campus for the first time
- HSBC and Goldman Sachs hired for niche roles in their Investment banking divisions
- GE recruited for their prestigious Financial Management Program and Information Technology Leadership Program
- Leadership roles constituted around 13% of total offers made this year, and came from companies such as L&T, Mahindra, Reliance Industries, Robert Bosch, RPG and Trident
- The Pharmaceutical sector saw participation from first time recruiters like J&J Pharma. Eli Lily re-visited IIM Indore after a long time.
- Few participants chose to work with Access Livelihood Consulting, a management consulting firm working for sustainable living at the grass root level in Indian villages
Given below is the list of companies who made offers in our format :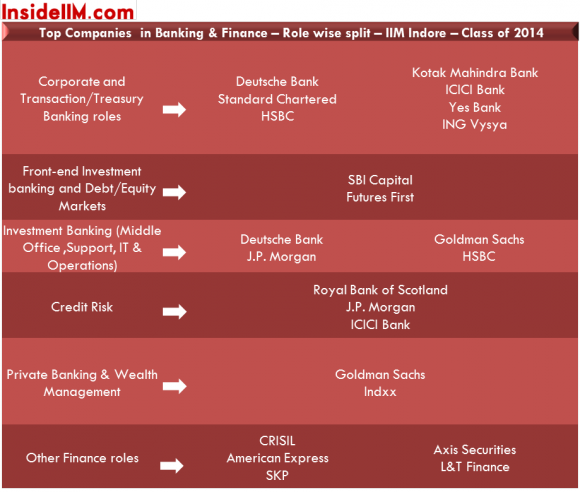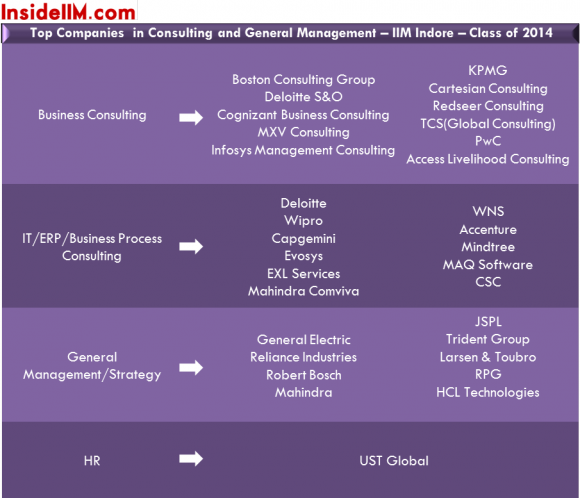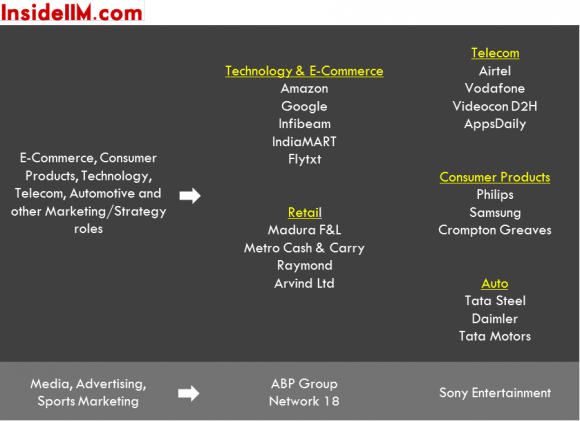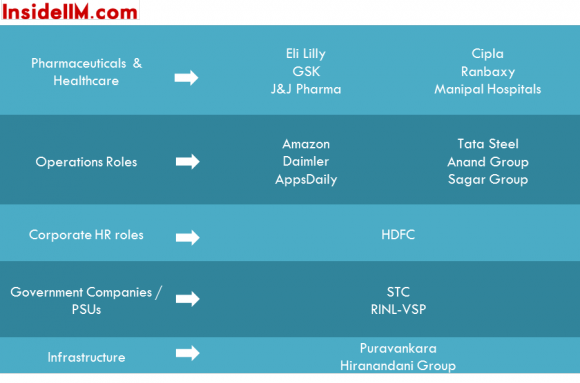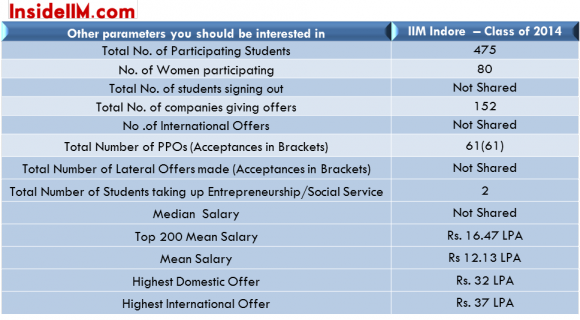 Over 90 out of the 152 companies have been mentioned in the report above. The compensation details and break-up has been provided by the placement committee. It has not been audited by any agency or by us. We have tried our best to verify all the names and the roles offered but we cannot guarantee 100% accuracy.
We would like to thank the placement committee at IIM Indore for sharing the report with us.
For all reports for the Class of 2013 read here