JBIMS Mumbai concluded Final Placements in February. This is the first time we are doing a verified Final Placements Report for JBIMS Mumbai. BCG, Accenture Strategy, Goldman Sachs, Standard Chartered, Google, Flipkart, Barclays Capital, HUL, Ernst & Young are the top names that recruited at JBIMS Mumbai.
JBIMS is a small batch of 120 (117 participated this year) and the probability of one bagging a good offer is high. There was never any doubt that JBIMS would achieve 100% placements - especially this year. Banking & Finance is JBIMS' strongest suit. In the Consulting domain, BCG and Accenture Strategy are the big names. (For a change, a JBIMS student wasn't able to bag a batch day offer from Mckinsey & Co. this year.) Historically, Unilever has always considered JBIMS as a preferred campus. While there is a significant Technology sector presence, unlike most other campuses this year we don't see e-Commerce with the same force at JBIMS. It is probably because of the size of the batch and maybe also because of a preference towards Banking and Consulting. Also, when 50% of the batch has PPIs/PPOs there isn't much that companies can get access to in a batch of 120! As has been mentioned many times before on this platform, JBIMS still offers one of the best ROIs on a MBA in India in terms of Starting Salary vis-a-vis Cost of MBA.
(Summer Placements for this Batch can be found here. Final Placements for the Class of 2014 can be found here)
Highlights of the Placement Season as sent by the JBIMS team
- One of the shortest placement season ever, JBIMS continues to maintain its tradition of 100% placements
- More than 50% of the batch received PPIs and PPOs
- Large number of students opted for front end Investment Banking profile with various companies including Barclays Capital offering this coveted role
- The consulting domain continued its stellar performance from summer placements with Accenture Strategy and The Boston Consulting Group offering roles in strategy consulting
- The average package as well as the median package exhibited a significant increase over last year
- Various diverse profiles were offered by companies with many of them being offered for the first time
- A number of companies visited the campus for the first time hence laying foundation for a strong and long-lasting relationship
The report in the InsideIIM.com format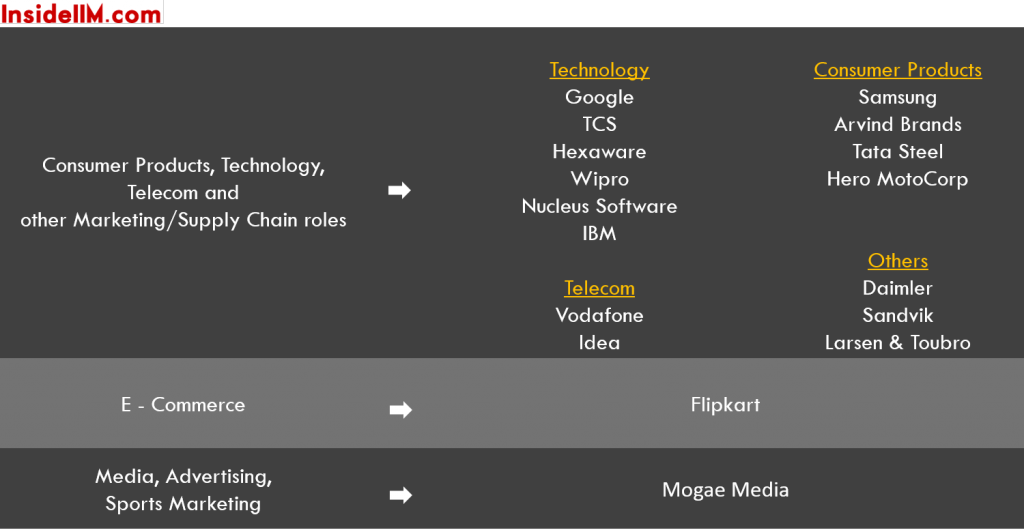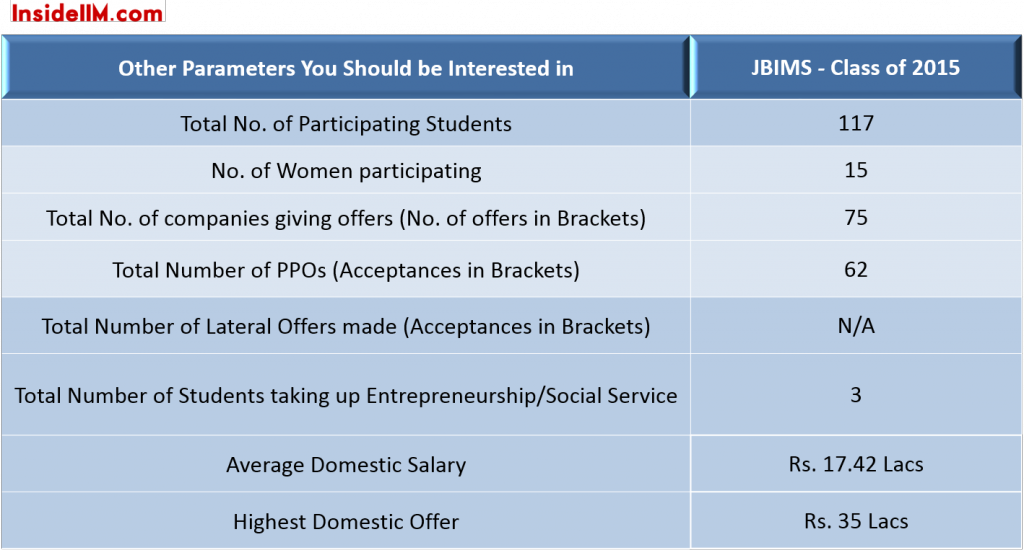 In case you wish to point out anomalies in the report, do write in to us at editor(at)insideiim(dot)com. We will try to clarify it with the placement committee/company. Anonymity will be ensured.
Final Placement Reports for the Class of 2015 across schools can be found here
(The above link has reports from IIM B, IIM A, IIM I, XLRI, FMS, SPJIMR, IIFT up to 16th March 2015)