Indian Institute of Management Rohtak inducted the 11th batch of the Post Graduate Programme on 19 June 2020. The induction and orientation programme was spread across 2 days. Amidst the ongoing pandemic, against all the odds, IIM Rohtak is first among all IIMs in India to adapt to online induction and orientation process. Institute geared up within a short span with a cutting edge IT infrastructure, enabling a seamless induction through an online platform.
As part of the induction and orientation ceremony, the newly inducted batch witnessed the presence of Shri Suresh Prabhu, Hon'ble Member of Parliament, as the Chief Guest. Other speakers who interacted with the new batch as part of orientation included Mr. Ajay Srinivasan, Chief Executive, Aditya Birla Capital Ltd., Mr. Kochouseph Chittilappilly, Chairman V Guard Industries, Shri Madnesh Mishra, Joint Secretary, Ministry of Finance, Govt. of India, and Shri KVR Murthy, , Joint Secretary, Ministry of Corporate Affairs, Govt. of India among others.
Director, IIM Rohtak, Prof Dheeraj Sharma, welcomed and congratulated the 11th batch of PGP as they embark upon a new journey and pursue a path towards becoming future leaders. He set the tone of the event by emphasizing the online mode of study and highlighted the point of regular assessments after each session to maintain the rigor of learning for which IIMs are known. He also encouraged the students to start the journey on a positive note in this unprecedented situation.
While addressing the batch during the inaugural ceremony, the Hon'ble Chief Guest, Shri Suresh Prabhu, Hon'ble Member of Parliament, said, "The biggest challenge of management is when you are managing an unknown problem, and being future managers, students should focus on the same considering the current situations. Humanity always evolved by cultures coming together, and the current pandemic situation is something that is forcing us to maintain the distance, and it will be quite challenging for everyone. There will be certain externalities that will have a lot of impacts on business and may disrupt, so while focusing on academic learning, students should focus on other knowledge as well from society".
IIM Rohtak took a historic step this year and opted out of CAP process to conduct its own admission process. Around 1.6 lac candidates showed interest in IIM Rohtak of which 8000 candidates were shortlisted for the interview process, which was conducted at various locations across the country. Over 240 students joined the course this year. Institute has maintained its focus towards cultivating a gender diverse batch of students, with around 166 students being female, which amounts to 69% of the batch. This is in continuation to the historic gender diversity achieved by the institute in last 2 years with 1:1 gender ratio.
| | |
| --- | --- |
| Year | % of female students |
| 2017 | 9% |
| 2018 | 50% |
| 2019 | 51% |
| 2020 | 69% |
Institute has been able to present the diversified batch consecutively for three years now attained with the help of various outreach programmes conducted by the institute through out. Talking about this, Director IIM Rohtak, Prof. Dheeraj Sharma said, "IIM Rohtak ensured tie-ups with 5 public and private sector banks to facilitate loans to the students within 48 hours." He further added that the institute is proud of its achievement of attaining 100% placements consecutively for 3 years now. Even during the lockdown situation, except for 2, all the placement offers have been honoured by the recruiters. Those 2 offers are also under reconsideration.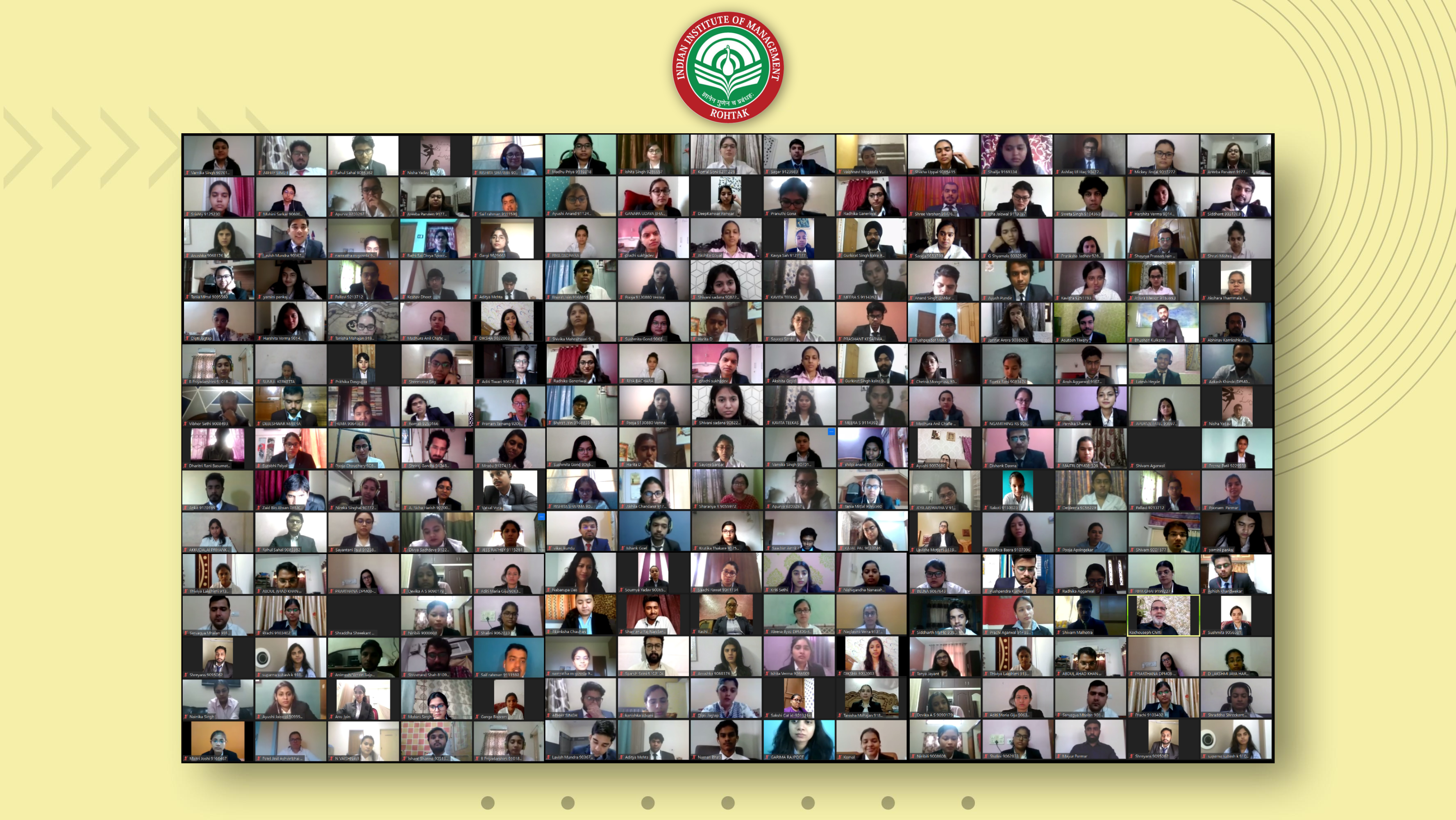 In an attempt to carve out a niche among other IIMs, institute garnered significant attention from potential students for its extensive COVID related research work during the pandemic situation. The institute administration and faculty had provided continuously consulting, and research-oriented results that acquired attention through various media and non-media platforms among the candidates.
The majority of the batch lies between the ages of 23 – 25 years and is diverse with representation from 24 states, which reflects a healthy combination from all parts of the country. There is also an excellent mix of academic diversity in the batch with students from Engineering, Commerce, Economics, Management, Humanities, and applied sciences backgrounds. About 40% of the batch has held previous work experience.
IIM Rohtak is now a well-established and well-respected brand in academia and industry. One of the top management institutes in the country, it is the only IIM in the Delhi-NCR region. IIM Rohtak has become a benchmark of management education in India and aims to build the leaders of tomorrow by imparting knowledge with a unique cross-functional perspective.