FMS Delhi students have voted Dr. Garima Gupta as their Professor of The Year in 2021! Dr. Gupta, an Associate Professor at FMS, has been associated with FMS Delhi for over a decade, and teaches Marketing to the MBA students. Here's why FMS Delhi students think that Dr. Gupta is "the best."
---
Meet Dr. Garima Gupta - Associate Professor At FMS Delhi, InsideIIM Professor of The Year In 2021
Dr. Garima Gupta is an Associate Professor of Marketing at FMS Delhi - an institute she's been associated with for over 10 years. Professor Gupta holds an M.Phil., PhD, and an MBA from Delhi University and has over 20 years of teaching experience, having taught postgraduate as well as undergraduate courses. Find out more about Professor Gupta here.
Take Your Career To The Next Level. Ask Our Experts Anything. We Will Respond Within 48 Hours.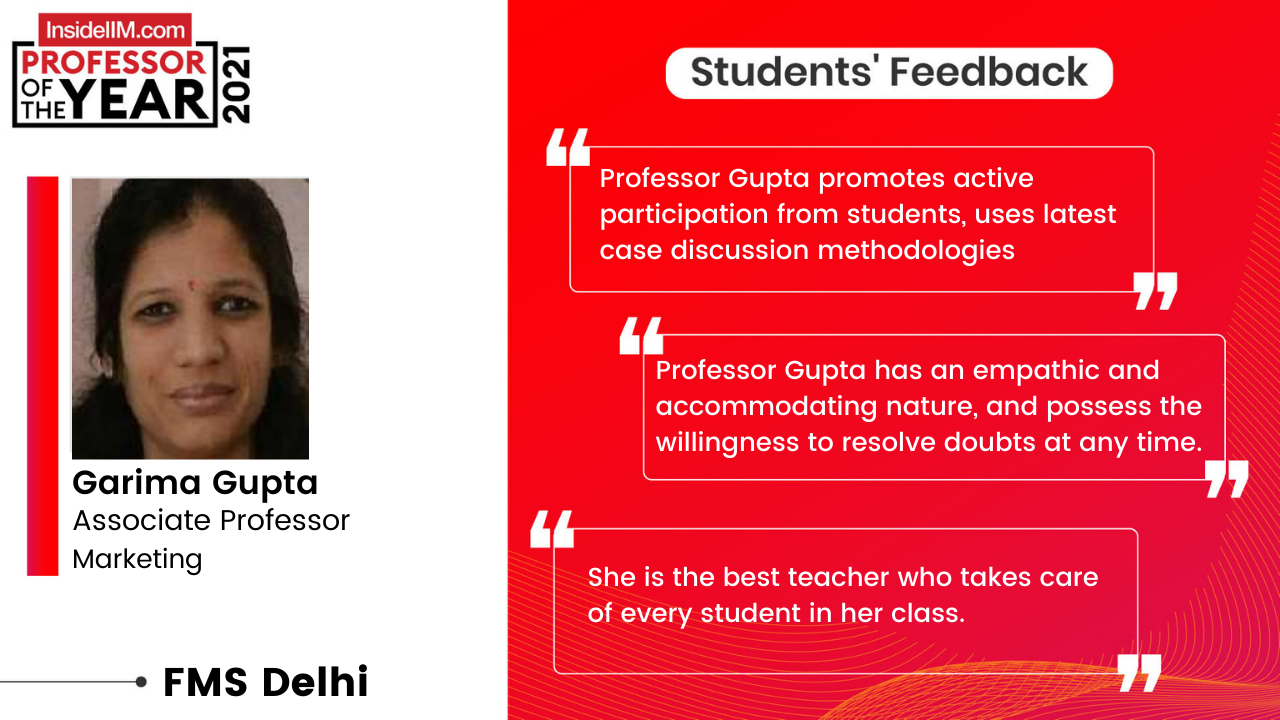 ---
InsideIIM Professor of The Year 2021 - What FMS Students Have To Say About Dr. Garima Gupta
"Professor Gupta has a good blend of teaching methods. She presents unique case studies to provide in depth learning. She sympathizes with students as well!"
"She understands the problem faced by students. Apart from academics also, she is always ready to help. All the teachers at FMS are good but she is the best."
"Her teaching style, sense of understanding towards the children & her caring attitude made us feel more comfortable in the class even in the online medium."
"She understands the students' perspective; teaches everything by giving examples so that it's easier to grasp; always has the answers for the questions raised by the students."
"She is a teacher who teaches concepts really well taking into account real life cases. She also encourages student participation and is empathetic towards student needs."
---
What The InsideIIM Professor of The Year Series Is About
In the last year, the whole country struggled in coping up with the pandemic and lockdowns. In this time of crisis, it was the great leadership shown by our teachers and professors to ensure that learning never stops. They went beyond just teaching and found solutions and created new learning environments for their students to continue learning.
We at InsideIIM want to recognize the efforts that various B-School professors throughout the country put in to ensure that their students are not left behind and continue to meet their potential and achieve great things. This is why we asked MBA students of the current batches in 2021 to nominate their favorite professors on campus for the title of 'Professor of The Year' as a small token of gratitude for professors who have made so many efforts in the last year, just so that students can head out to etch a successful career for themselves!