Preparing for the Verbal Ability section of CAT is not an easy nut to crack. Engineers can understand this better. Students from state boards can understand this even better. And if you are a combination of both, the story of Jitesh Mittal is what you need to read to know how he went on to score 95% in VARC from 19% in VARC in his first attempt!
Jitesh decided to take CAT for the first time while working with TCS in 2016. Clueless about how the preparation process goes, he joined a renowned coaching centre. While the guidance from coaching certainly helped, he would always find himself being active only in the classes of LRDI and Quants. When it came to Verbal Ability classes, his apprehensions would gallop his concentration and he would get distracted. Being from a state board, he would find it hard to comprehend paragraphs, especially with no prior interest in reading. The same story started getting reflected in mocks wherein he would start taking them seriously only once the VARC section was somehow over. As a result, he ended up scoring 19% in CAT 2016 but an impressive 99% in both LRDI and Quants. Naturally, he didn't get good calls and got trapped in the thought of whether he should attempt CAT again!
He would consult his friends and everybody would discourage him from continuing his preparation saying, "It's a waste of one more year. Why bother!" or "Admit that you are from a state board and CAT is not for people like us!" While this was intimidating at the beginning, Jitesh decided to not pay any heed to what they said, pull up his socks and start working diligently on his weak areas. He knew he had a long way to go and so he left no stone unturned.
He started reading two newspapers, The Hindu and The Economic Times, every day without fail to develop a reading habit and increase his reading speed. From the articles read, he would pick up 4-5 snippets every day and summarise them which helped him retain more of what he was reading. Reading newspapers also helped him develop a good understanding of the current happenings which strengthened his GK and helped him in other entrance examinations afterwards!
He also started solving exercises from "Word Power Made Easy" by Normal Lewis, started watching Hollywood movies more, and also joined Toastmasters. Also, before going to office, he would solve one sectional mock on VARC daily which used to be posted by Akanksha Thakral on Facebook. The answers would come in the evening and then she would help with the solutions for a clear picture of how to comprehend similar MCQ options.
Slowly, his hard work started getting reflected in his accuracy. Previously, he would get nervous with the VARC section and would attempt 12-15 questions with only 50% accuracy. He would read slowly and would read the first paragraph 4-5 times until he understood it completely. But gradually, his reading speed improved and he started solving 22-24 questions with more than 90% accuracy.
His strategy in VARC got refined with extensive practice and he would start off by skimming through all the RCs quickly to see what the topic of each was. He would choose the ones based on facts as that became his comfort zone because of reading newspapers extensively. He would also first see what the questions were so that he was mindful of them while reading the passage. Also, since he was good with logical reasoning, he would solve the parajumble questions with good concentration and would frequently get them right.
All his hard work paid off and he ended up scoring 95% in VARC and more than 99% in both LRDI and Quants in CAT 2017 and made it to MDI Gurgaon. As it is said, "A dream does not become reality through magic; it takes sweat, determination, and hard work" and this is exactly what kept Jitesh going throughout his preparation.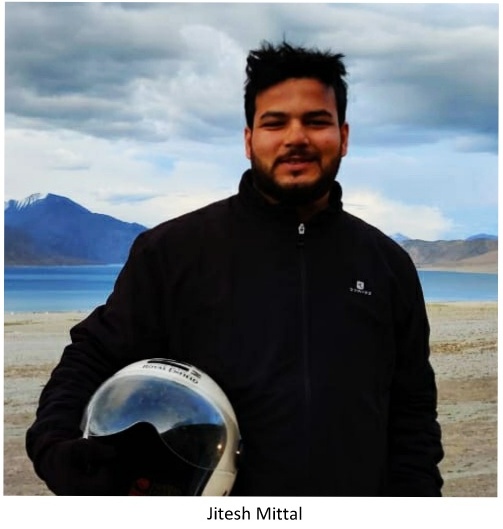 When asked what advise he would want to give to future aspirants, he said that one should not waste their time reading the first few paragraphs of the passage again and again and continue reading. The meaning will start getting clear and if not, you will yourself know that you should skip that particular RC quickly and move to the next one. He also said, "Never underestimate your capabilities and be consistent. No matter what others say, no one can understand your dreams better than you do. Take out some time to think about your end goal and you will find motivation nowhere else but within you!"