Dr. Mudit Kulshreshtha has been voted by students at the Great Lakes Institute of Management, Gurgaon as the InsideIIM Professor of The Year in 2020! "One of the most knowledgeable people I have ever met," "probably the best teacher of strategy I have come across" are only some of the ways students have expressed their love for Professor Kulshreshtha. Here's why they've voted him as their favourite professor at GLIM Gurgaon!
Note - The winner(s) of the InsideIIM Professor of The Year at any given campus has/have been chosen by current MBA students of that campus. The voting process began in the month of February 2020, and MBA students could nominate their favourite professors here. The professor(s) with the maximum number of votes has/have been declared the winner(s) in 2020!
Meet Dr. Mudit Kulshreshtha - Professor, GLIM Gurgaon & InsideIIM Professor of The Year In 2020
Take Your Career To The Next Level. Ask Our Experts Anything. We Will Respond Within 48 Hours.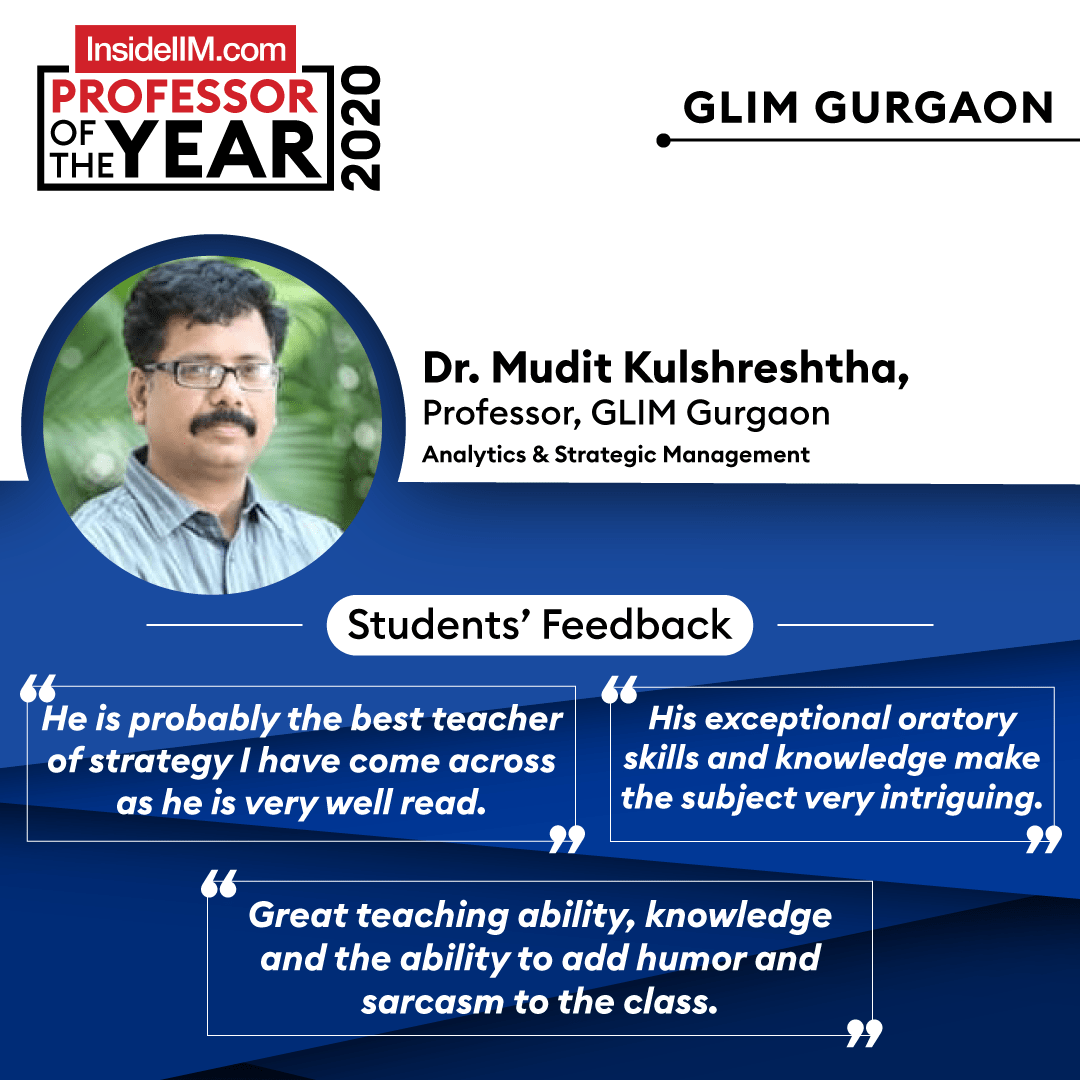 Dr. Kulshreshtha has received his PhD (Economics) from Indira Gandhi Institute of Development Research (IGIDR), Mumbai, India, in 2000 and his M.Tech from IIT Delhi in 1994. Dr. Kulshreshtha has also attended the 2014 Global Colloquium of Participant Centered Learning (GLOCOLL)at Harvard Business School, Boston, USA, on Case based teaching methods.
Dr. Kulshreshtha's career has spanned over 15 years both in industry and academics. Dr. Kulshreshtha's significant industry experience encompasses CXO level and leadership positions across 3 industry domains – Retail, Financial Services & Energy; with organizations like PAYBACK (American Express), Angel Broking, Deloitte Consulting & EY. His last academic stint was with IIM Kashipur as Faculty: Strategy and Chairperson: Corporate Relations & Centre of Excellence on Competitiveness.
InsideIIM Professor of The Year 2020 - What GLIM Gurgaon Students Have To Say About Professor Kulshreshtha
"One of the most knowledgeable people I have ever met and always ready to help out a fellow student. His highest priority are that his students learn well and be a cut above everyone else."
"He really makes the subject interesting by his teaching that makes us learn more and more. He lays more focus on learning than just scoring marks, and is always there to help no matter what."
"His classes are fun and full of learning. With his witty remarks and his passion for teaching he ensures that the class is engaged and enjoying the course. His vast knowledge of the latest technology and his constant motivation to the students to learn all the cool stuff also make him very special to us."
"He gave us knowledge about the recent trends and helped us in broadening our thinking process. In the strategy management course we actually got to know the business perspective of the major domains (Operations, Marketing, Sales, R&D and Finance) through the simulation game CAPSIM."
The following are professors at GLIM Gurgaon who were also nominated by many MBA students for the title of the InsideIIM Professor of the Year:
Prof. Umashankar Venkatesh
"Professor Venkatesh brings the real essence of Marketing to the class. He makes students feel the power of brands, the wonders that Marketing can create and how marketing can affect companies' performance. He indirectly linked Marketing with share market and economy at a macro-level, and that was a wonderful learning experience. The perception of student regarding marketing changes after student attending Prof. Venkatesh's class."
"Difficult to state all the reason in such compact space. One sentence, I'm a die hard fan!"
Professor Vikas Prakash Singh
"The greatest professor I have ever studied from. He makes the most difficult concepts seem easy."
"His way of teaching is as if we are just discussing. He involves students in his classes, and all of us are always so keen to attend his classes. His continuous humor keeps the class alive."
"Dr. VP Singh is one of the finest economists in the country, and the way he teaches macro economics would make even a layman understand technical jargon."