This part of the InsideIIM Recruitment Survey 2018 takes a look at the Dream Companies of India - brands we all want/ have wanted to work with at some point in our lives. These are companies which evoke the thought - "Yaar, idhar kaam karna hai."
Over the years, some top names have stood out as Dream companies, featuring in the InsideIIM Recruitment Survey every single year. These organisations are, more often than not, not just market leaders but giants of their respective industries. Their unanimous appeal exists due to various factors - work environment and quality of work (as in the case of Unilever), perceived glamour and high remuneration (as in the case of MBB firms and investment banks like Goldman Sachs), and the opportunity to work in massive technology and e-commerce companies (as in the case of Amazon, Google, Facebook, Microsoft etc.) among others.
To determine the Dream Companies of India this season, members of the MBA community were asked to choose one company that they long to work with.
An important point to be noted before moving on to the results is that, while the sector wise rankings such as for FMCG, Consulting, BFSI, E-Commerce & Technology are concerned, the rankings are determined by students or alumni interested in that specific sector. Hence, it is possible that companies that are ranked higher within their own sector have a lower rank than another company in the overall dream company list.
For instance, General Management enthusiasts rank TAS higher than ABGLP but as a Dream Company, the Aditya Birla Group scores over TAS. This could be due to higher number of campuses that ABGLP recruits from, or perhaps respondents simply believe that ABG as a conglomerate is more desirable than the Tata Administrative Services.
Here are the findings of the survey.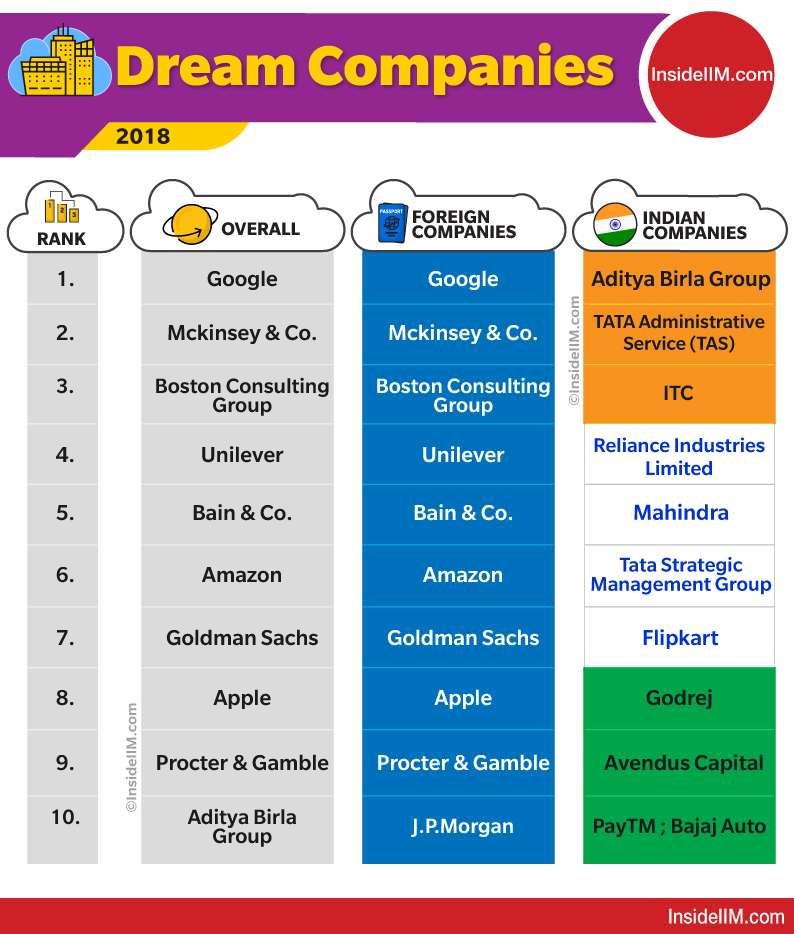 It was long overdue and it has finally happened - Google (Alphabet Inc.) India's No.1 Dream Company for the first time ever, de-throning the highly popular Unilever and Tata Administrative Services (TAS)! The search engine giant is amongst the Top-3 most valuable organisations in the world and is known for its relaxed and fun work environment, as we have been told in this video by a student who landed a PPO with the company.
Next up are two of the three MBB firms (the third is not too far behind), McKinsey & Co. and BCG - the most desirable consulting recruiters in 2018. Offering pay packages higher than most domains, these companies have an enigmatic yet glamorous appeal to them, as has been made very clear by data since 2012. Everyone wants to learn "the McKinsey way", and it is the top consulting firm in this list.
Unilever is one of the stars of not just the 'Dream Companies' section of the InsideIIM Recruitment Survey, but many other credible rankings which hail it as one of the most desirable company to work for in the world. The British-Dutch company has, however, dropped in this year's rankings to 4th place. Another FMCG company that has dominated these rankings, P&G, also finds itself at the bottom end of the Top-10 Dream Companies of India.
Only 1 Indian company features in the Top-10, the Aditya Birla Group. While the regular-feature deserves a big shout out for being the only home-grown brand to make it to the Top-10, Indian companies need to up their game.
Within the Indian companies, as expected, ABG is right at the top, followed by another regular feature, the Tata Administrative Administrative Services (TAS). For the first time ever, a very young start-up turned e-commerce giant features in this list - Flipkart. After the $multi-billion Walmart-Flipkart deal, the company has shot up in desirability.
When it comes to Dream Companies, one name that comes to anyone's mind is the social media behemoth - Facebook. Ever since the Recruitment Survey series began in 2012, Facebook has managed to feature just a handful of positions and is nowhere to be in the preferences of MBA Aspirants and Current MBA Students, perhaps the demographic that is the most Facebook savvy.
Microsoft, the world's 2nd most valuable company and an organisation which featured in at least the Top-10 in previous Recruitment Survey reports, is no longer seen as a dream company, even though it is one of the most desirable Technology companies. The Bill Gates-Jeff Bezos rivalry seen the latter edging forward, both in terms of desirability and market capitalisation.
An interesting observation is that with the exception the glamorous investment banks Goldman Sachs and Morgan Stanley, not a single bank has ever made it to the Top-10 list of Dream Companies which is usually dominated by FMCG, Consulting, i-Banking, E-commerce and Technology companies. Another interesting observation is that 80% of the top-10 companies are American.
The Top-25 Most Desirable Companies of India - Overall Rankings
Rank
Company
Score
1
Google
196
2
Mckinsey & Co.
155
3
Boston Consulting Group
145
4
Unilever
113
5
Bain & Co.
109
6
Amazon
108
7
Goldman Sachs
79
8
Apple
75
9
Procter & Gamble
67
10
Aditya Birla Group
61
11
J.P.Morgan
56
12
Microsoft ; TAS
55
13
A.T. Kearney
48
14
Facebook
46
15
AB-InBev
36
16
Accenture ; Coca-Cola Company
33
17
Tesla
31
18
Morgan Stanley
27
19
Bank of America ; ITC ; Nestle
26
20
Deloitte /Deloitte Consulting
22
21
Mondelez
20
22
World Bank
20
23
Uber
19
24
Barclays Bank ; Colgate Palmolive
18
25
American Express ; RB
17
Dream Companies: Current MBA Students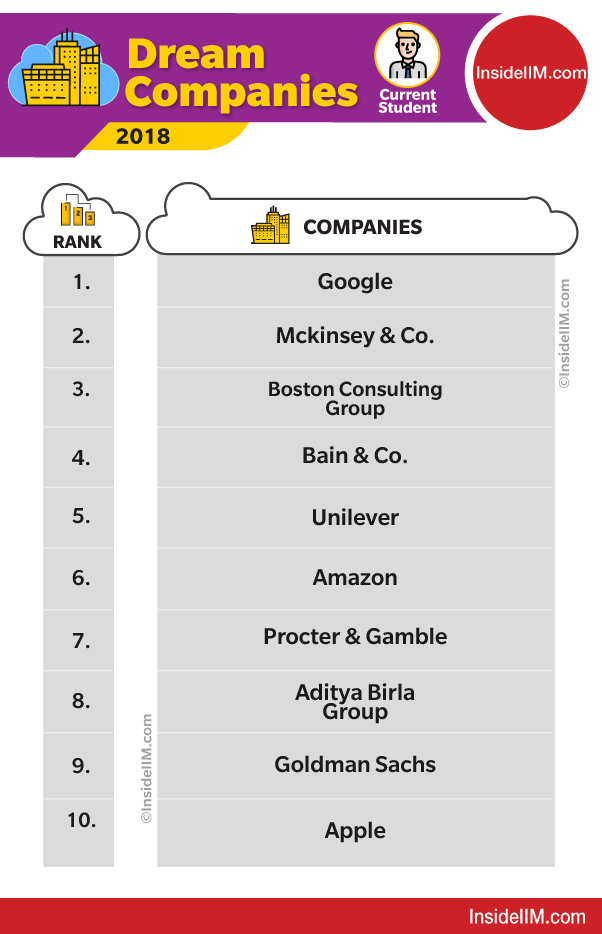 One striking observation is the de-throning of FMCG giants and widely-admired Unilever and P&G from the Top-2 Dream Companies for current MBA students. These two organisations have consistently featured in the Top-3 for 4 consecutive years. They have been replaced by Google, one of the world's most valuable companies which also is the Dream Company for the other two segments of respondents - MBA Alumni, and Aspirants.
As surprising as it may seem, Apple, the first publicly traded company to hit the $1 trillion market cap mark, has only now made its debut to the list of the top-10 Dream Companies for MBA students. The iPhone maker has not yet recruited from any top B-schools but is now beginning to get the attention of MBA students looking to work with the company, ever since it recruited engineers from India for the first time ever in 2017.
Also surprising is the fact that Amazon has still not been able to crack the Top-5 for MBA students, even though it has been one of the largest recruiters on campus for a few years now. Even so, it is ranked 6th in the list of Dream Companies, and the only way is up for the e-commerce and tech company.
Management consulting firms, quite evidently, are more desirable than other companies this year. This is a major shift from the perspective of batches passing out from 2013-2016, who did not consider MBB firms as venerable as their juniors and rather attached more value to FMCG companies (HUL, P&G, ITC), General Management recruiters (ABG, TAS), and top technology and e-commerce companies (Google, Microsoft, Amazon).
Furthermore, there is no love lost for finance companies, with the exception of the leading investment bank Goldman Sachs, and Morgan Stanley (which has not featured in the list of Dream Companies for MBA students since 2015).
Also missing from this list, for the first time ever, is the Tata Administrative Services, even though the Tata subsidiary is the most desirable general management recruiter in 2018. While TAS may be highly desirable, perhaps it is not exciting enough when compared with the likes of Google, Unilever, and Amazon among others.
Based on these rankings, it is evident that MBA students attach a much higher value to top management consulting firm, and the MBB firms feature in the Top-5 of their list of Dream Companies. Google is, across all three segments of respondents, the most sought-after company to work with.
Dream Companies For MBA Students
InsideIIM Recruitment Survey 2018
Rank
Companies
Score
1
Google
97
2
Mckinsey & Co.
93
3
Boston Consulting Group
81
4
Bain & Co.
79
5
Unilever
77
6
Amazon
54
7
Procter & Gamble
46
8
Aditya Birla Group
45
9
Goldman Sachs
39
10
Apple
34
Dream Companies: MBA Alumni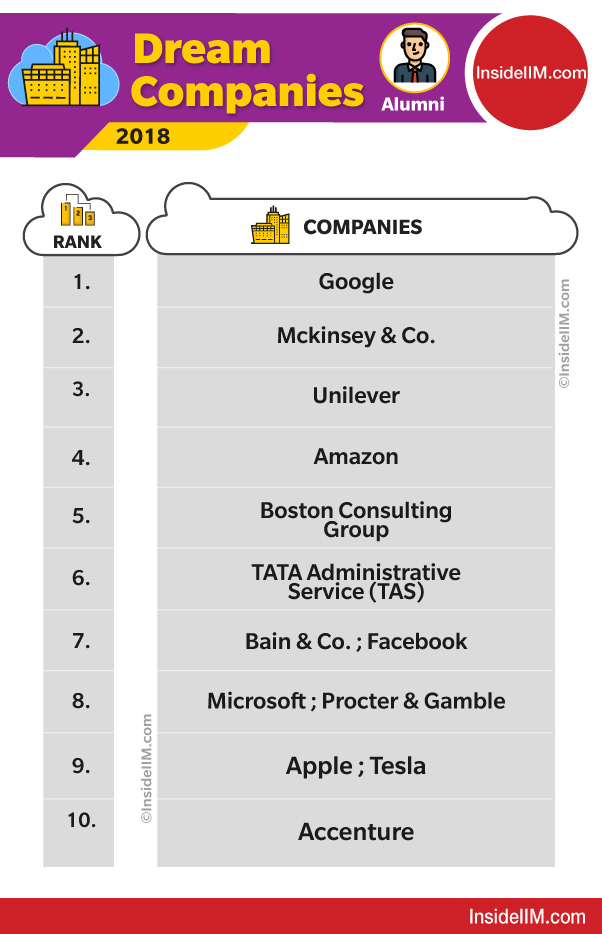 The perspective of MBA alumni differs significantly from that of MBA students in B-schools. While current students find consulting firms more lucrative, MBA alumni would prefer to work with top technology, e-commerce and FMCG companies.
A debutant to the list of the Top-10 Dream Companies for MBA alumni is Elon Musk's Tesla, which has been making headlines ever since electric cars became the future of automobiles. Tesla is one of the most exciting companies to work with according to LinkedIn, ranked just above the likes of Apple, McKinsey and other mammoths. While SpaceX may be out of bounds for Indians, Tesla's automobile and energy subsidiaries are wide open for international candidates. In fact, Americans are a minority in the latter subsidiaries.
Sharing a spot with Tesla is yet another debutant, Apple Inc., which is amongst the Top-5 most valuable companies in the world. While sales of Apple products may not be picking up in emerging markets like India, the American company's market share on its home-turf and European markets is enviable and makes the company highly desirable.
Another debutant to this list is Accenture Management Consulting, which is one of the Top-5 most desirable consulting recruiters in 2018.
While Google may be a new entrant to the Top-3 for MBA Aspirants and students, the search-engine giant has consistently featured in the Top-2 for MBA alumni for half a decade now. Also, Amazon, which has been a regular feature in this list for MBA alumni, has finally found a place for itself in the Top-5 Dream Companies to work with. This may very well be a result of Amazon becoming the most valuable company in the world, and the billions of dollar Jeff Bezos has invested and wants to invest in the Indian market.
Dream Companies For Post-MBA Professionals
InsideIIM Recruitment Survey 2018
Rank
Company
Score
1
Google
40
2
Mckinsey & Co.
27
3
Unilever
25
4
Amazon
22
5
Boston Consulting Group
19
6
TATA Administrative Service (TAS)
14
7
Bain & Co. ; Facebook
13
8
Microsoft ; Procter & Gamble
11
9
Apple ; Tesla
10
10
Accenture
9
Dream Companies: MBA Aspirants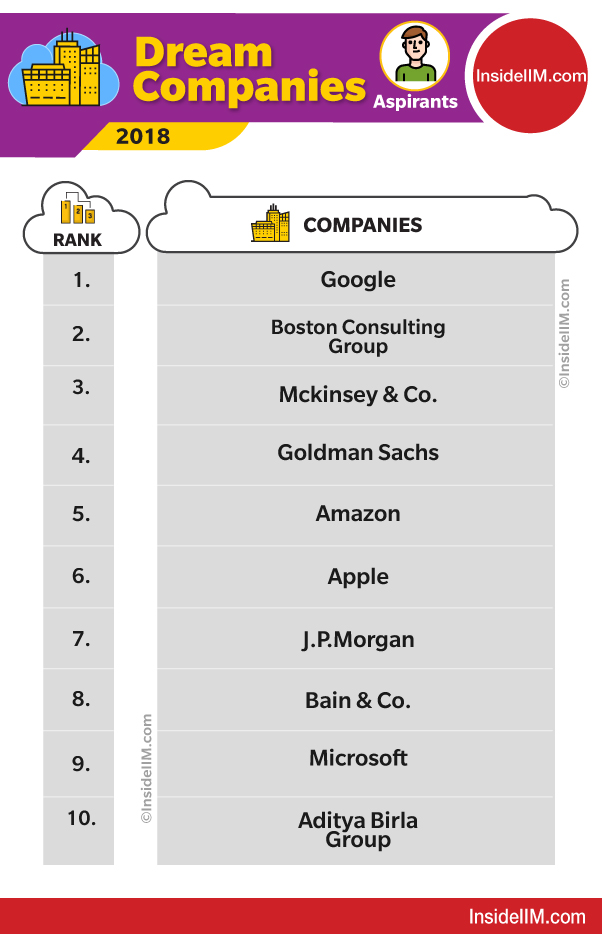 One very evident observation in this report is that MBA aspirants are largely driven by the perception of the brand in their minds, and may have little to do with the company's offerings and growth prospects. Rankings are likely to be majorly influenced by placement reports and salary figures. This is evident from the presence of glamorous companies that pay higher than average, such as JP Morgan, MBB firms and Goldman Sachs. These are companies that are regular features in the Top-5 and Top-10 Dream Companies for MBA aspirants.
Google is famous for its work-culture, and working for the industry giant is a dream company for Aspirants since graduation days, and features as the most desirable company to work with across all industries and domains.
One interesting company to feature in the list for MBA aspirants is the Aditya Birla Group, ranked #10 in 2018. Clearly, ABG has been doing something to pique the interest of MBA aspirants in working with the conglomerate, even before they join a business school. ABG is also the only Indian company to feature in this list, and the overall list of the Top-10 most desirable companies to work with.
Dream Companies For MBA Aspirants
InsideIIM Recruitment Survey 2018
Rank
Company
Score
1
Google
59
2
Boston Consulting Group
45
3
Mckinsey & Co.
35
4
Goldman Sachs
33
5
Amazon
32
6
Apple
31
7
J.P.Morgan
24
8
Bain & Co.
17
9
Microsoft
16
10
Aditya Birla Group
13