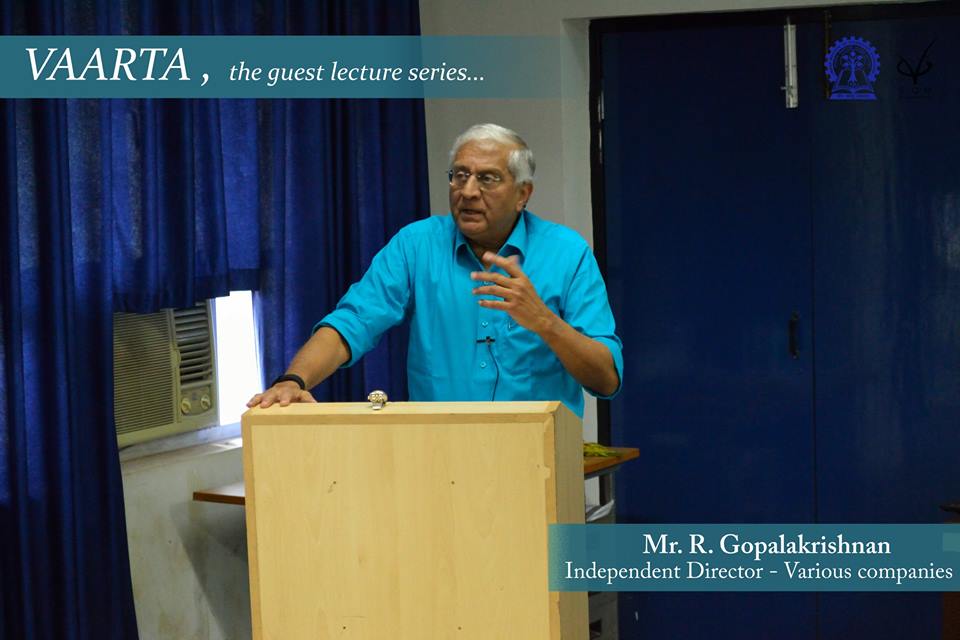 It was a homecoming of sorts, as Mr. R. Gopalakrishnan, one of the most distinguished alumni of IIT Kharagpur and one of the most valuable employees within the Tata group of companies visited VGSoM, IIT Kharagpur for a guest lecture on 7th March 2016. Mr. Gopalakrishnan obtained his graduation degree from IIT Kharagpur and completed the Advanced Management Programme from Harvard Business School. He has served as a Vice Chairman at HUL, as an ED at Tata Sons and director of several Tata Companies. He currently serves as an independent director of listed companies like Akzo Nobel India, Castrol India, and Hemas Holdings PLC, Sri Lanka.
"Life is just a story. The question is how you tell it."
Having authored five bestselling books, it was no surprise when Mr. Gopalkrishnan started the lecture with a small anecdote about his way of explaining everything via stories. He set the agenda of the lecture by highlighting the six key points he would discuss with the audience during the course of the session:
1) Obligation should precede privilege
2) Reflecting on the current start-up scenario
3) Developing a growth mind-set
4) Everybody has to be a salesman
5) The future key role of Innovation and Customer empathy
Mr. Gopalakrishnan used an interesting exercise to demonstrate how as employees within an organization, our expectations from the organization outweigh our obligations to it. He went on to talk about the 4A's that could spur us towards success – Accomplishment, Affability, Advocacy and Authenticity. He threw further light on these concepts and concluded with a quote from Aristotle – "The mark of a true mind is the ability to have two contrary ideas and yet function properly".
Mr. Gopalakrishnan moved to the second point and made a rather unexpected point about start-ups. At a time when the country is buzzing with start-ups and entrepreneurs, he asked us to reflect on the path of start-ups a little carefully. Citing the example of nurturing an infant into a responsible citizen of the country, he emphasized on the importance of a strong moral and value system, and how it needs to be established while starting up an organization.
The difference between successful people and everyone else lies in their mindset when they approach a problem. Mr. Gopalakrishnan stated that in order to go a long way in our career, we need to move from a fixed mindset to a growth mindset. Instead of blaming and pointing fingers, we need to be humble enough to accept our mistakes and flexible enough to learn from them.
Talking about salesmanship, he moved to his fourth point of discussion. In an ideal world, many yearn for a workplace where they don't have a boss. But Mr. Gopalakrishnan made the audience realize that we're always accountable to someone or the other and hence looking for a boss-less world is the wrong inspiration to make career decisions. He went ahead and underscored the importance of one's ability to sell something in today's world. An idea in itself does not amount to much if one does not have the ability to sell it.
Mr. Gopalakrishnan finished the lecture placing emphasis on the two most important skills he believes the young managers of today need – Dedication to Innovation and Customer Empathy. Without these two skills, one can easily perish in this environment of hyper-competition and disruption.
As the floor opened to questions, the guest answered numerous questions regarding creative ways to disagree amicably, adapting to different organizational cultures and some questions about his books.
The student fraternity was left inspired by the lecture and the campus was buzzing with the ideas the students were able to assimilate through the lecture. Vinod Gupta School of Management, IIT Kharagpur would like to thank Mr. Gopalkrishnan for such an inciting and memorable session. We are sure his ideas and values will help the students look at some aspects of the business world in new light and hence encourage them to learn and explore more.