The role of quality teaching and interacting with the best B-School Professors in the country plays a major role in an individual's MBA journey. MBA aspirants generally tend to undermine and overlook this aspect. Thus, the Media and Corporate Communications Committee of IIM Indore UAE Campus launched the 'Guru Gyaan' series to spread awareness about the importance of focusing on the 'Gyaan' aspect in the MBA journey. This initiative will feature interviews with professors who have set very high course delivery and teaching standards in the GCC region.
The 4th article in this series features Professor K.S. Ranjani who offered the 2nd part of the Managerial Accounting and Control course at the UAE Campus. Prof. K.S. Ranjani (Chartered Accountant and Cost Accountant) is a visiting faculty to IIM Indore from NITIE Mumbai and has 17 years of enriched work experience across consulting, corporate and academics. She is also the author of 'Kuruvamma's Saree'- an English novel weaving principles of microfinance into a moving tale of a woman's dream to buy a saree for herself. Excerpts of her interview with the Media and Corporate Communication Committee are as follows:
How do you feel to be a part of the IIM fraternity?
IIM is probably the best brand in India in management education. Needless to say, it gives me great pride to be associated with IIM.
As a faculty of Managerial Accounting and Control, how would you like to define the importance of the subject for the budding managers?
Control is all pervasive in management. Therefore, irrespective of the role that one plays in business understanding controls helps in effective performance measurement and better business management. Hence all aspiring managers need to go through the course on accounting and controls.
How was your experience in offering a regular PGP course in the UAE campus?
I enjoyed teaching at the UAE campus. An added advantage is that the campus has shifted to Dubai thereby giving it more visibility. The course delivery schedule is packed into a duration of 10 days. So it is a high energy and high focus delivery and I enjoy the challenge
How was your interaction with the PGP UAE batch where profile of participants is very diverse as compared to the regular PGP programs?
Certainly there is a sense of having to prove oneself outside their own country. It could be a challenge or difficulty depending on how one perceives it. But this challenge is what keeps the participants on their toes. The diverse profile promotes peer learning and I view it favourably
In your opinion, what value does international exposure add to the overall experience of a PGP student?
Exposure of this kind is obviously going to add to the awareness levels of the student. Also the students understand that excellence is defined very differently in an international context. It is to reach this standard of excellence that a student needs to work while she still has learning years left. So it is an opportunity that she should utilise fully so as to be part of the global business culture.
What in your eyes are the qualities a student should possess, to be successful in such a unique and highly demanding program?
Undoubtedly hard work will top the list. Extensive reading, interaction with industry, mental agility and fruitful peer interactions will go a long way in contributing to the success of a student in a programme as rigorous as this.
Any message for prospective applicants to PGP UAE program.
While it is ideal for people who want an international platform from which to begin an eventful career, it is certainly not for the weak-hearted. Be ready to accept challenges and develop an attitude of looking at every challenge as an opportunity to learn. That is when you will get the best out of this programme.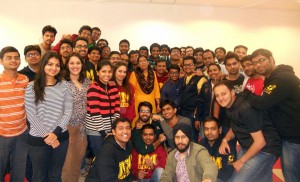 Professor K.S. Ranjani's course was very well received by the PGP UAE participants who still talk about her smart sense of humor and the concluding speech which she gave at the end of the course. IIM Indore UAE thanks Prof. K.S. Ranjani for the interview and also for delivering a fantastic course on Managerial Accounting and Control.