What is the verdict from alumni about their careers? How satisfied are they about their salaries? Do they feel they have adequate work-life balance? We answer these questions and more based on responses from alumni in our 5th InsideIIM Recruitment Survey.
It's time to reveal our findings. This is year 5 of our Recruitment Survey and Recruiter Rankings. The only platform that provides insight into what students and management professionals think. We look at their aspirations and motivations. We also come out with lists of the most desired recruiters across top business school campuses in India. These findings are based on surveying over 1200 students who answered over 25 questions in our questionnaire.
(View Part 1 - Cost of a MBA, Part 2 - Salary expectations)
All data is compared with corresponding data of last year.
We start with Compensation.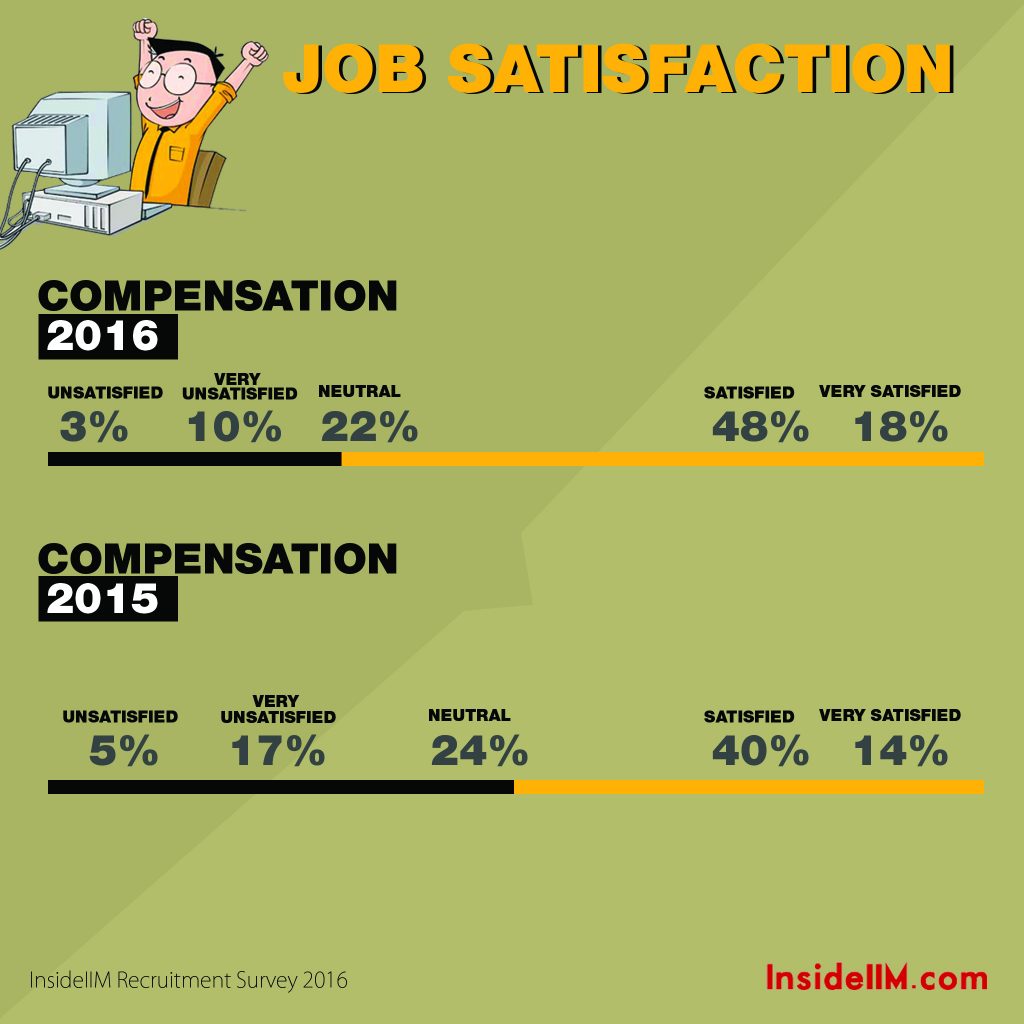 Over 50% of the respondents are happy with the compensation they receive at their current job. It has dropped very marginally as compared to last year's figures. A large proportion (over 20%) is also not unhappy even if they are not ecstatic about it. They probably feel it is just about fair. Does it mean that despite the high cost of the programme, the investment in the MBA is mostly worth it? We would say that for alumni from the top schools at least that would be true.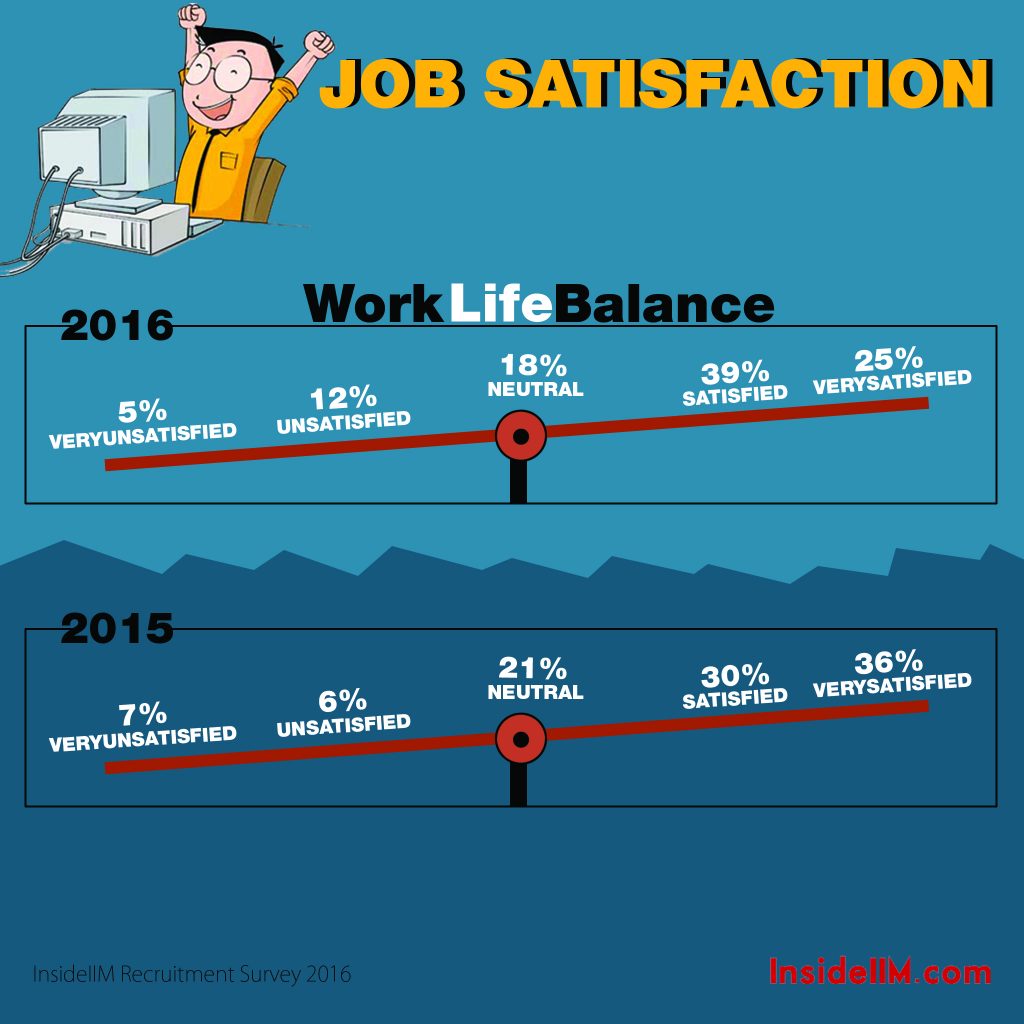 The work life balance numbers also suggest that companies are doing a pretty good job as the perception among most alumni is that the work life balance isn't too bad. For 2 consecutive years over 60% of the junta seems happy. One qualification to this observation though, most respondents have passed out in the last 3-4 years when they are probably still very young and single. It is possible people start valuing it more as they grow older in life.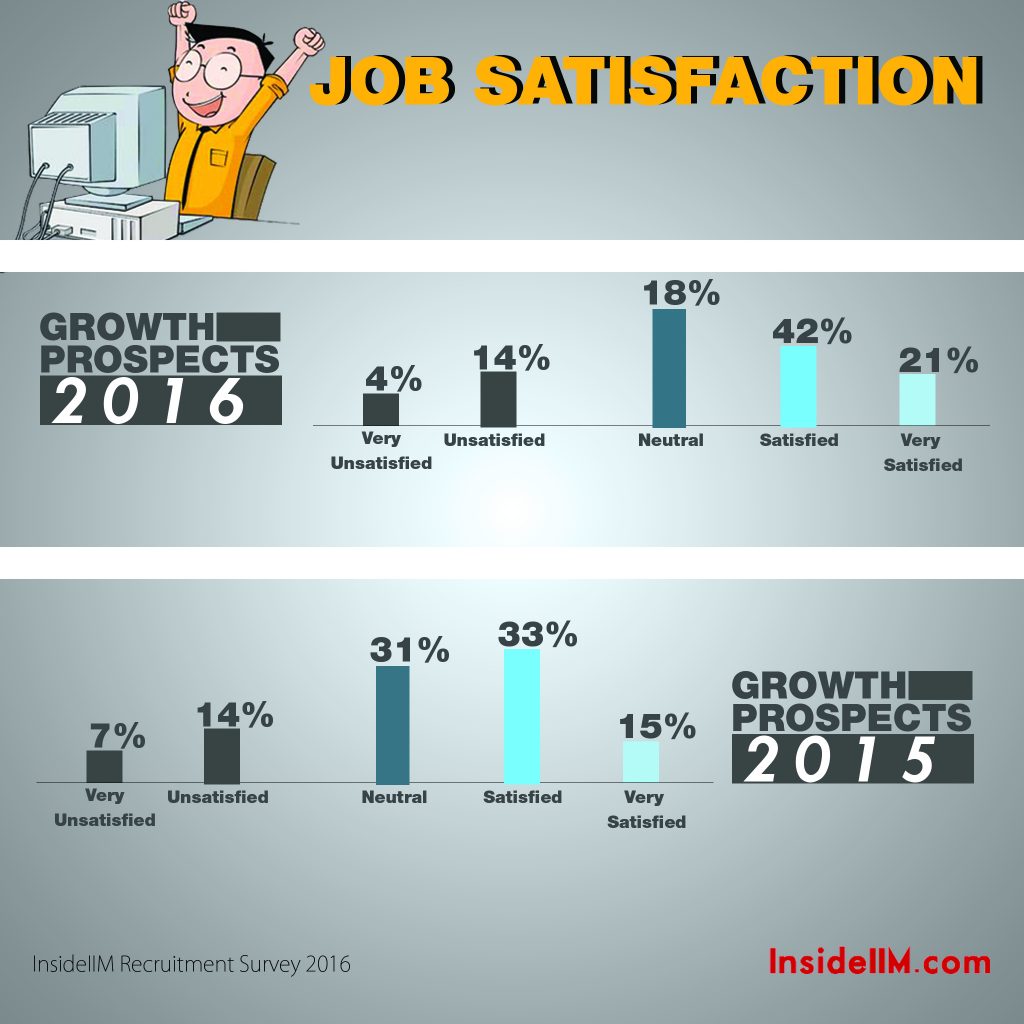 A large majority think that they have good prospects to grow in their current jobs. Does this hint at the Indian economy in general or is it that companies hiring in top schools have done a good job designing MT programmes and Leadership programmes?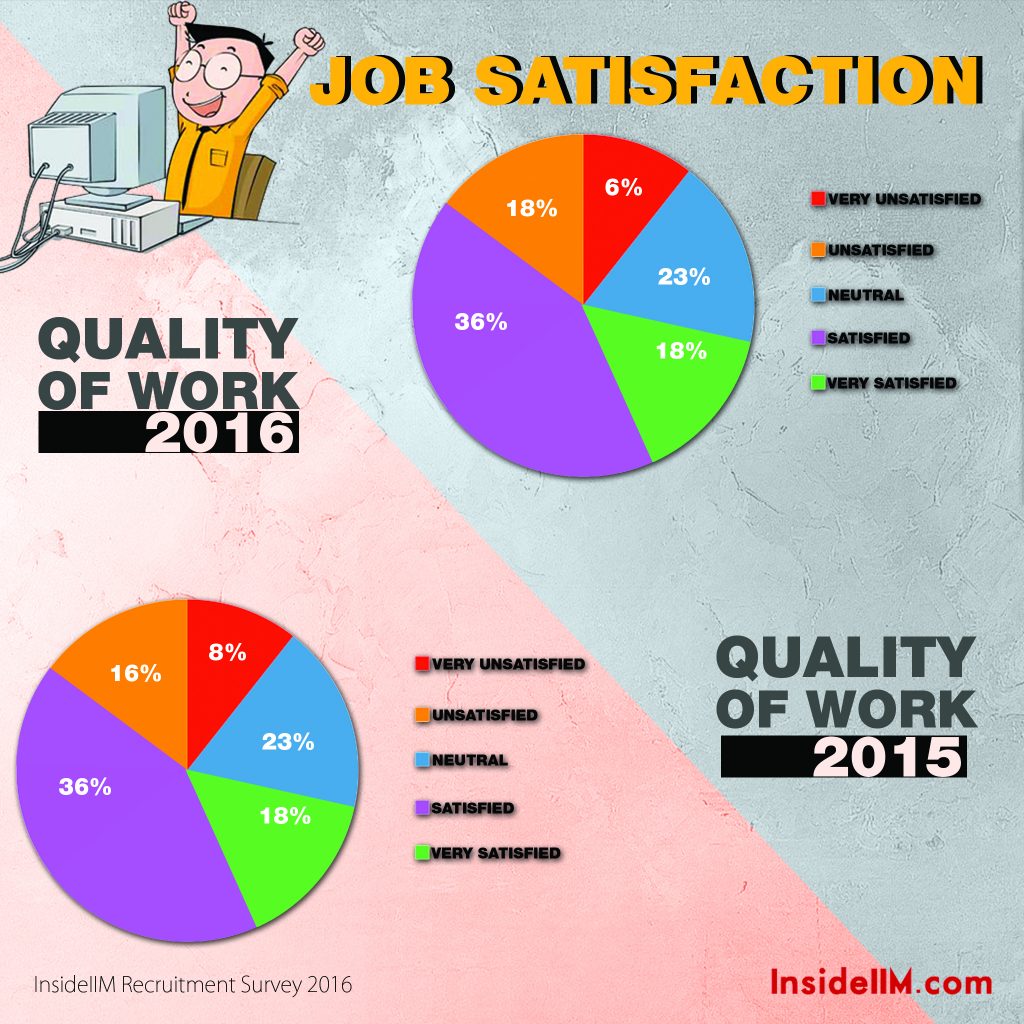 In terms of quality of work, the charts look identical for both 2015 and 2016.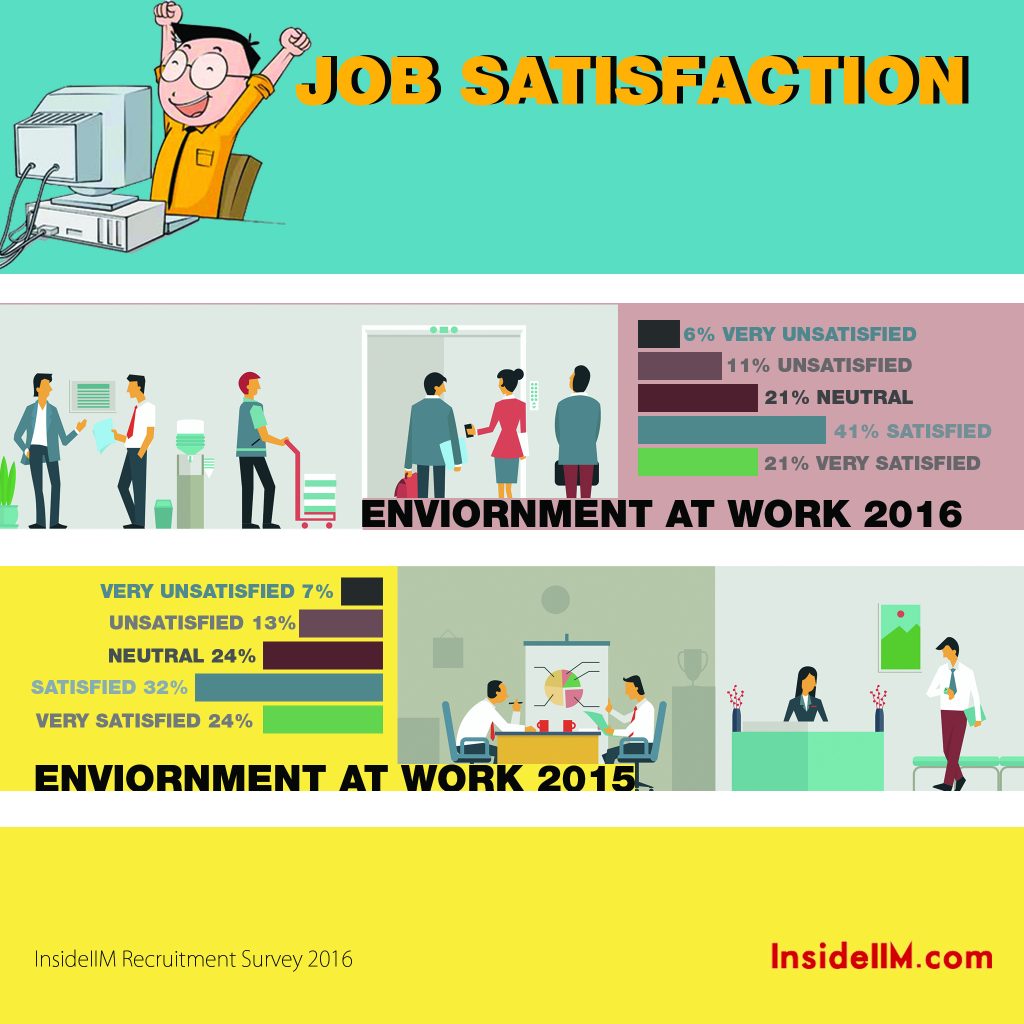 Not too many complaints with respect to environment at work over the years. Is it that people have low expectations because of the overall standard of school and college environments they have experienced growing up? It will be interesting to see this 3 years later. To be fair, we have seen companies in India (especially those hiring from the IIMs and top schools) do a lot to ensure this. One look at our summer internship experience section is enough (click here).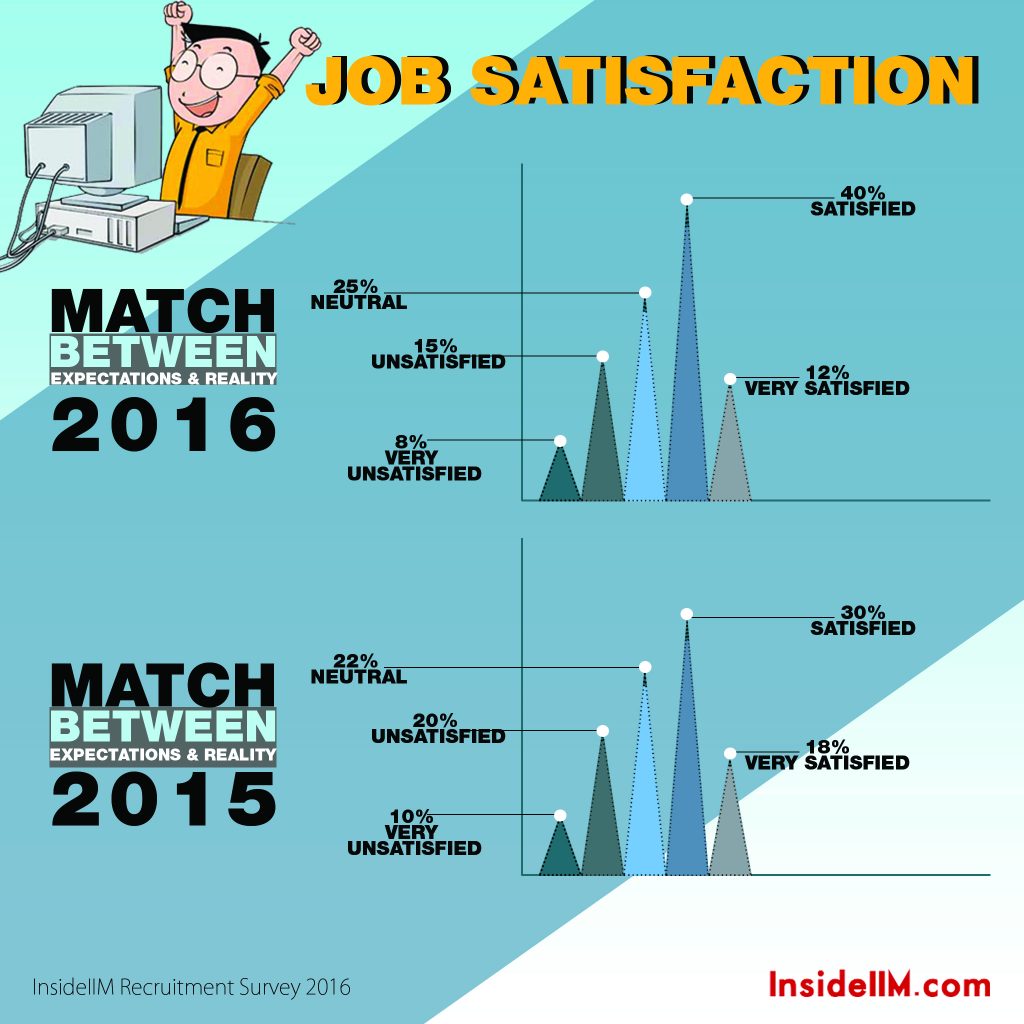 There could be some room for improvement for companies here in terms of communication - a sizable proportion of alumni respondents feel that there is a mismatch in expectations and reality about the job profile.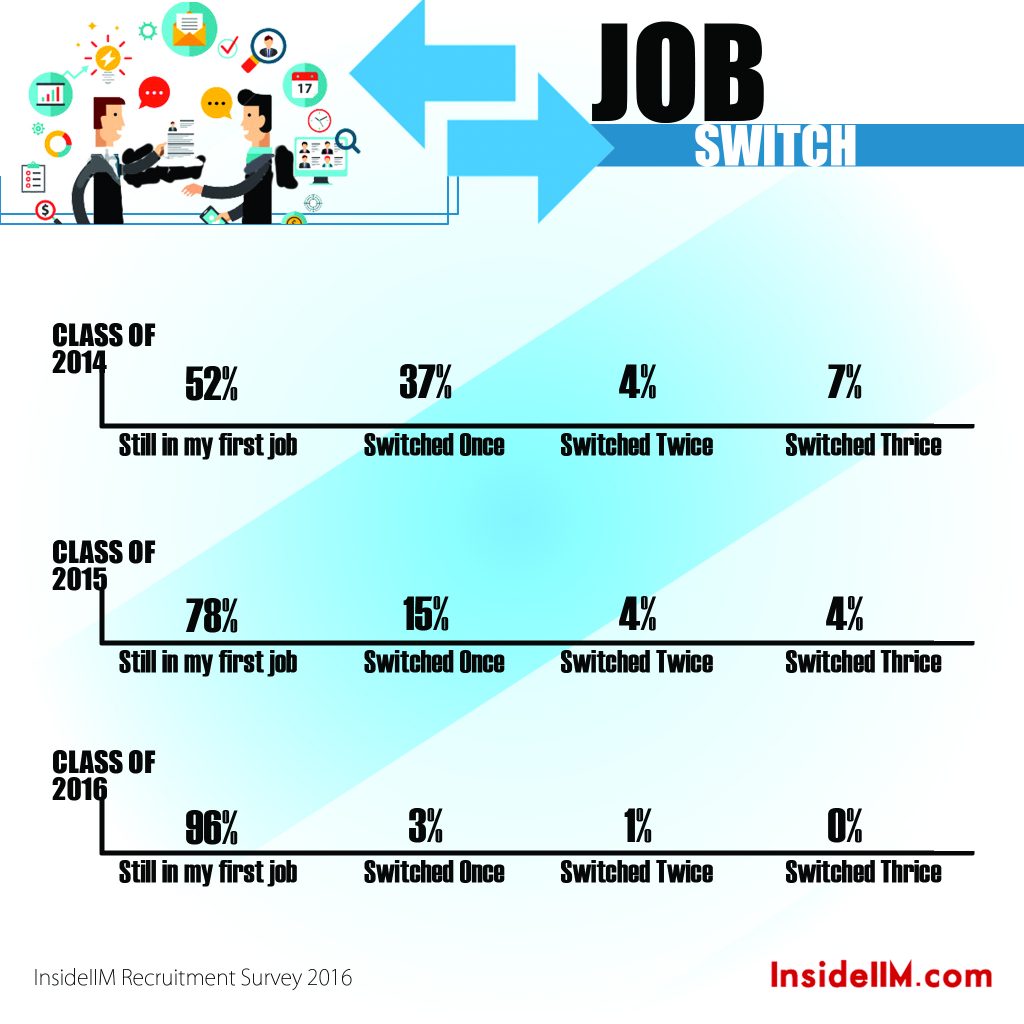 This is another slightly unfavourable sign for both companies and business school. Almost 50% of the class of 2014 has switched jobs at least once already which is in the first 30 months. 7% have switched thrice already - this says a lot about the people and not the company. A person has to be extremely unlucky to get 3 companies in a row that he/she is not happy with. More often than not the person is confused or is always dissatisfied. A small number of people from the 2014 and 2015 batches would have done it to get a big boost in their salary in some other organization. It happens often with people with over 3 years of post-MBA experience but very rarely with 1-2 year experience grads. Many who change jobs within the first 18 months do it to change domains/sectors - they change into ones they couldn't get on campus. But is it possible for schools to ensure the right decision is made when applying on campus? Maybe it means one needs to change the entire process of placements.