Students feel there is a lot of scope of improvement when it comes to campus hiring. Companies should pay heed to some of our findings released in part 5 of our survey where we ask current students and alumni what they thought the campus hiring process lacked currently. We also look at a list of companies which delivered the best pre-placement talks according to students.
It's time to reveal our findings. This is year 5 of our Recruitment Survey and Recruiter Rankings. The only platform that provides insight into what students and management professionals think. We look at their aspirations and motivations. We also come out with lists of the most desired recruiters across top business school campuses in India. These findings are based on surveying over 1200 students who answered over 25 questions in our questionnaire.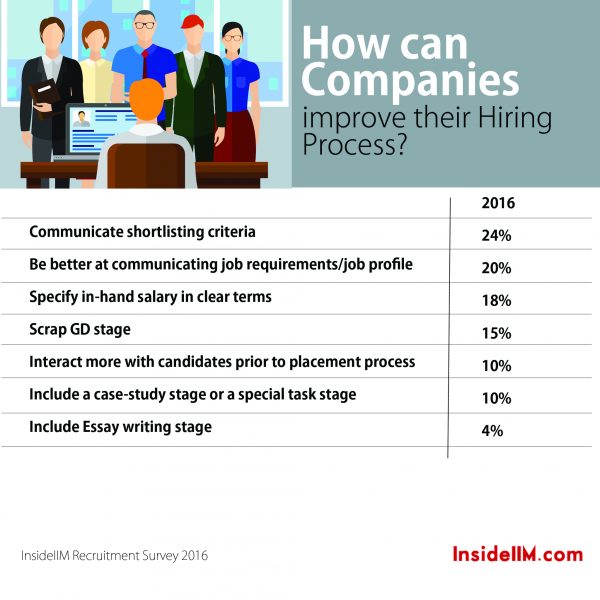 Almost 50% see there being a problem with communication - almost no company clearly communicates the shortlisting criteria for interviews and neither do they seem to be very good at communicating the job profile. Every year there a tens of disgruntled graduates who end up being stumped after joining the company they got placed into through campus placements. There is a definite scope of improvement in terms of companies setting expectations right. It becomes tricky because a lot of companies look at success of their campus exercise based on the absolute number of applications rather than the quality of applications. If that is the goal you are targeting, you are likely to be generic about the job profile in the fear of not scaring away potential applicants. This is not healthy nor a good long term hiring strategy. Unfortunately, a lot of campus hiring managers have a short term view of things concerning numbers for that year alone. This could potentially lead to hiring students who are not very keen for that role.
On the flip side, despite all the feedback above students themselves do precious little research about a company or the role. There is a famous case of a student who thought she had bagged a 'Marketing' role at Citi where as she had actually got a summer internship offer in the 'Markets' team. In the desperation to get a good salary and a good brand, do students actually care about job profile?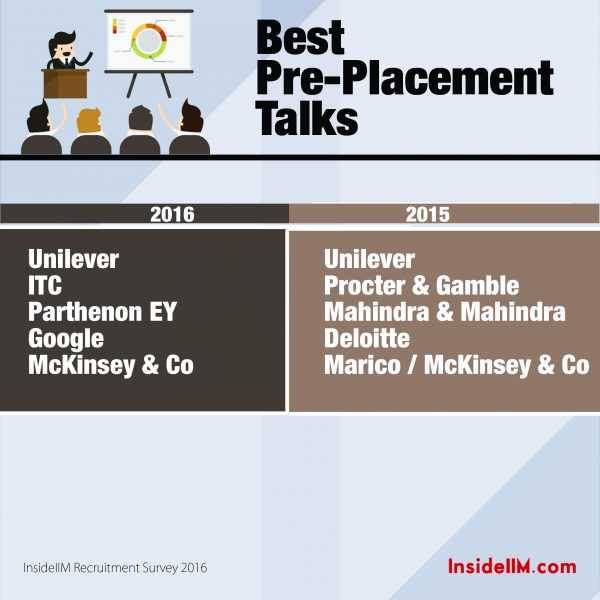 Unilever has been at the top of best pre-placement talk list since the time we have started this survey. They seem to be consistent and seem to have the same intensity while delivering a talk across all top campuses in India. ITC has figured in this list for the first time. Parthenon EY figures in the list because of a massive boost from ISB - just about everyone at ISB thought that they delivered the best talk last year at ISB (Parthenon EY normally offers the highest salary at ISB). Deloitte and Mahindra - usually right up there are missing from the top 5 this year. We do feel it prudent to mention that not all the companies surveyed visit all the campuses who participated, due to which a company may potentially miss out on a high rating despite having delivered the goods in their pre-placement talk.