This year, MBA students at IIM Calcutta have voted Professor Rahul Mukerjee as their 'InsideIIM Professor of The Year'! Prof. Mukerjee, who teaches Statistics at IIM Calcutta, is one of the most adored professors on campus and has been associated with IIM Calcutta since 1989. Find out why students at IIM Calcutta love Professor Mukerjee!
---
Meet Rahul Mukerjee: Professor At IIM Calcutta And InsideIIM Professor of The Year In 2021
Professor Mukerjee is an academic and statistician. He completed his BSc (Hons) and MSc degrees in Statistics at the University of Calcutta, with rank first in the first class in each case. He received his PhD in Statistics in 1982 from the University of Calcutta. He joined IIM Calcutta as a full professor in 1989. n addition to his full-time position at IIM Calcutta, he has held visiting positions at many top institutions around the world.
Take Your Career To The Next Level. Ask Our Experts Anything. We Will Respond Within 48 Hours.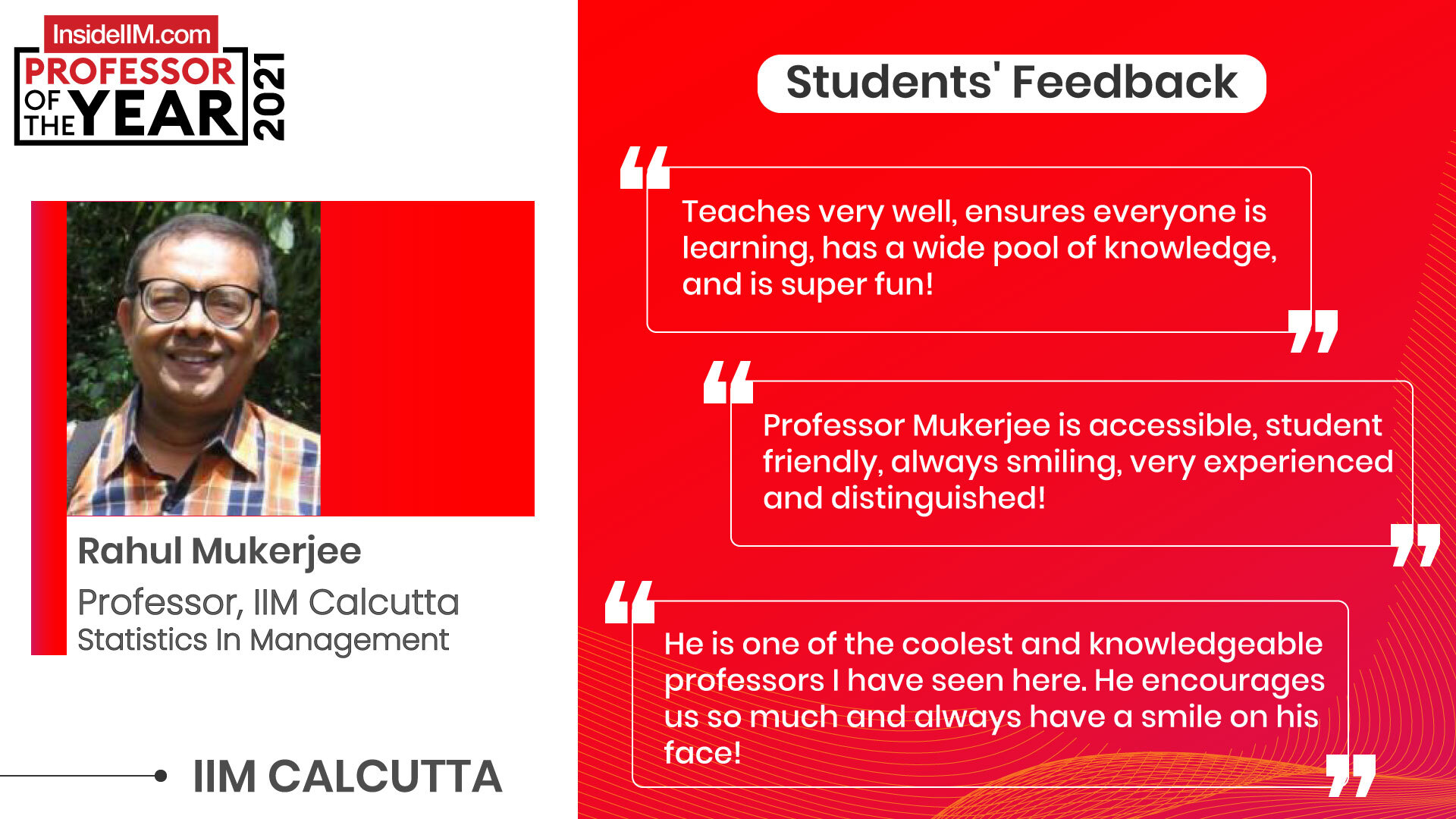 ---
InsideIIM Professor of The Year 2021: What IIM Calcutta Students Have To Say About Prof. Mukerjee
"He is the most calm and patient professor I've ever studied from. He made statistics so easy for someone who hadn't been in touch with the subject for over 5 years."
"He is one of the greatest teachers. Extremely patient and humble. Gives amazing examples while teaching. He superannuated recently and deserves this recognition."
"He made someone uncomfortable in maths as a subject look forward to stats class. He was quite an experienced and old prof and yet put in his best effort to adapt to the online mode. He was genuinely happy to interact with students and always heaped praises on students soothing our anxieties for our first term MBA."
"He is one of the coolest and knowledgeable person I have seen here. He encourages us so much and always have a smile on his face!"
---
What The InsideIIM Professor of The Year Series Is About
In the last year, the whole country struggled in coping up with the pandemic and lockdowns. In this time of crisis, it was the great leadership shown by our teachers and professors to ensure that learning never stops. They went beyond just teaching and found solutions and created new learning environments for their students to continue learning.
We at InsideIIM want to recognize the efforts that various B-School professors throughout the country put in to ensure that their students are not left behind and continue to meet their potential and achieve great things. This is why we asked MBA students of the current batches in 2021 to nominate their favorite professors on campus for the title of 'Professor of The Year' as a small token of gratitude for professors who have made so many efforts in the last year, just so that students can head out to etch a successful career for themselves!