IIM Indore has successfully completed its Summer Internship Placements for the class of 2021-23. For IIM Indore, a colossal batch size is no impediment to procuring quality offers and opportunities for its students. The season witnessed participation from 150+ companies, including 30+ first-time recruiters collectively rolling out offers to 573 students. Read on to learn more about IIM Indore's Summer Internship Placements!

IIM Indore Summer Placements - Key Highlights
The average stipend for IIM Indore's summer placements stood at

INR 2 Lakhs,

an 11% increase over the previous year.

The

average stipend for the

top 100 offers

stood at

INR 3.10 Lakhs

, and t

he highest stipend

offered was

INR 4 Lakhs

.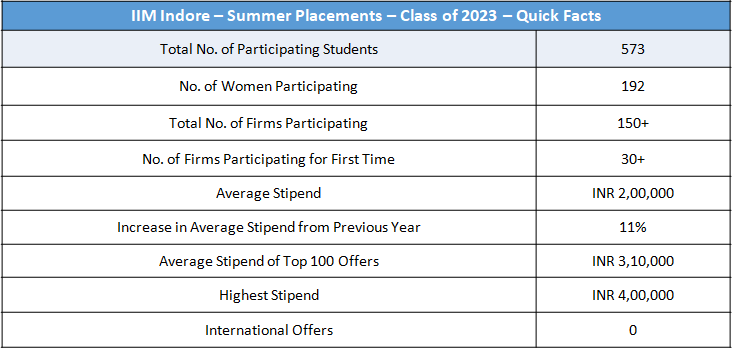 IIM Indore Summer Placements - Key Recruiter Details
Companies Offering Finance Roles
Deutsche Bank, Goldman Sachs and JP Morgan Chase & Co. continued to recruit from IIM Indore for a multitude of roles including Investment Banking, Equity Research, Risk Management & Corporate Treasury among others. Marquee recruiters like Barclays, D.E. Shaw & Co, FinIQ Consulting, HSBC, ICICI Bank, Kotak Mahindra Bank and The Rohatyn Group offered coveted roles to IIM Indore students this summer.

IIM Indore witnessed first-time participation from AB InBev, Accenture Strategy, Atomberg, CarDekho, Coca-Cola, Dr. Reddy's Laboratories, Eversana, Flipkart, FinIQ Consulting, Hewlett-Packard, Hindustan Times, Johnson & Johnson, Media.net, Medtronics, PepsiCo, Phable Care, Procter & Gamble, Salesforce, Tresvista, Xiaomi and many other companies.

---
Companies Offering Consulting, General Management And IT Roles
Take Your Career To The Next Level. Ask Our Experts Anything. We Will Respond Within 48 Hours.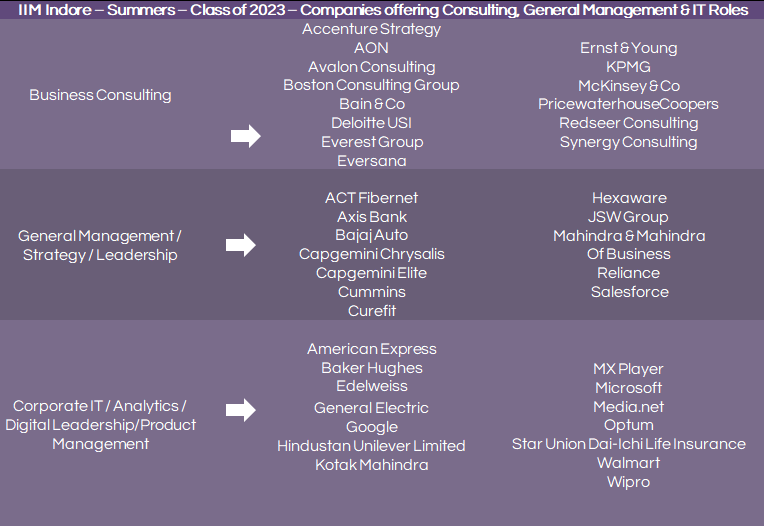 Boston Consulting Group continued to recruit in increasing numbers from IIM Indore while new recruiters in the Consulting domain included Accenture Strategy, Eversana, Redseer Consulting. Other legacy recruiters like Avalon Consulting, Bain & Co, Deloitte, Ernst & Young, Everest Group, GEP Consulting, McKinsey & Co, PricewaterhouseCoopers, and Synergy Consulting continued to engage with IIM Indore.
The campus also welcomed top recruiters such as ACT Fibernet, Amazon, Capgemini, Cipla, Cummins, Curefit, Hindustan Times, Jindal Steel Works Group, Larsen & Toubro, Mahindra & Mahindra, OfBusiness, Reliance, Salesforce, Tata Steel, and Vodafone Intelligent Solutions who recruited the growing talent at IIM Indore for their General Management and Operations roles.
---
Companies Offering Sales And Marketing Roles - Part 1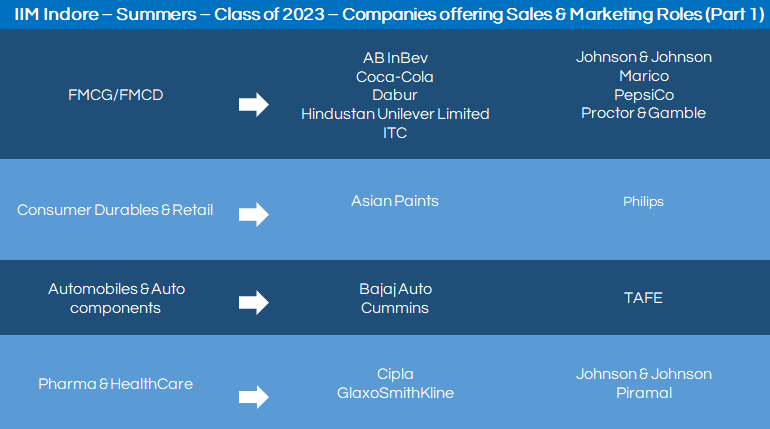 Sales & Marketing continued to be among the top domains with leading FMCG brands like Asian Paints, Dabur, HUL, ITC, Marico, Piramal continuing to recruit in large numbers while first time recruiters including AB InBev, Atomberg Technologies, Coca-Cola, Dr. Reddy's Laboratories, Everest Industries, Johnson & Johnson, PepsiCo, Procter & Gamble, Samsung and Xiaomi welcomed IIM Indore students to their organizations.
The auto sector increased their hiring with regular recruiters like Bajaj Auto, Cummins, and Mahindra & Mahindra. The pharma & healthcare sector remained strong with Curefit, Dr. Reddy's Laboratories, Phable Care participating for the first time while firms like Cipla, GSK Pharma, UnitedHealth Group continued to recruit.
---
Companies Offering Sales And Marketing Roles - Part2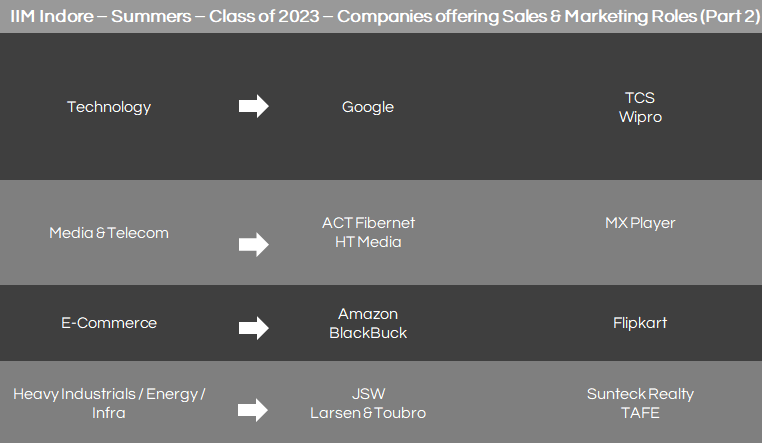 The media & telecom sector saw continued hiring from HT Media, Media.net, and MX Player. The E-commerce sector continued receiving massive participation from firms like Amazon, Blackbuck, Flipkart, OfBusiness, ShopKirana and first-time recruiters like Superbottoms.
---
Companies Offering Operations, HR And Other Roles
The eighth batch of the 5-year Masters of Business Administration- Dual Degree (formerly IPM) that appeared for summer placements along with the PGP batch attracted high levels of enthusiasm and interest from recruiters. Some of the leading recruiters included Avalon Consulting, Bajaj Auto, CRISIL, D.E. Shaw & Co, Edelweiss, Goldman Sachs, HSBC, ICICI Bank, PricewaterhouseCoopers among others.