The IIM Lucknow selection criteria 2018 have been released for the PGP Batch of 2019-2021. Admissions to IIM Lucknow will be done on the basis of an applicant's CAT 2018 score.
Highlights of IIM Lucknow Selection Criteria 2018 -
The selection criteria are the same as 2017.
Maximum weight has been given to the Personal Interview, accounting for 40% of the total marks in the final shortlisting phase.
Candidates will also be awarded marks for gender diversity (5) and academic diversity (5).
Candidates with more than 6 months of work experience (as of 31st July 2018) will also be awarded a maximum of 10 marks.
IIM Lucknow Selection Criteria 2018
Eligibility Criteria -
To be eligible to get admission into IIM Lucknow, a candidate must meet the following criteria -
| | | | | |
| --- | --- | --- | --- | --- |
| Section | Verbal Ability & Logical Reasoning | Data Interpretation & Logical Reasoning | Quantitative Ability | Total |
| Minimum Percentile Required | 85 | 85 | 85 | 90 |
IIM Lucknow Shortlisting Criteria For WAT-PI -
The following are the shortlisting criteria to get admission into IIM Lucknow -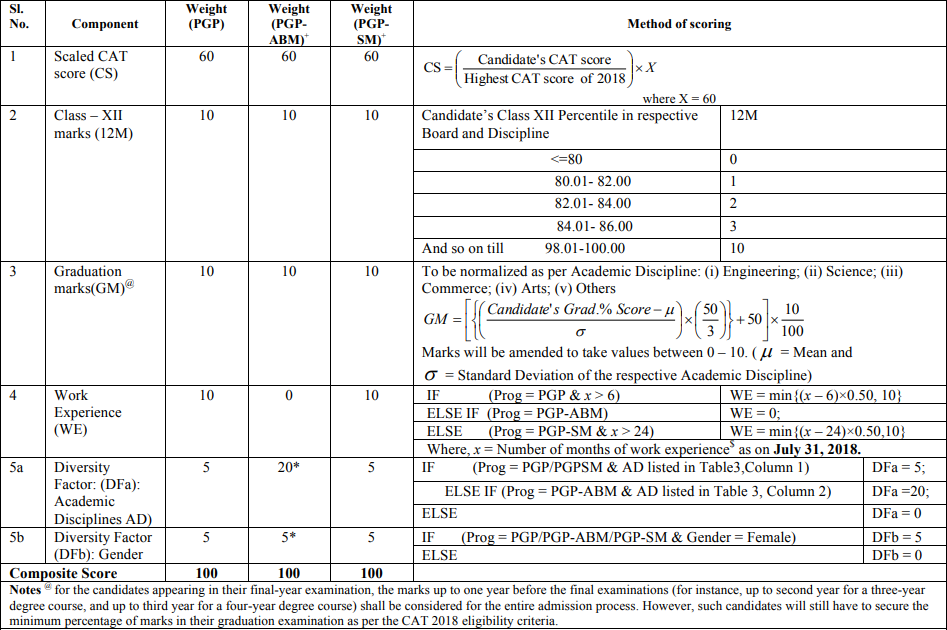 Table For Academic Diversity -
| Academic Disciplines (AD) for PGP/PGP-SM Programme | Academic Disciplines (AD) for PGP-ABM Programme |
| --- | --- |
| Arts/Humanities (including Anthropology, Archaeology, Education, Fine Arts (Dance, Music, Painting), Geography, History, Journalism, Languages, Library Science, Literature, Philosophy, Political Science, Psychology, Public Administration,Social Work/Welfare, Sociology) | Agriculture: (including Agriculture, Agronomy, Soil Science, Agricultural Biochemistry, Agricultural Economics, Agricultural Extension, Plant Breeding and Genetics, Entomology, Plant |
| Commerce/Economics: (including Accountancy, Auditing, Banking, Business Mathematics, Business Administration, Business Organization, Commerce, Economics, Economic Development and Planning, Public Administration, Public Finance, Secretarial Practices) | Science (including Biology, Biochemistry, Bio-technology (includes Biotechnology Engineering), Botany, Home Science, Life Science, Zoology) |
| Chartered Accountancy, Cost and Works Accountancy, Company Secretaryship | Animal Husbandry/Fisheries |
| Computer Application | Dairy Science/Technology |
| Education (including Physical Education and Sports) | Forestry |
| Law | Food Technology, Food Technology & Management |
| Medicine/Dentistry | Horticulture |
| Pharmacology/Pharmacy | Rural Studies/Rural Sociology/Rural Cooperatives/Rural Banking |
| Sciences (including Biology, Chemistry, Maths, Physics, Statistics) | Agricultural Engineering |
| | Veterinary Science |
Candidates which meet the selection criteria will be shortlisted for the WAT-PI round based on their composite scores.
Shortlisting Criteria For Final Admission Offer -
The following are the weights that will be assigned to 6 factors for final admission offer -
| Component | Weight |
| --- | --- |
| CAT Score | 30 |
| Academic Performance (Graduation+Class 12th) | 5+5 |
| Diversity Factor (Academic + Gender) | 5 |
| Work Experience | 5 |
| WAT | 10 |
| PI | 40 |
| Total | 100 |
The minimum requirement for getting a pass in Personal Interviews is 12 out of 40 marks. Names of candidates who do not pass in
PI will not be included in the final merit list.
Final discretion on the academic category that an academic program will be classified into rests with the Admissions Committee of
IIM-Lucknow.
Reservation Policy: IIM Lucknow applies the Government of India reservation policy for admission to Central Educational
Institutions (CEIs).
Any dispute concerning Admissions for the batch 2019-21 would be subject to the jurisdiction of the competent Courts within
the territorial jurisdiction of the city of Lucknow only.
The Verdict -
IIM Lucknow has put the major focus on the CAT Score and the WAT-PI marks, allotting 30% and 50% marks for these components respectively in the final shortlisting phase, and 60% weight to CAT marks in the WAT-PI shortlist phase. The trend of academic and gender diversity has been followed once again, as IIMs aim for parity in the number of male and female candidates, as well as increasing the number of non-engineering students on campus.
If you weren't too serious in 10th and scored low, your past sins will be forgotten, as the IIM Lucknow Selection Criteria 2018 does not take into account your class 10th marks. However, a major deciding factor will be the Graduation marks which are often the downfall for the majority of all CAT aspirants.
Take a look at IIM Lucknow's Selection Criteria 2018 on the institute's official website.