IIM Lucknow's selection criteria for 2019 have been released! The IIM Lucknow selection criteria for 2019 come as good news for those with a below-average SSC (Class 10th) percentage, as the institute continues to exclude 10th marks as a selection criterion. In 2019, IIM L has given 60% weight to CAT 2019 scores and 20% weight to a candidate's academic profile. Here's how IIM Lucknow's latest selection criteria affect your chances of getting a shortlist call from the institute.
IIM Lucknow Selection Criteria 2019 - Major Takeaways
Take Your Career To The Next Level. Ask Our Experts Anything. We Will Respond Within 48 Hours.
1. Candidates' CAT 2019 scores will account for 60% of the total composite score for the WAT-PI selection process, which essentially means that at least 3/5th of the composite score is in the hands of the test-taker.
2. Working professionals have an advantage, with 10% of weight assigned to work experience greater than 6 months as of July 31st, 2019.
3. IIM Lucknow continues to push for academic and gender diversity, with 5% weight assigned to each of the two components for the PGP programme.
IIM Lucknow Selection Criteria 2019 - Overview
IIM Lucknow has two rounds of selection for its PGP batch of 2020-2022. The first round is an elimination process for the Writing Ability Test and Personal Interview (WAT-PI) round. The screening process is conducted based on a candidate's composite score, which is a weighted score based on the candidate's academic performance, previous work experience in months, academic background, gender, and of course their CAT 2019 score.
The second round is a screening process for the final selection of candidates for the PGP programme. This is done based on a candidate's composite score, which is a weighted score based on the candidate's performance in the WAT and PI, their academic profile, diversity factor (academic and gender), work experience and CAT 2019 scores.
IIM Lucknow Selection Criteria 2019 - Shortlisting For WAT-PI
Minimum Sectional And Overall Percentile Requirements
Before even being considered for the WAT-PI shortlisting process, candidates must meet the minimum overall and sectional percentile cut-offs set by IIM Lucknow. The same can be found in the table below:
Disclaimer – It is important to note that the actual section-wise and overall percentile of a short-listed candidate may be much higher than the below-mentioned criteria as it will depend upon the number of candidates to be called for interview in each category.
IIM Lucknow Selection Criteria 2019 | PGP 2020-2022 | Minimum CAT 2019 Cut-Offs
Section
Category
Verbal Ability & Reading Comprehension
(VA-RC)
Data Interpretation & Logical Reasoning (DI-LR)
Quantitative Ability (QA)
Overall (OA)
General
85
85
85
90
EWS
77
77
77
82
NC-OBC
77
77
77
82
SC
55
55
55
70
ST
50
50
50
65
PwD
50
50
50
65
Note - Simply meeting the minimum sectional and overall CAT 2019 cut-offs set by IIM Lucknow is not a guarantee of a shortlist call from the institute. IIM Lucknow computes candidates' composite scores by considering various other components, such as their academic profile. More importantly, CAT 2019 scores account for 3/5th of the total weight while computing composite scores, implying that a higher CAT score improves your chances of getting a shortlist call from IIM Lucknow.
A candidate's composite score (CS) is a weighted score that takes into the following aspects of a candidate's application:
CAT 2019 performance
Class 12th Marks
Graduation Marks
Work Experience
Academic Diversity (Non-Engineering candidates)
Gender Diversity (Female candidates)
The following is a break-down of how IIM Lucknow will calculate the CS for CAT 2019 test-takers: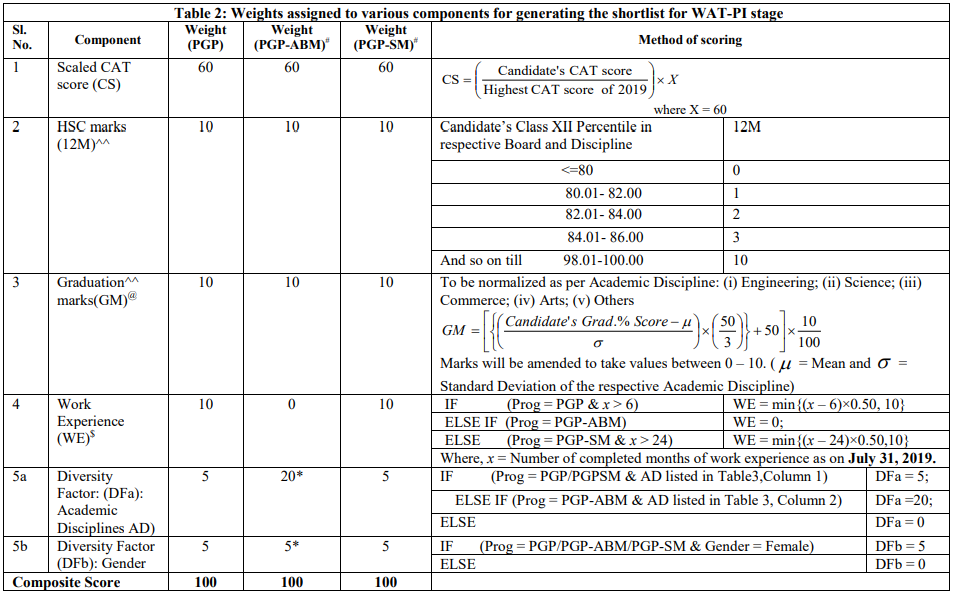 Candidates from the following academic backgrounds are eligible for points under 'DFa'.
Academic Disciplines Eligible For Academic Diversity
Arts/Humanities:
(including Anthropology, Archaeology, Education, Fine Arts (Dance, Music, Painting), Geography,
History, Journalism, Languages, Library Science, Literature, Philosophy, Political Science, Psychology, Public Administration,
Social Work/Welfare, Sociology)
Commerce/Economics:
(including Accountancy, Auditing, Banking, Business Mathematics, Business Administration, Business Organization, Commerce, Economics, Economic Development and Planning, Public Administration, Public Finance, Secretarial Practices)
Chartered Accountancy, Cost and Works Accountancy, Company Secretaryship
Computer Application
Education (including Physical Education and Sports)
Law
Medicine/Dentistry
Pharmacology/Pharmacy
Sciences (including Biology, Chemistry, Mathematics, Physics, Statistics)
IIM Lucknow Selection Criteria 2019 - Final Selection
After the WAT-PI process is complete, candidates will be selected for the PGP Class of 2022 based on a weighted composite score that will take into account the following components:
IIM Lucknow Selection Criteria 2019 - Final Shortlisting Criteria For PGP Batch of 2020-2022
Component
Weight
CAT 2019 Score
30
Academic Performance (12th + Graduation)
5+5
Diversity Factor (Academic + Gender)
5
Work Experience
5
Writing Ability Test (WAT)
10
Personal Interview (PI)
40
Total
100
Note - The minimum requirement for getting a pass in Personal Interviews is 12 out of 40 marks. Names of candidates who do not pass in PI will not be included in the final merit list.