IIM Shillong has released the final placements report for the PGP class of 2018-2020! The season saw participation from 60 recruiters, including Bain & Company, Amazon, Goldman Sachs, AB InBev, Mahindra GMC, Godrej, and TATA Steel amongst others. The average salary saw an 11.7% jump over the previous year, and the highest domestic salary stood at INR 40 LPA. This report will cover key highlights from the IIM Shillong final placements report for the class of 2020.
IIM Shillong Final Placements 2020 - Important Salary Figures
The highest international CTC stood at INR 48.5 LPA, highest domestic CTC at INR 40 LPA and the average CTC at INR 18.76 LPA, implying a jump of 11.7% from last year.
The average CTC of top 10% of the batch stood at INR 34.77 LPA.
While, the top 20% and top 50% of the batch secured an average CTC of INR 29.17 LPA and INR 23.38 LPA respectively.
There was a 73% increase in the highest CTC offered and a 29% increase in the average CTC for the top 20%.
IIM Shillong Final Placements 2020 - Important Recruitment Highlights
The final placements season for the PGP class of 2020 at IIM Shillong witnessed participation from 60 recruiters, spanning across various domains.
Bain & Company, ByteDance, Cognizant, Deloitte USI, FIITJEE, ICICI Bank, JP Morgan & Chase, and TATA Steel made the maximum number of offers this year.
Consulting & Strategy was the most sought-after domain, with 29% of the total offers made to the participants, followed by Sales & Marketing (27%) and Finance (20%).
Prominent recruiters included Bain & Company, Berger, BirlaSoft, Capgemini, CASHe, Cognizant, GroupM, HSBC Bank, JP Morgan & Chase, Nomura Investment Bank, Ola Cabs, PwC, Thomson Reuters, Titan, TresVista, Ujjivan Small Finance Bank, UnitedHealth Group, Vivriti Capital, and Zenoti.
First-time recruiters included Aditya Birla Capital, Bisleri, ByteDance, Conneqt Business Solutions, Emami Agrotech, Extramarks, FIITJEE, Godrej, Great Learning, IDFC First Bank, Indegene, InMobi, Lixil, Mahindra & Mahindra, Moglix, MXV Consulting, Qwixpert, Raam Group, and Tech Mahindra.
The PGP 2018-20 batch also bagged PPI/PPO opportunities from AB InBev, Amazon, Bajaj Finserv, Deloitte USI, D.E. Shaw, Emami Group, Fidelity Investments, Goldman Sachs, GSK Pharma, HDFC Bank, ICICI Bank, JSW Group, Mahindra GMC, Maruti Suzuki, Pidilite Industries, RBL Bank, TATA Steel, UltraTech Cement, and Xiaomi.
The institute also witnessed participation from International recruiters including ShopUp, and Tillomed Laboratories who offered roles across Consulting & Strategy, and Operations.
The PGP 2018-20 batch with 42% female candidates and 43% of the batch from non-engineering background proudly boasts of its gender diversity along with academic and industrial experience diversity.
IIM Shillong Final Placements 2020 - Quick Facts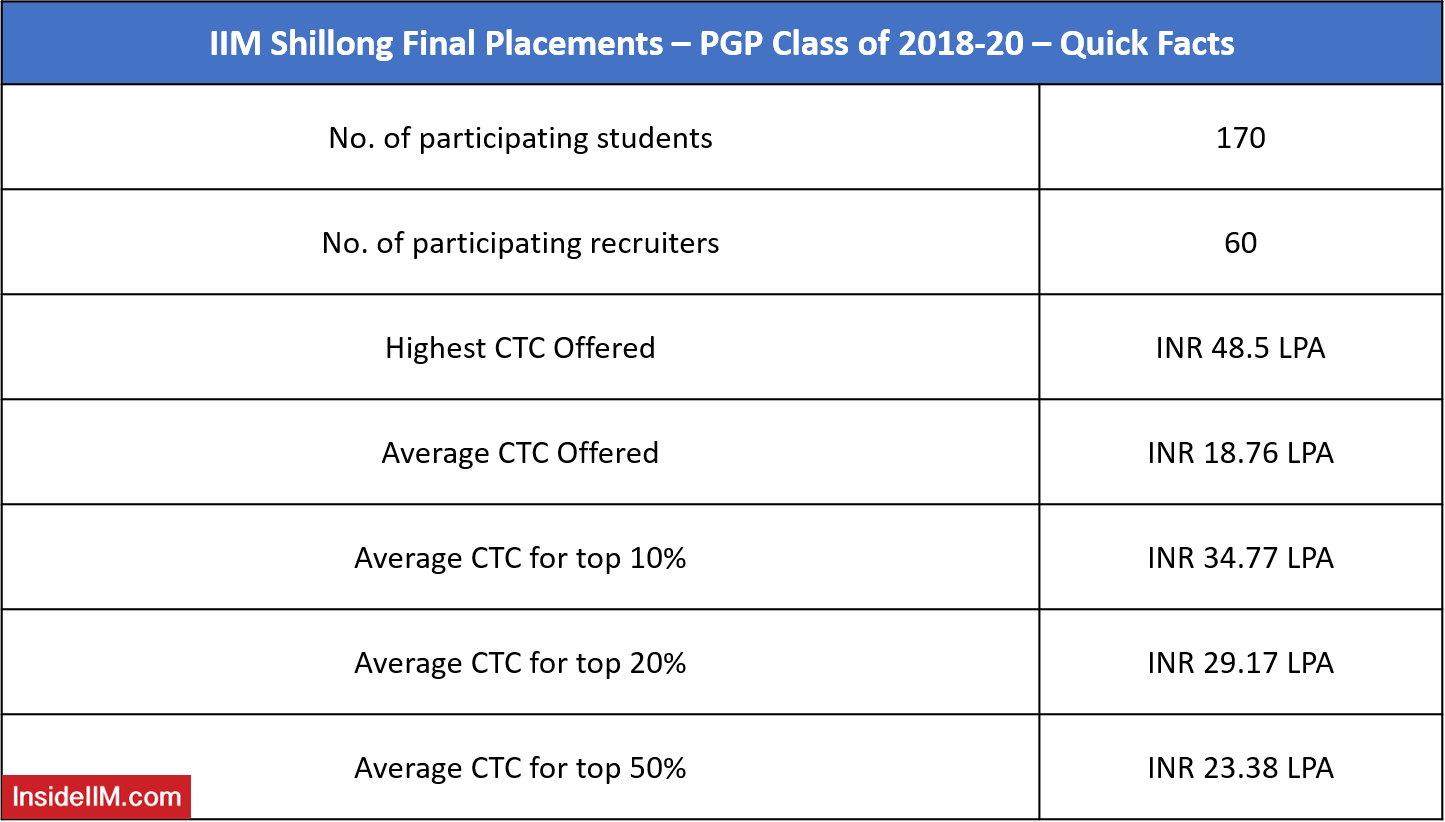 IIM Shillong Final Placements 2020 - Top Recruiters For Consulting, Finance Roles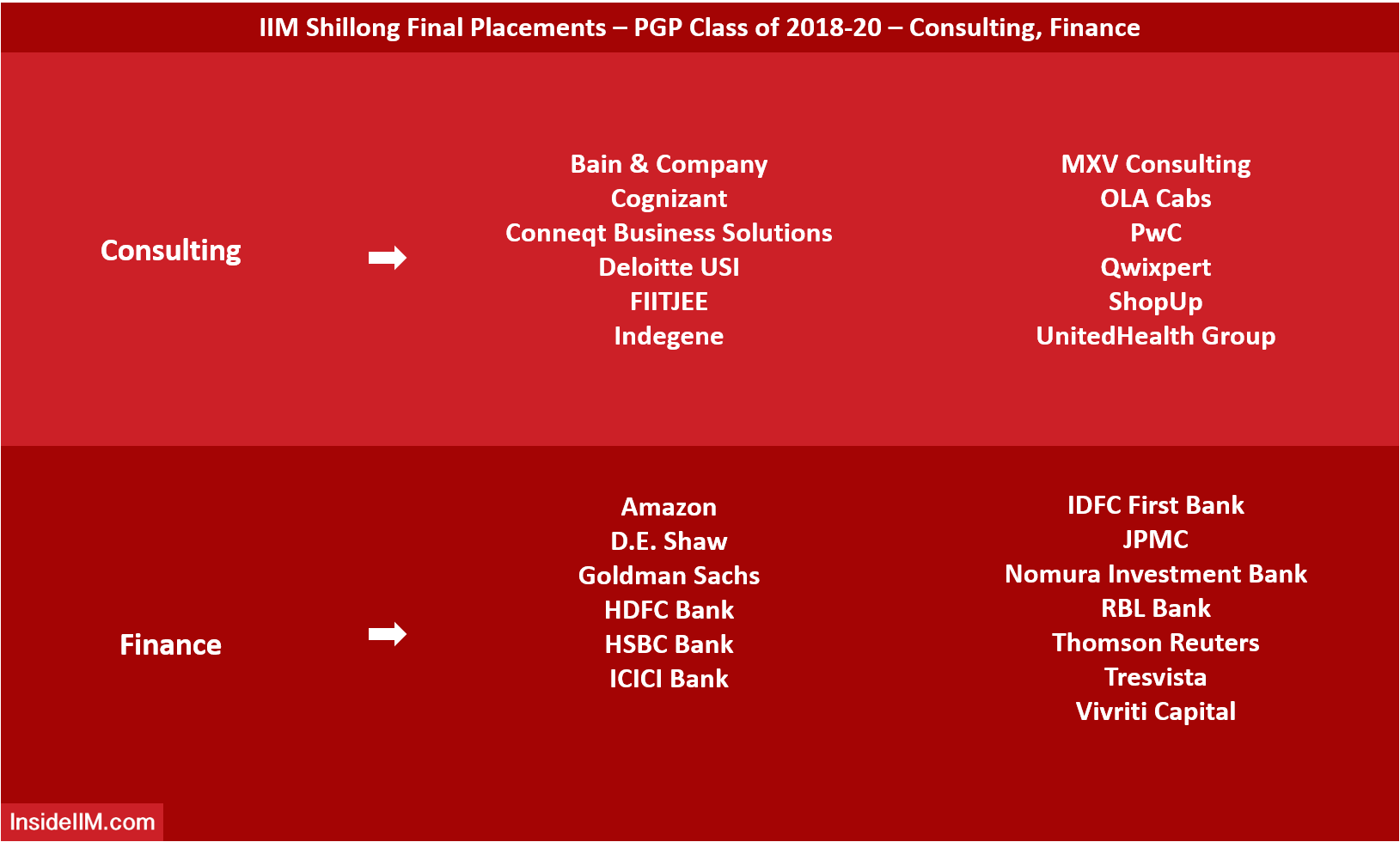 IIM Shillong Final Placements 2020 - Top Recruiters For Sales & Marketing, General Management Roles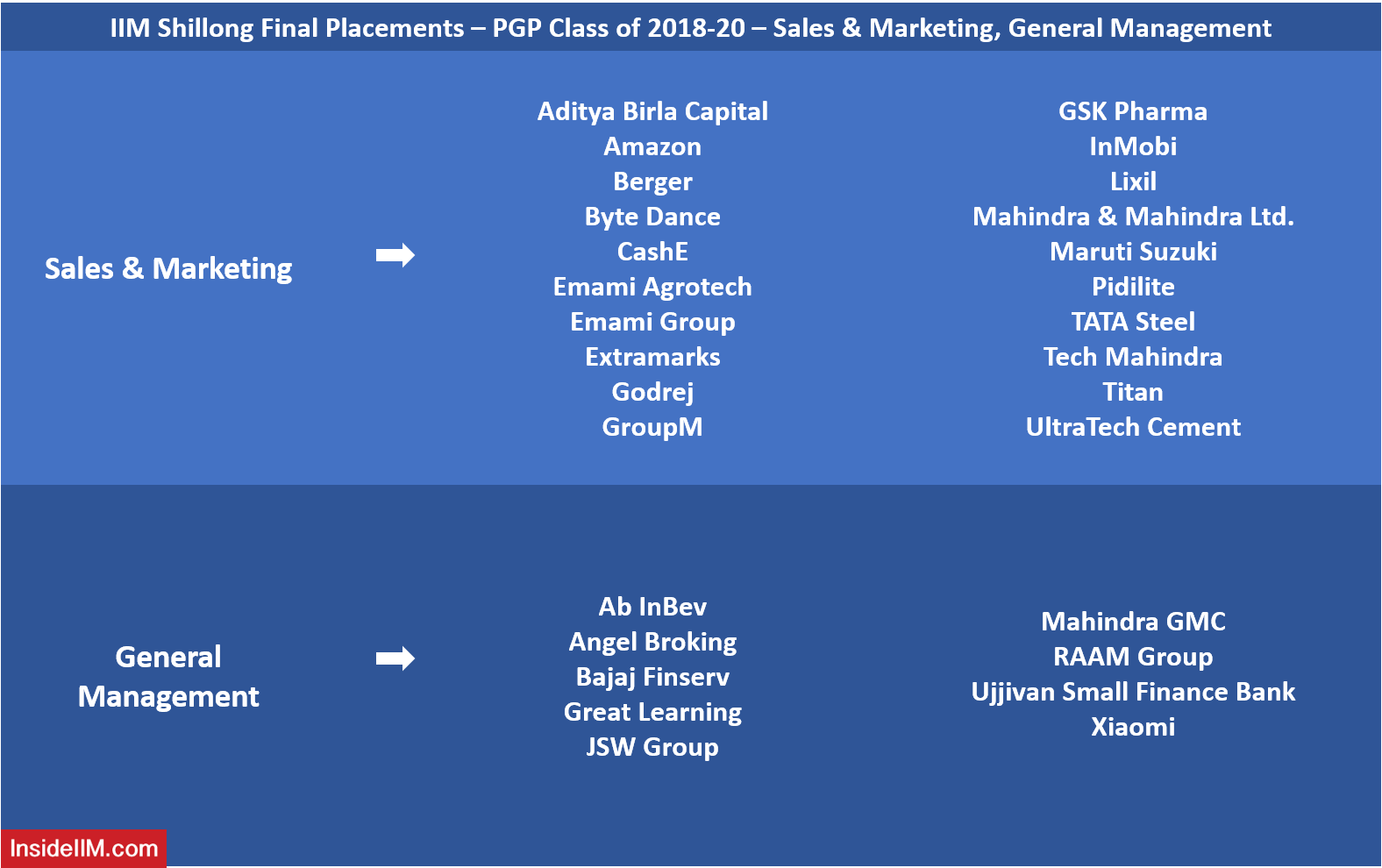 IIM Shillong Final Placements 2020 - Top Recruiters For HR, Operations, and IT/Analytics Roles