In the life and development of every college, are many phases and achievements that define its culture. As IIM Udaipur enters its 4th year the institute is all set to enter a new phase by organizing its first cultural extravaganza, 'AUDACITY 2015'. Why is it a new phase? Well a cultural fest is more than just an excuse for the students to get together and celebrate. It is more than just a reason to get away from the daily hustle bustle of the demanding academic life of an IIM. A cultural fest serves a much profound purpose in an MBA institute. It adds to the overall learning of a student. It is an opportunity to bring together students from all over the country on a common platform. This enables sharing of innovative ideas, knowledge and varied experiences. Students come to know about different fields of study through the various events such as quizzes, seminars, music and dance concerts.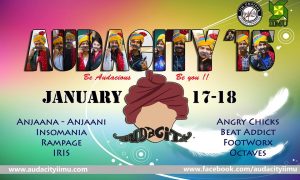 Yes Bank and IIMU's Audacity 2015, a two day event is going to be organized by the student community of IIM Udaipur as is scheduled to be held on 17-18th Jan, 2015. The two days of the Audacity 2015 will attract 2000+ participants from various B-schools and undergraduate colleges across the country with prizes worth 3 Lakhs to be won during the event.
The 48-hour mega event will feature more than 40 events such as stage performances, street plays, photography and online competitions, on the spot events, all-night gaming events and much more.
The annual cultural fest, to be held at the IIM Udaipur campus would feature pro-nite performance from the famous band Parikrama. The event aims to attract industrialists at one common platform through live sarod performances by the maestros Ayaan Ali Khan and Amaan Ali Khan, sons of the very famous Ustaad Amjad Ali Khan.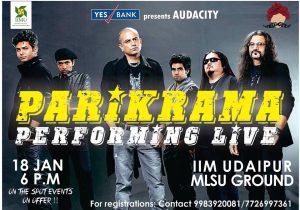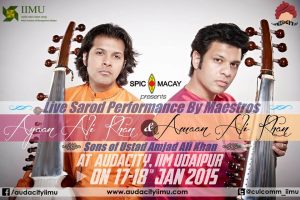 Audacity 2015 will begin with events like bike show "Nitro Carnival", street play competitions at "Rangmanch", group dance performances by "Footworx" and solo as well as duet singing performances at "Octaves". The most awaited event of Audacity 2015, the fashion show "Rampage" will feature teams from colleges across India and showcase the beautiful fashionistas around the country.
The fun-filled fest has something in store for everyone with fun activities running on both days of the event. One can enjoy a game of paintball with a group of friends, explore the city of Udaipur with "de-mysteryfy Udaipur" treasure hunt or choose to find out their "Sapno-ka-Rajkumar" or "Sapno-ki-rajkumari" at Anjaana Anjaani!!
Audacity will also showcase sumo mornings, RJ Hunt, WWF wrestling fun at "Angry Chicks", photography contests and fun-filled stalls and activities for all those who simply want to let loose and enjoy the day.
The artists will get a chance to display their creativity through face painting and graffiti. The nights will be dominated by a bonfire for the winters and games like poker and Counter Strike. Day 2 at Audacity 2015 will witness stage plays, mimes, solos and doubles dance performances, folk music competition, pub quiz for Bollywood movie lovers and much more!! The event will conclude by sarod performances by Ayaan Ali Khan and Amaan Ali Khan and pro-nite with Parikrama.
Audacity is a pioneering endeavor of the Cultural Committee of IIM Udaipur - Culcomm. The preparations for the mega event are running on top gear and the buzz is all round the social media. So, this new year "Be Audacious, Be You". Audacity can be followed on following channels-