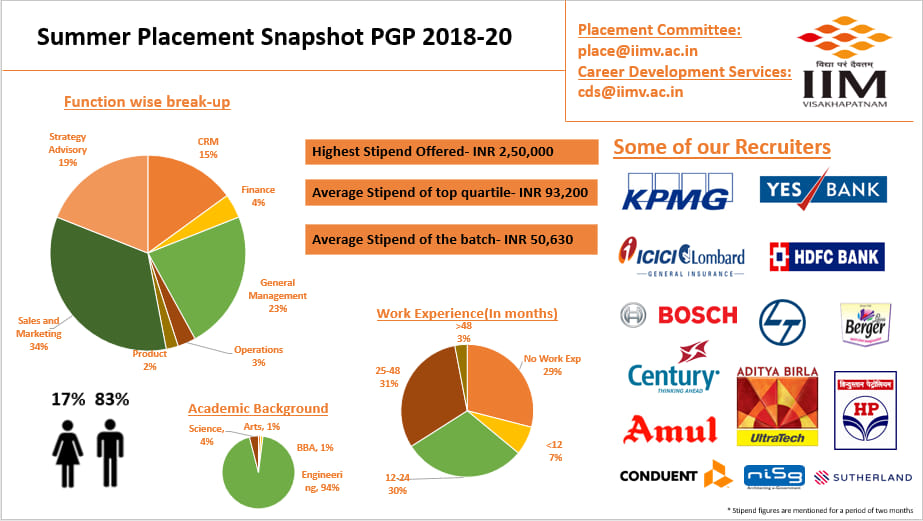 Indian Institute of Management Visakhapatnam had achieved a 100% record for the Summer Placement season of its fourth batch PGP 2018-20.
Leading consulting firm KPMG recruited students for the role of Advisory while YES bank, ICICI Lombard and HDFC Bank from BFSI sector offered roles across CRM, Wholesale Marketing, Underwriting, and Business Development.
Multinational Conglomerate Bosch offered roles in domains like General Management, Product Management, and Sales & Marketing, whereas Century Real Estate recruited for their Strategy role.
Construction Giant L&T and Cement Industry pioneer Ultratech were among the first-time recruiters at IIMV summer placements.
Amul and Neway Paints made offers in Business Development domain. Sutherland and Conduent recruited for the coveted roles of Operational Excellence.
IM Visakhapatnam has been a hit with the government/public Sector too. NISG, the renowned architect of e-Government solutions, recruited students for their e-governance initiatives. Blue-chip Central Public Sector enterprises IOCL and HPCL signed up students for their Operations and Marketing domains.
The highest stipend offered is Rs. 2.5 lakh. The average stipend of the top quartile stood at Rs. 93,200, while the average stipend for the entire batch is Rs. 50,630.
The dominant roles offered were Sales & Marketing (34%), Strategy & Advisory (19%), General Management (23%), and Customer Relationship Management (15%). Finance, Operations and Product Management together accounted for 9% of all the offers made.
Prof Chandrasekhar, Director of IIM Visakhapatnam, said that the range of organizations that chose the Institute for their talent-needs had increased this year in scale, scope and specialization.