---
Average salary up by 4%, median up by 6%| ISB placement report 2023
In 2023, ISB witnessed a 4% increase in the average salary, and about a 6% increase in the median salary for the graduating batch. This is similar to a slowdown in salary growth that we've witnessed across B-schools in the 2023 placements season (including the top-tier IIMs).

Here's an interesting statistic: ISB's batch of 2023 saw a 2.54x increase in their pre-MBA salaries. This is impressive, given the relatively high salaries ISB students (likely) already commanded before joining b-school.
Also Read → I Wanted To Give Up After My 2nd Failed Attempt - Oshin Sharma, ISB
---
22% drop in offers extended, batch size reduces by 9% | ISB placement report 2023
Last year, jobs were aplenty for ISB's PGP batch that received 2000+ offers. The story's a little different this year, with a 22% drop in the no. of offers extended for a 9% drop in batch size. Even so, the bigger picture suggests that the number of offers per students has been the second-highest in five years (second only to last year).

In 2023, a total of 332 companies participated in the ISB placement process, including 30+ first-time recruiters. This is a slight dip from last year's 393 companies. Notably, 31 companies extended international offers across SEA, MEA, Europe and the US.
60+ leadership roles were offered to the PGP batch. Women, who made up 37% of the batch, landed exceptional strategic roles like Country Head, Country Manager, DGM, EA, CEO, General Manager etc. from leading companies.
---
Consulting the top-pick for ISB batch, Manufacturing top-paying sector | ISB placement report 2023
The Manufacturing sector emerged as the highest-paying sector (on average) for ISB's PGP class of 2023, offering an average of 48.83 lakhs to the 1% of the batch it hired. The Education/Teaching and Training sector was also among the top-paying sectors but, again, hired only 1% of the batch.
Notably, average salaries dropped across a multitude of sectors — tech, BFSI, and Oil and Energy among them.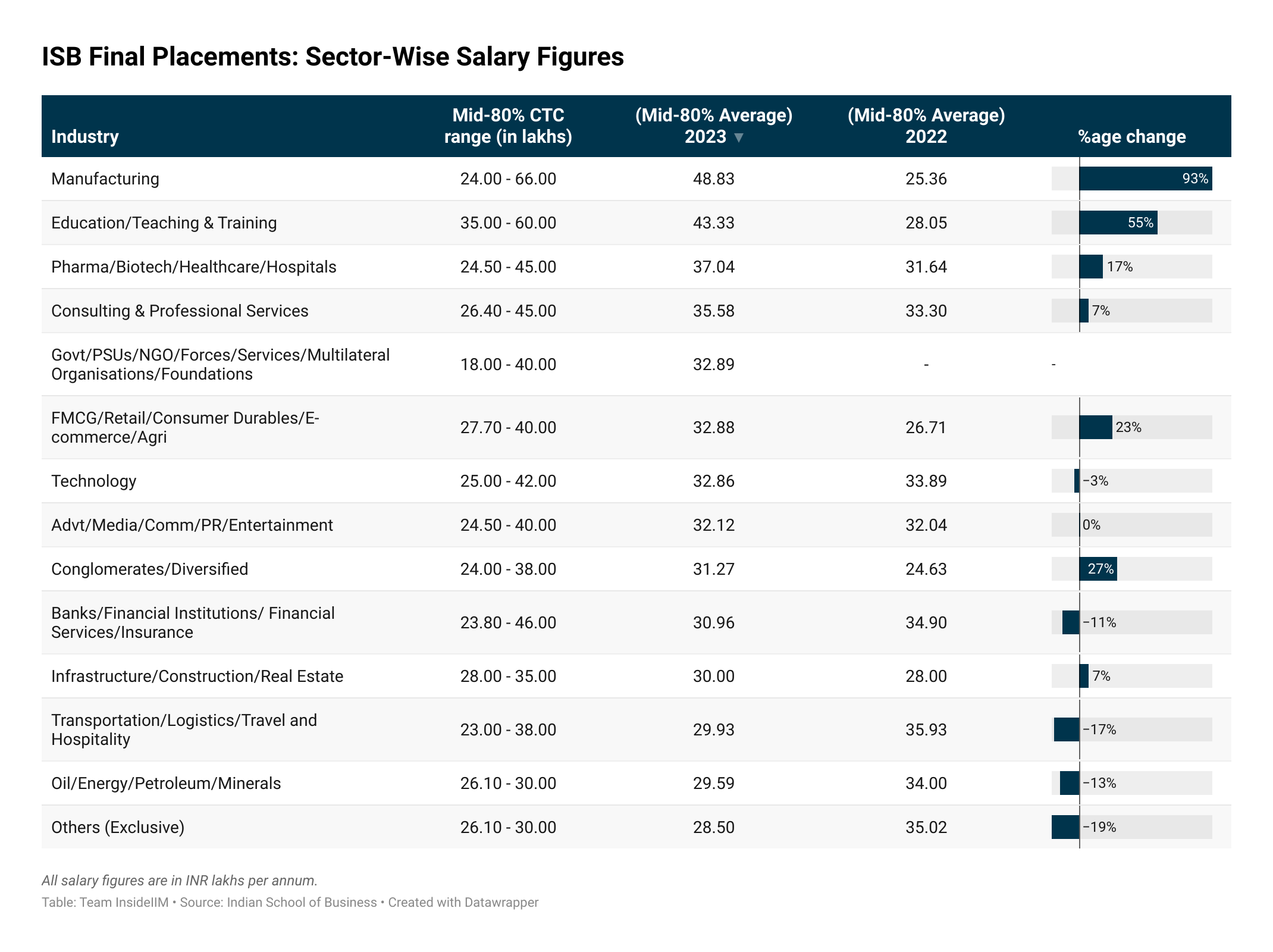 Consulting has always been the go-to industry at ISB in recent years (and before). The story's the same this year, with 37% of the batch taking up roles in the sector — up from 31% last year.
Tech has seen a significant uptick in the percentage of ISB's students hired, going up from 18% last year to 28% in 2023. This means 1 out of 4 ISB students opted for roles in this sector and stepped into profiles including product management, programme management, sales and business development and digital marketing and transformation.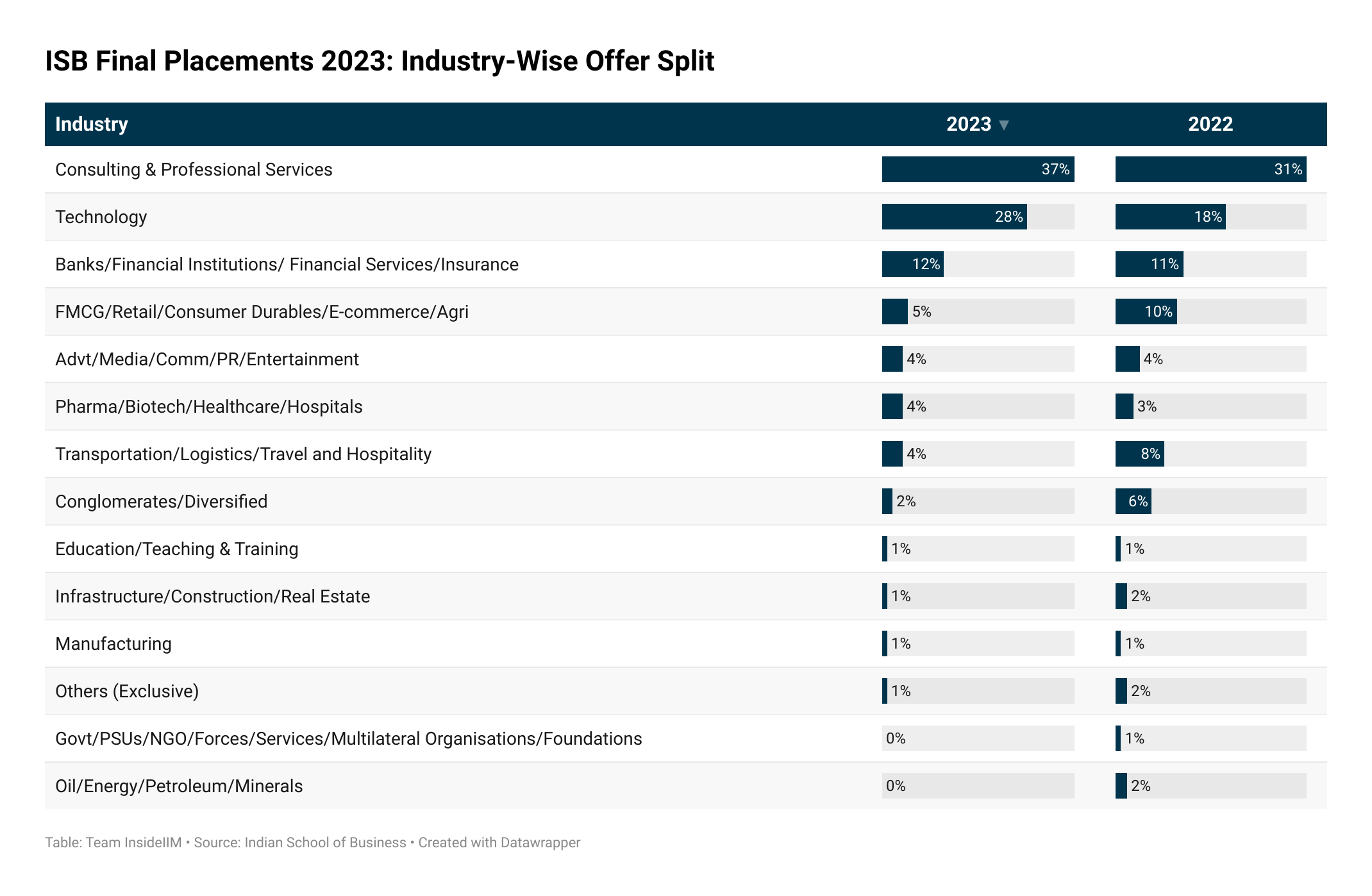 BFSI accounted for 12% of the batch hired. Investment banking and private equity, corporate banking and treasury, fintech and consumer banking companies, as well as global capability and offshore centers hired from ISB for multiple roles. GCCs based out of leading job markets of India proactively hired ISB talent to ramp up their leadership teams.
---
Tech, Product Management Best-Paying Jobs, Consulting Jobs Most Popular On Campus | ISB Placements 2023
Consulting, Tech, and Analytics were the top-paying profiles on average, with Consulting and Tech offering average salaries of 36+ lakhs to the batch of 2023. Tech salaries dropped significantly compared to last year, while Consulting saw a 9% uptick.
But Tech wasn't the only function that saw a salary dip; product management, gen man, HR, and project management also saw significant dips in the average salaries. HR and Tech saw the biggest dips in the average salaries.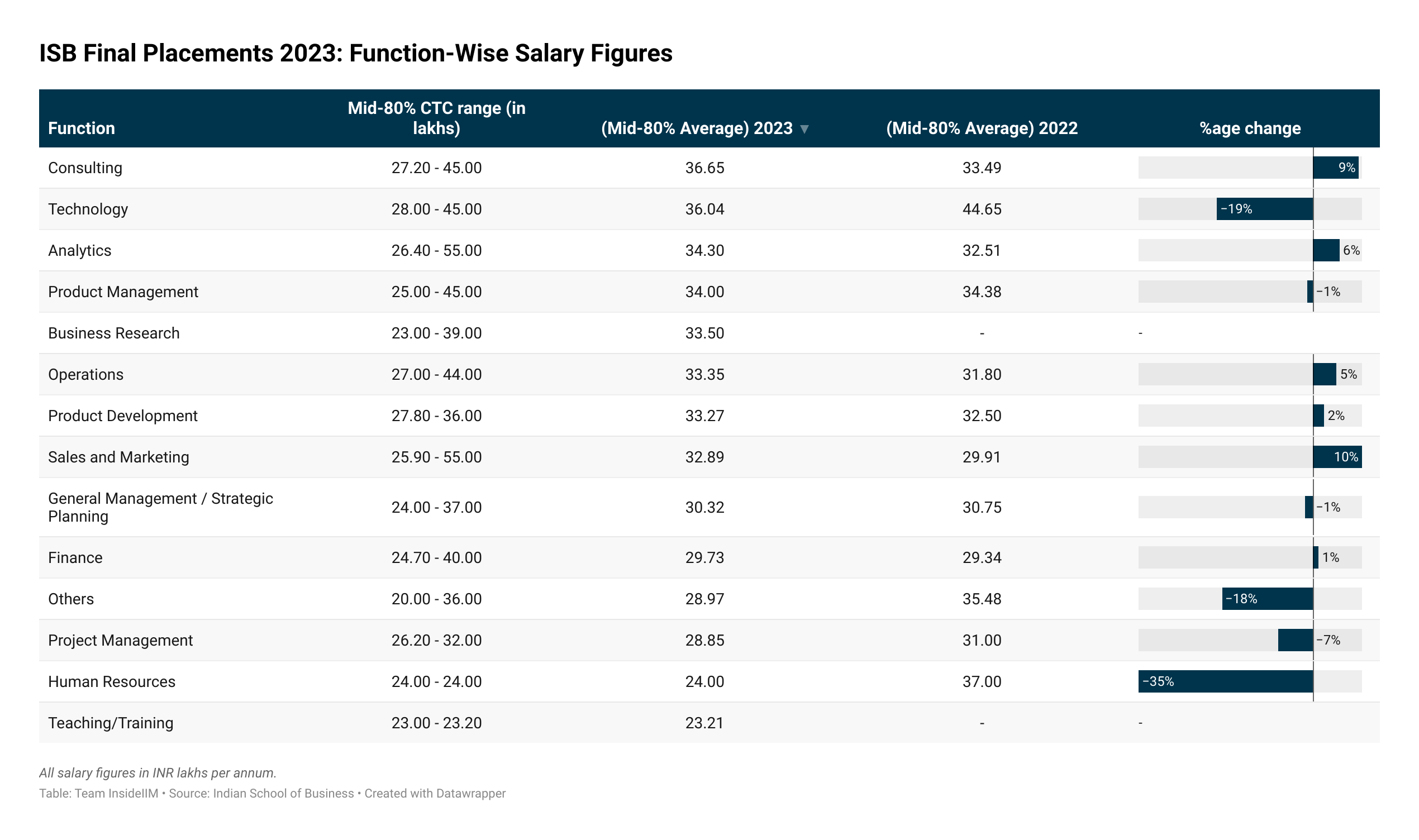 Like last year (and in line with industry-wise hiring figures), Consulting was the most sought-after profile for ISB's graduating batch. Sales and Marketing accounted for 18% of all offers, followed by Product Management (12%). Preference for Gen Man roles dipped from 15% last year to 10% in 2023.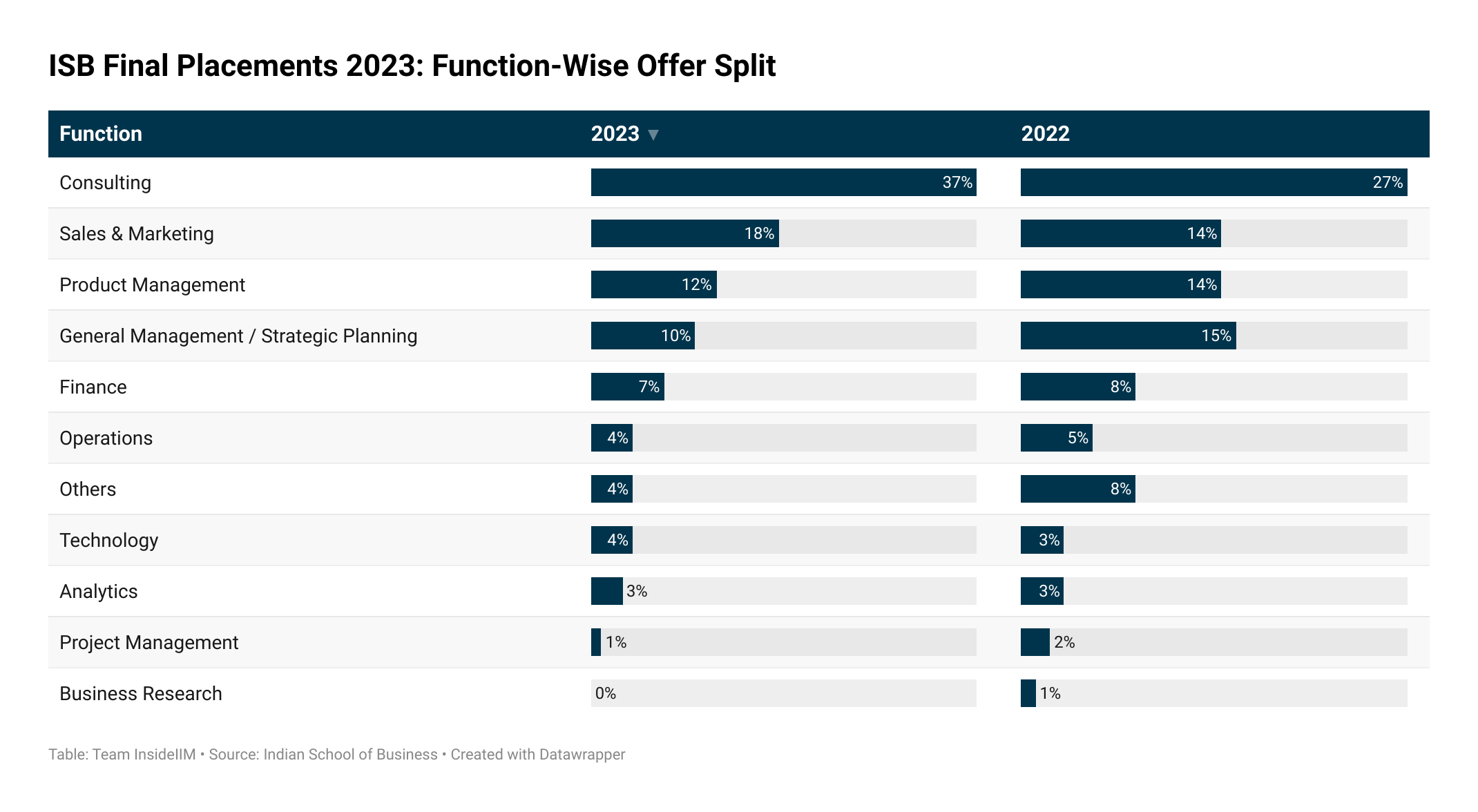 For more information, read the official report on the institute's website.
---
Read Next → Sample Essays For ISB's PGP In Management