After a successful round of profiling IIM Calcutta students in the Gems of Joka series (see here) last year, here is a new series on IIM Calcutta students 'Joka Miscellany'. We profile the Students from varied backgrounds in Joka
Here is the first one in the series, Harishwar Subramaniyam - Aerospace Engineer from IIT Bombay, Goldman Sachs PPO Holder
About Harishwar (in his own words)
I'm Harishwar, and I'm currently a second year student at IIM Calcutta. I was born in Mumbai, and spent the first 10 years of my life in Jeddah, Saudi Arabia, before moving back to Mumbai. I completed by bachelors in Aerospace Engineering from IIT Bombay, post which I had 1.5 year stints each at Deloitte Consulting and Credit Suisse, before joining IIM Calcutta. I did my summer internship at Goldman Sachs, and I have been awarded a PPO. I am a trained keyboard player, avid squash player and enjoy listening EDM.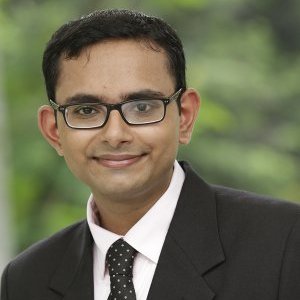 Tell us about your journey - How did you move from aerospace engineering to consulting to finance?
My decision to pursue Aerospace Engineering was stemmed from an intrinsic interest for aviation and a passion for engineering/technical subjects. Besides, India produces fewer than 200 Aerospace Engineers (out of a million engineers) every year, so, at that time, it seemed like a great opportunity to study a specialized field from an institute of great repute. However, towards the midway point of my B.Tech, I realized that to reach a position of eminence in the field would require a systematic and academic approach to the field, which would stretch well beyond my B.Tech (read – MS + PhD), which, at that time, I was unprepared to do.
A third year internship at an NBFC sparked in me an interest in Finance. Being a near novice in the field of Project & Infrastructure Finance, I felt I was able to ramp up quickly and contribute beyond what was expected of me. Upon completing my B.Tech from IIT Bombay, I joined Deloitte in their SAP ERP Consulting team, where I worked on projects in the Utilities, Retail and Aerospace & Defense space. I never lost sight of wanting to work in Finance, and I used the opportunity to clear 2 levels of the CFA Program. An opportunity came by and I joined the Delta One desk within the Prime Services team at Credit Suisse. Here, I got a chance to work directly with the traders based out of London, and was exposed to European markets and various Equity derivatives products.
How did you do so well in the CAT? What was your secret formula? How did you prepare for the interviews?
Funnily enough, my decision to take the CAT stemmed more from having unsuccessfully attempted the exam for the previous two occasions. On a serious note however, a Management degree is something I had always aspired for, to further my career in Finance. Timing is always important, and I felt at the time, after having worked for close to three years, that I was mentally prepared to handle the rigours of business school and also had definite goals of my takeaways of the two years I would spend at business school.
For an aptitude exam, such as the CAT, one can never really "prepare" nor can one set "targets", given the dynamic nature of the exam and the multitude variables involved, some of which are really beyond an individual's control.
The nature of my job at Credit Suisse was very Quantitative in nature. Working with traders involves being quick with numbers and swift decision making under pressure. Besides, I was always a sticker for correct English usage, given the time I spent writing for my college newsletter.
Once I got my results and calls, my preparation for interviews revolved around understanding my expectations for the program and how would it lead to my goals, self-assessment of decisions taken in the past leading me to where I was then, and being abreast with current World, Economic and Political happenings around me.
Tell us something about your schooling in IIT Bombay – what where the high points?
The four years I spent at IIT Bombay played a key role in my metamorphosis from a shy and introvert person to a confident individual.
From the academic point of view, my high point was my fourth year undergraduate thesis being selected for presentation at the AIAA Aviation Technology, Integration, and Operations Conference in Texas, USA, a globally renewed summit to showcase research in aviation. I was also the founding member of a school outreach program, to spread awareness about Engineering and Aviation. I was associated with it for three years.
Being a passionate keyboard player, I was an integral part of the music club and performed on numerous platforms throughout the four years, and won laurels for the same. I was also part of the Placement Team of IIT Bombay in my final year. Being part of a handpicked team and achieving stellar placements despite difficult economic conditions (2009-10) was definitely a high point and self-satisfying.
How do you manage to convince employers when they ask you to explain your mixed profile?
Frankly speaking, the fact that I have physically done the things I did before arriving at my areas of interest makes my case all the more convincing of having made an informed choice. Having given my best in whatever I have undertaken makes me more adept at handling challenges in an ever dynamic nature of workplace. It has also helped me be a quick learner and seek new challenges and do well in them. Besides, most entry level positions across industries involve skill sets that are easily transferable.
Tell us about the jobs you held - what were the roles and responsibilities in each of them? What did you do well at the firms?
At Deloitte, I was an Analyst within the SAP-ERP Consulting team. I got an opportunity to work on projects in the Utilities and Retail space. I also got an opportunity to work on a project with the Aerospace & Defence vertical within the Strategy & Operations group based on my understanding of the industry. Besides day-to-day work, I was feted by the Management team for my contribution towards the annual CSR drive. I also worked closely with the Human Capital team in organising team building activities for fellow practitioners across levels. Given my passion for music, I was also the founding member of the Deloitte band.
At Credit Suisse, I was part of a three-member team working closely with three trading desks in London. We were given responsibility to manage the entire risk in our traders' books having multi-billion dollar positions. We were also responsible for structuring trades to pragmatically hedge exposure based on the desk's positions. Given the faith that the desk had in us, the margin for error was minimal. Speed was of essence, and working in such an environment made me more instinctive, proactive and efficient at multi-tasking, which really helped me in my time at business school.
What are your plans for the future? Why finance? Don't you think technology (e-commerce, SaaS, apps like Uber etc.) is more exciting?
I strongly feel a career choice must be made based on passion, and more importantly on what you are good at, in order to make a mark and progress. At this point in time, Finance seems, to me, seems to match both the aforementioned criteria, and this decision has been arrived at after a lot of thought and with practical exposure to the sector. Though, over the long term, I would to try out the buy-side, I'm extremely excited to be joining the Fixed Income desk at Goldman Sachs, Mumbai post my MBA. I'm a firm believer in taking a decision and sticking with it, and at this point, I would not think it would be prudent to even consider anything other than what I have on my plate.
Tell us about your summer internship. What was the role like? What qualities are required to do well in that role?
I did my summer internship at Goldman Sachs, Hong Kong. I was selected for an eight-week long IIM Internship Program, as a Summer Analyst. I had two formal rotations, firstly with the Prime Brokerage desk and secondly with the Equities Trading desk. The internship gave me an opportunity to work on various exciting projects which was of direct relevance and usage to the desks. I got an opportunity to work with people of various nationalities, and the learning was tremendous. I was given full ownership of tasks and I feel I was able to deliver pragmatic solutions which my team found useful.
As far as skill sets go, proficiency in Excel is extremely important. My familiarity and proficiency with Bloomberg, which I used extensively in my role at Credit Suisse, was an added plus. Some amount of technical and product knowledge definitely helps. Above all, the industry requires superlative communication and interpersonal skills. Given the industry is relationship based, fit is an extremely important aspect. Additional skill sets that are important are being proactive in going that extra mile in doing more than what is expected of you, taking initiatives in meeting as many people as possible and understanding the interlinks between the different teams.
What are your hobbies? How do you find time for them?
I am a passionate keyboard player, something that I picked up right from school. I have always made an effort to stay closely associated with it in undergraduate, professional and post-graduate life. At IIM Calcutta, I am fortunate enough to be surrounded by very talented musicians, and given the emphasis that is played on extra-curricular activities in the institute, there are many events throughout the calendar for one to have the opportunity to contribute and perform. It is something I wish to continue even as I re-enter my professional life.
I have recently developed an interest in playing squash and I played it for 3 years before joining IIM Calcutta. Though there has been a paucity of accessible courts in Calcutta, I can't wait to get back to Mumbai and continue with it.