Congratulations on deciding that you want to do an MBA. You deserve a pat on the back because there are plenty of options in this world with respect to your post-grad and you must have done a lot of heavy lifting in analysing each option in-depth to reach your final conclusion.
Now that you've made up your mind, you need to take action – an action that maximises your chances of getting into your dream B-School.
Take Your Career To The Next Level. Ask Our Experts Anything. We Will Respond Within 48 Hours.
I have curated a list of common questions, that candidates may have with respect to strengthening their profile:
1. What adds more value to my profile – working in a startup or working at an MNC?
Working for a big 4 or a top tech company? Sure, that sounds fancy. But do they really add weight to your profile with respect to your B-School application?
Well, the short answer is IT DEPENDS ON THE IMPACT OF YOUR WORK.
B-Schools want to admit candidates who are impact-oriented. Now, its really irrelevant where you create an impact – a startup, or an MNC. You are expected to talk about the impact of your work, irrespective of the company, in your essays and during your interviews. If you feel what you're doing creates no impact, I would recommend changing your project, or your company (well, that choice rests with you!).
To sum up, wherever you work, just focus on creating an impact. B-Schools care more about what you've worked on rather than where you've worked on.
---
2. How many years of work experience should I have before I start applying?
This question has no definite answer and thus I would keep it as generic as possible. Every school has a mean work-ex figure for previous batches. Just try to match it.
The benefit of added work-ex with time follows the normal distribution approximately (skewness ignored)
X-Axis: Time
Y-Axis: Benefit

Fig: A normal distribution curve
The benefit of added work-ex keeps increasing till you reach the mean, flattens somewhere near the mean, and then decreases thereafter (there are some exceptions to this trend).
The reason for the decrease is pretty simple – It is difficult for certain schools to place students once they cross a certain level of work-ex.
Hence, I would recommend applicants to be near the mean work-ex levels of their target B School.
Also, most B-Schools have other programs for candidates with greater work-ex. You can check out these programs too if you have more work experience.
---
3. Should I do my MBA in India or should I go for a program abroad?
I would recommend doing an MBA in a country you would want to settle in. Want to settle in the US? Apply for schools in the US. Want to settle in Singapore? Apply for schools in Singapore. Want to settle in India? Apply for schools in India.
It is extremely important to maintain this congruency since you tend to form a network in the country you study in, thus directly affecting your employment opportunities in future.
Also, be sure to check out the economy of the country you've chosen, and the kind of demand they have for B-School graduates.
---
4. Whom should I ask for Letter of Recommendations (LOR)?
Almost all B-Schools ask for a letter of recommendation(s). I would recommend candidates to take LORs from people whom they've worked with, and avoid friends.
These LORs should talk about professional projects undertaken and personal qualities shown while executing these projects.
---
5. Do undergrad grades matter?
A strong academic record shows consistency, discipline, and proof that you can put in the hours when it comes to books. Try to keep your academic record as consistent as possible. If you have low undergrad scores, try compensating with a high GMAT/GRE Score.
---
6. What's a good GMAT/GRE score?
Try keeping your GMAT/GRE score as high as possible. This is something all candidates should try to achieve.
Looking for a lower limit? Well, the lower limit is always the mean GMAT/GRE score for the previous batches in your target B-School.
Please note that a good GMAT/GRE score only helps you get a foot through the door. It just takes you a step closer towards your dream B-School.
That being said, being on the right side of the bell curve always helps. The further you are from the mean (on the right side, of course!), the stronger your application is.
---
7. Is it necessary to have an undergrad degree from a tier 1 college?
This is a tricky one. Being from a tier 1 college definitely fetches you brownie points since it shows that you were able to surpass the competition in the past.
But, but, but IT DOESN'T MEAN THAT YOU DON'T STAND A CHANCE IF YOU'RE NOT FROM A TIER 1 INSTITUTE. Focus on doing impactful work in your workplace, and you are good to go!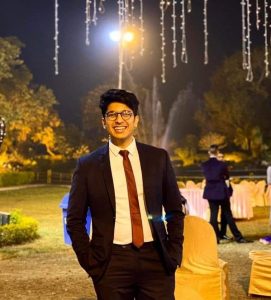 Ashmit graduated from ISB Hyderabad in 2020. Before ISB, he completed his B. Tech from VIT Vellore, and worked as a software developer for almost 3 years. In his free time, he loves playing the synthesizer.