World is full of people, and I am one of them,
Carrying nothing distinct, as you see in me,
You see from eyes, I see from heart,
That's the god's blessing showered on me!
When you fail, you blame and cry hard,
But when I, I make the competition tough apart,
You ask me, without eyes, how you can do,
I smile, that's the easiest journey I can walk through!
I am Chirag Gambhir, I would not say I am a person with 100 percent visual impairment, but will say God has given me other sense to see the world. People do call it a disability, but I believe it is not a brave struggle or courage in the face of adversity. Disability is an art. It's an ingenious way to live and let live. With this spirit, I did my schooling from Delhi Public School, Sushant Lok.
I will not say that I did not fall, or I did not cry - why me? but when I did fall, there were 100 people to motivate me that I can rise, rather than giving help and feeling pity on me. With those good people and those 12 years of my school, I laid a foundation of becoming me.
I remember a day, when I was low, I could not see, but it was not hidden from others eyes.
A friend walked up, and she told her life history, that day I understood, there is always up and down in everyone's life, as a straight line declares you as dead, I realised that I am blessed with a sixth sense, could not help that friend in her situation, but yes, after that, I never forget to smile. Thanks buddy, you will always be special to me.
With a blink of an eye, my foundation was made, and I was ready to face the world of youngsters.
I was done with my secondary school education, and now time to be a graduate.
I took admission in Sri Venkateswara College, (University of Delhi ) in the year 2012 and opted Sociology and English as my main subjects. As I learned to smile, I too became smart, strong and more interested in extracurricular activities like theatre and sports. So if someday you will visit my place, you will find many certificates and awards of the above activities I was involved with in my College days.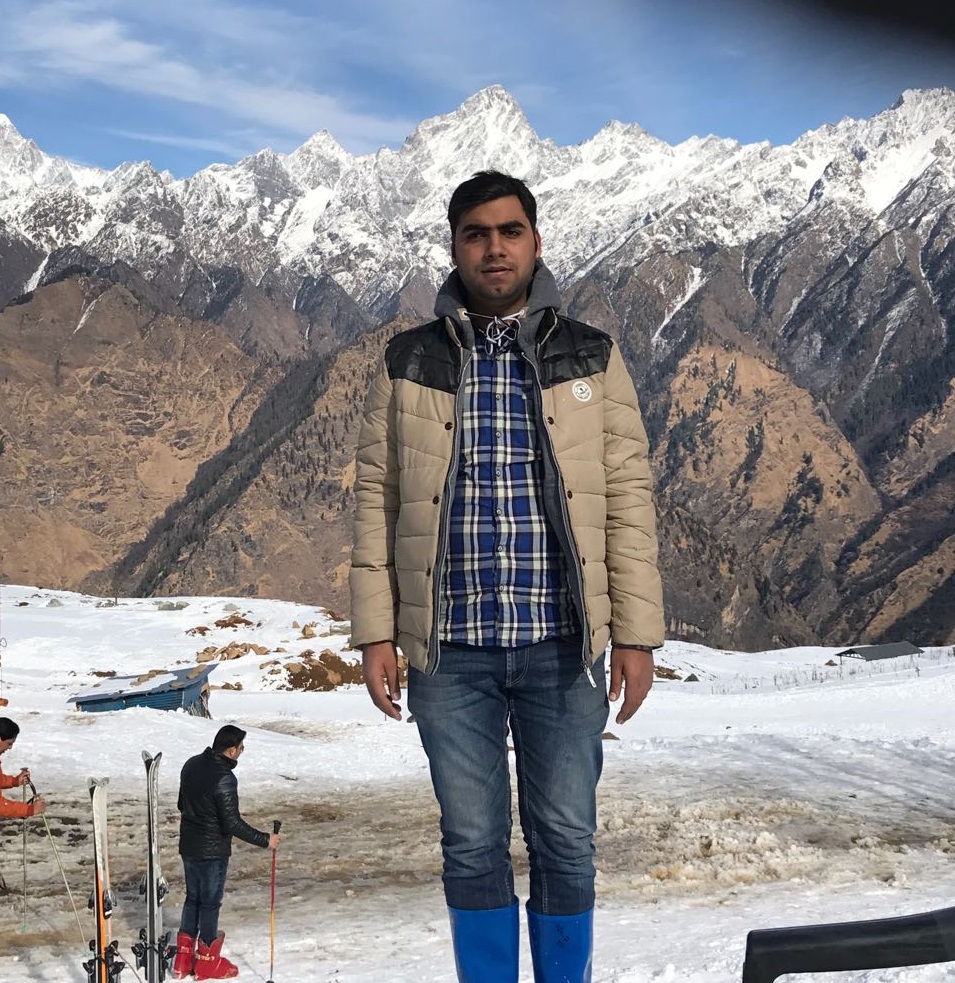 This was my 2nd year of graduation and I decided to give CAT and with full dedication, have started the coaching from Career Launcher for the same. For every challenge I have taken in my life, I have made an Idol and then have started my journey, here my motivation or idol was "Arjun and his dedication", Don't know why, but whenever I felt stuck, the episode of hunting the fish eye by Arjun used to strike me, and again I used to be geared up. The preparation was very challenging because of me not hailing from a commerce background. I always got stuck in things like data interpretation, pie-chats, etc. It was very difficult to learn but my teacher used to help me after the classes and drew the graphs with the help of fingers. It took a lot of exertion and patience. And here, I would like to give special thanks to the Arjun and Krishna preaching, which has always reminded me of what I need to aspire for.
I appeared for CAT 2014 and got 82.79 percentile. With that percentile, I got calls from IIM K/I/S and all new IIMs, cleared their interviews and secured admissions in all the institutions. But I thought that 82.79 is not a very good score in this competitive world and I can do much better. My college was over till that time and there were two thoughts in my mind. Either I could prepare again, or I would go for a job. I decided to learn about the corporate world where we have to land after doing MBA. I joined V-Mart Retail Limited and worked in CSR department. With my employment, I once again gave CAT exam and secured 92.25 percentile this time, which was the highest among all the 20 visually challenged aspirants who had applied for FMS. This time, due to a very good score I got calls from all the IIMs except Ahmedabad and Bangalore and I converted all of them to admission.
But, my main target was FMS and finally, I landed here.
Interviews are not that difficult for any visually challenged for getting into any MBA college. One common thing which I found is the level of awareness among the interview panel about the technology. After successfully battling all the hurdles, I secured an admission in MBA 2016-18 batch.
I must tell you, college days are the best days, in any one's life, and currently I am enjoying the same, you should never forget to study, to complete your assignment, but you should also manage to go on trips, bunking, night out, and party, yes, then only you can be a better manager, a multi-tasker, and not a cribber. With all the hard work and late night studies along with the fun, the time started flowing like the sand from hand.
How fast these 5-6 months have gone and now we have to appear for summer internship interviews. It is a competition which is very different from CAT interviews as here I have to compete with the whole batch because in Corporates there is no reservation. I appeared for a lot of interviews, but the common thing with these interviews is that very limited companies are aware of the software which blind people use. In almost every interview, my CV and my personality was cherished, but the two question which I was asked each time were how do you travel? How do you work on a computer? After I explain all that, I was sent back with best wishes and sugary words. My enthusiasm did not die out after appearing for more than 15 companies because I know my competition was with my batch which includes people with good academics and extra-curricular activities.
After giving my best, I cleared my interview of Make My Trip.
My advice to all the MBA aspirants is to give your best in the interviews. Be honest with your answers. Be aware of people around you and believe in yourself.
My mother happily cherishes how proud she was when the doctors handed over a baby boy to her 24 years ago on 23rd of November 1993 and proclaim herself to be even more proud today. Do know why? The reason is my disability. All of us have to learn to be blind and only then can we learn to live in an inclusive world. 24 years have passed and life has shown me so much that it feels like it has been 100 years.
When I entered into FMS, we were loaded with assignments and other activities. The whole regiment was so gruelling that initially, it was hard for me to catch up but then perseverance become a habit. FMS has helped me look at things from a very different perspective. The batch-bonding and the day-to-day activities have made me a better person and encouraged me to work hard towards attaining success. I can say that FMS has made me more confident as a person and I appreciate that people here have accepted me the way I am and has helped me sweep past 1st year of MBA successfully.
Message for the applicants: I have always seen a day as an interview and the people I meet as the jury.
As I believe we meet people, we greet and then we talk about some subject. This is actually what happens in an interview.
So you don't have to be afraid or become conscious even, treat them as your daily people, your teacher, your friends, where you either give or take suggestions from them.
I am the one who could not see the gesture of someone who is sitting in front of me, I know after seeing me some pity me, some feel courageous, some motivate me, but these things have never mattered and affected me as I have seen me, and I have believed in myself and I believe when I have done the homework than what is to worry?
So when I can face this challenging world, why can't you?