Is an MBA really worth it? Where does the MBA degree take you in your career? What are the chances that even after an MBA, you may end up in a mediocre job? Is an MBA degree going to remain relevant in a decade from now? This IIM Ahmedabad graduate, an entrepreneur who is known for never mincing his words, shares important career advice and his honest take on the worth of the MBA degree.
The following set of sessions were recorded at the Mumbai Edition of Konversations Cafe, which was attended by a large number of students heading to their dream b-schools. Kenneth's honest and unfiltered take on the MBA degree and corporate careers have garnered hundreds of thousands of views on our official YouTube channel, and now after a huge number of requests, we bring Kenneth back to you at the InsideIIM Finance Festival 2020!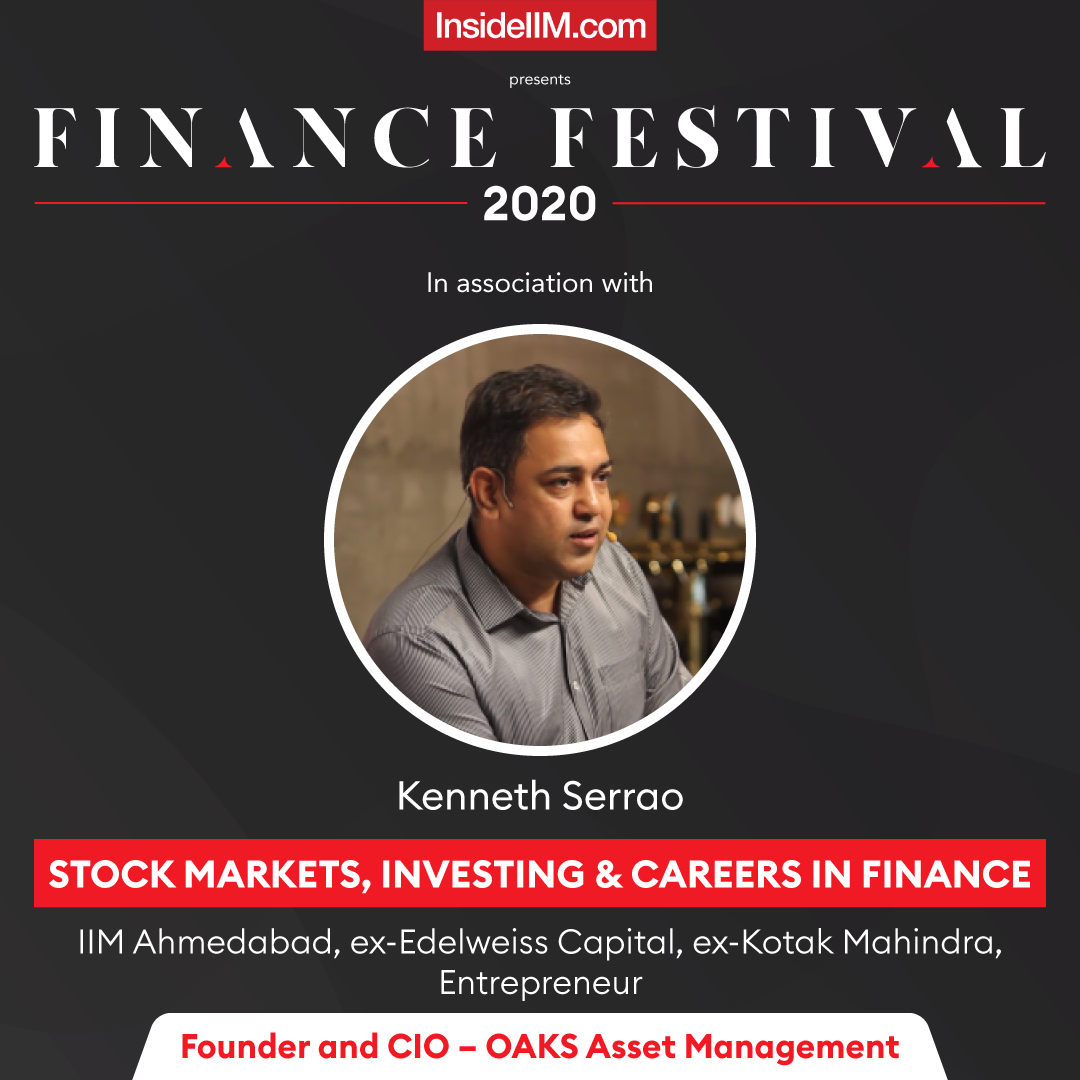 Kenneth will be conducting five highly insightful live sessions on Stock Markets, Investing, And Careers in Finance. You can enroll for his sessions here, and you can find the course outline and important dates below!
Session
Date
Time
Session Details
Session 1
June 28
(Sunday)
7 PM Onward
Introduction to Financial Markets: Basics of Stocks, Bonds and other markets including Commodities.
How markets begin and History of Indian markets. A peep into the future of Indian financial markets.
Session 2
June 29
(Monday)
7 PM Onward
Career Options in Financial Markets: Traders versus Research Analysts. Private Equity versus Public Equity. Investment Bankers versus Wealth Managers. Hard and Soft skills. Pros and Cons.
Session 3
June 30
(Tuesday)
7 PM Onward
Alternate approaches to markets. Macro versus Bottom-up. Value versus Growth. Fundamental Valuation versus Technical Analysis. Individual investors versus Professional traders. The importance of Bubbles.
Session 4
July 1
(Wednesday)
7 PM Onward
Sales jobs in Financial Markets: Adding value versus becoming middlemen. The rise of robots and FinTech. Google IPO versus Facebook IPO.
Session 5
July 2
(Thursday)
7 PM Onward
Case Studies + Learnings + Q&A
If you want to know what these sessions will be like, all you need to do is take a look at these 3 highly insightful talks by Kenneth at the Mumbai edition of K-Cafe!
---
Uber Drivers, Maids Make More Than Lower Tier MBA Grads - Kenneth Serrao, IIM A, VC
He shares how after a decade or so, your degree may become redundant. He talks about how placements are not the be and end all at b-school. He shares how the most important skill you need to pick up is communication. He talks about how every job becomes a sales job after some years. With anecdotes on financial markets, he shares his tales of studying at IIM A, and how excellence is a learned quality. He talks about putting your head down and working hard during your years at b-school because hard work pays. Finally, Ken talks about humility and figuring out what career path one can take.

If you're curious about how an MBA graduate thinks, acts and believes, even 20 years after graduation, this is a must-watch for you.
---
Your Burning Ambition In Life Should Not Be To Be Manager At An MNC - Kenneth Serrao, IIM Ahmedabad, VC
If you're wondering what it takes to maintain a career in finance and how one makes important career decisions, this video is a must watch for you. In this video, Kenneth takes you through his career journey. He shares how and why he left an international career to come and settle down in India. He talks about the flipside of working at MNCs and why it's tough to work in an Indian company. Sign-up for his sessions at the InsideIIM Finance Festival 2020.

Kenneth shares the story of his work with Kotak, and how he was a part of the team when Kotak just launched in India. He talks about getting a job through 'sifarish.' He shares how he moved out of TAG Heuer after a short stint as he did not enjoy the work. He talks about being with Edelweiss when it started.

Finally, Ken discusses an interesting topic- politics in India. He likes elections to stock markets and shares how the markets are always an exciting world to be in. He talks about how the junta needs to demand the right things from politicians instead of blaming them.
---
Why Switching A Job For Higher Salary Is A Stupid Decision - Kenneth Serrao, IIM Ahmedabad Alum And VC
Kenneth talks about his career and the lessons he learned in this video. He shares insights into just how to make important decisions that matter in life. He talks about perspective, and how after a few years, your goals and expectations change from life. He talks about making decisions based on interest instead of money.

He talks about the pros and cons of entrepreneurship. Ken shares his entrepreneurship experience. He talks about how creating a career as a founder is really tough and how mindsets matter. He answers questions about career selection and day-zero jobs.