Dr. Subrat Sarangi is MICA's Professor Of The Year 2021. With more than 23 years of industry, management consulting, teaching, and research experience, Professor Sarangi brings vivid learnings from various domains to his classes. For his students, Prof. Sarangi has "made learning seamless with his hands-on knowledge transfer with direct real-world applications". Find out more about Prof. Sarangi and why did his students at MICA choose him as Professor Of The Year here.
---
Meet Subrat Sarangi - Assistant Professor At MICA & InsideIIM's Professor of The Year In 2021
Before he joined MICA in June 2018, Prof. Sarangi worked with KIIT School of Management, KIIT University, Bhubaneswar, India as Associate Professor (Grade II). In his long career in advisory services, Prof. Sarangi has been engaged with leading global and Indian companies across a diverse range of industry domains including Automotive, Hi-Tech, FMCG, Port & Infrastructure, Metals & Mining, Healthcare, Media & Publishing, and Plastics.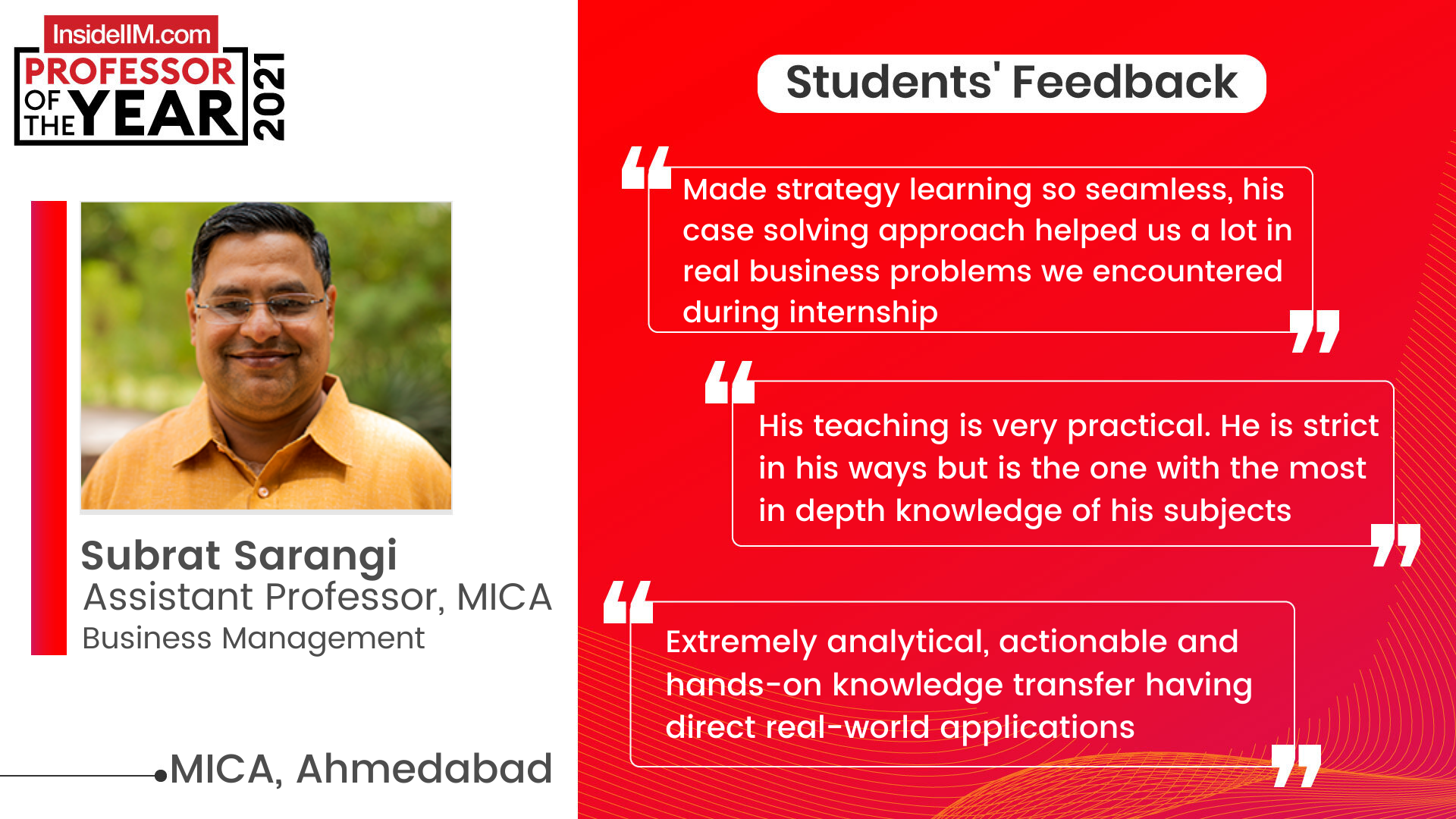 ---
Prof. Sarangi has worked with Jindal Steel & Power Ltd., Avalon Consulting, IBM Global Services, Wipro Consulting, iGATE- Patni, Beroe Inc, Toyota Kirloskar Motors Ltd., Tata Chemicals, Unilever, Tata Steel, Ispat Group, Ciena Corporation, Ashok Leyland Ltd., TVS Group, Anand Bazar Patrika Group, Ministry of Commerce (Sultanate of Oman), Merck, Kraft Foods, Johnson Diversey, and International Seaports Limited, to name a few.
Take Your Career To The Next Level. Ask Our Experts Anything. We Will Respond Within 48 Hours.
His current teaching interests include - B2B Marketing, Marketing Research, FMCG Marketing, Strategic Management, Supply Chain Management, Advanced Operations Management, and Doing Business in Emerging Markets. Prof. Sarangi is the course lead for Quantitative Research Methods in the doctoral program at MICA. He is also a visiting faculty to XLRI Jamshedpur, IIM Sambalpur, and IRMA. Find out more about Prof. Sarangi here
---
InsideIIM Professor of The Year 2021 - What MICA Students Have To Say About Professor Sarangi

"Subrat Sir has a profound knowledge on the subject matter, he is always ready to help students in need and has a no-nonsense attitude towards teaching."


"Revamping the theory by contextualizing it to the pre-covid, covid, and post-covid times. He uses a plethora of examples to explain strategies and innovations in supply chain and beyond."

"He was very clear about the delivery of the topics with a variety of cases that helped understand various industry-level problems."

"The case study method of teaching is top-notch by him and he really connects every dot in a practical hands-on manner ."
---
What The InsideIIM Professor of The Year Series Is About
In the last year, the whole country struggled in coping up with the pandemic and lockdowns. In this time of crisis, it was the great leadership shown by our teachers and professors to ensure that learning never stops. They went beyond just teaching and found solutions and created new learning environments for their students to continue learning.
We at InsideIIM want to recognize the efforts that various B-School professors throughout the country put in to ensure that their students are not left behind and continue to meet their potential and achieve great things. This is why we asked MBA students of the current batches in 2021 to nominate their favorite professors on campus for the title of 'Professor of The Year' as a small token of gratitude for professors who have made so many efforts in the last year, just so that students can head out to etch a successful career for themselves!