All Brands reward their customers by launching attractive promotional offers. For most brands, promotions are designed to 'buy' sales. But promotion can also be designed to build brand. Nike designed a promotion scheme that sought to build its brand. This promotional scheme was introduced in Mexico.
In this scheme customers were 'actively-engaged' in the promotion,in the process, it strengthened the 'soul' of the brand.
Take Your Career To The Next Level. Ask Our Experts Anything. We Will Respond Within 48 Hours.
Let us come to Nike. In my opinion, it markets 'performance' not 'shoes'.
Take running. For many Nike customers it counts. To cater to these customers Nike decided to design a promotional scheme in which 'running' was an integral part. To execute this promotional scheme it created Nike's 1st auction site. Here it placed Nike's new merchandise on auction. But with a magical twist. You could bid for these merchandise, not with money, but hold your breadth, by the kilometers you had run in your Nike sneakers. This is how the promotion worked – people ran & kept track of the kilometers they had run with Nike Plus. Kilometers become the new currency, using which they could bid on the auction site. At the end of each auction the best bid won.
In brief Nike customers could get new merchandise by paying, not in cash, but through there sweat, sorry kilometers, which they had clocked wearing Nike Plus sneakers.
Did this promotion pay off?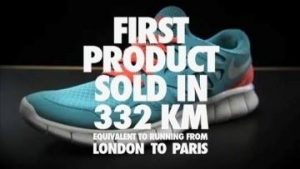 Take a look… at the end of the 1st auction, which was spread over 15 days:
• 1334 kilometer were bid
• 1st product sold was for 332 kilometer – equivalent of London – Paris distance.
• Over 25000 unique visitors visited the site
• Over 32400 organic searches were recorded
Business Lessons for us: When we design promotional schemes for our brand let us not take the easy route & design a promotion to bribe our existing customers to buy our brand. It would pay rich dividend if we also leverage promotional scheme to also build Brand.
What are your views on this promotion?