In our list of India's Best 30 - the 30 Most Employable Students from the Class of 2019-21, we feature MBA students who have walked that extra mile and done that little more to make a mark. The commitment to raise financial awareness in the country is something that made Mohit Kaushik stand out from the usual. Read on and find out how this Engineer at IIM C developed his career in finance.
The following are Mohit Kaushik's set of responses to a questionnaire floated amongst MBA graduates to determine the top-30 most employable MBA graduates of the Class of 2021. Amongst the massive number of entries and responses being evaluated by the Founder of InsideIIM-Kampus Konversations, Mohit's story and profile stood out. Here's his story in his own words.
Take Your Career To The Next Level. Ask Our Experts Anything. We Will Respond Within 48 Hours.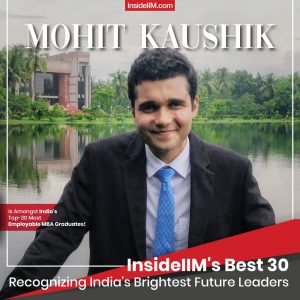 "I'm an engineering undergrad based out of New Delhi, who joined IIM Calcutta as a fresher. Prior to joining IIM C, I was awarded the ISB YLP scholarship and direct admit to their flagship one year PGP programme. I am someone who loves adventure and have done a course in scuba diving, trekked across the Himalayas as an assistant trek leader with the biggest trekking company in India, and climbed a few active volcanoes. I interned at Citi in their trade team for my summer internship. I love economics & human behaviour and hence the markets. I plan to manage a mutual fund in the foreseeable future to increase the financial awareness and wealth of the Indian middle class."
Name an instance where you wanted something and went out of your comfort zone to achieve it OR Tell us the biggest risk you have taken so far in your life.
As a kid, I used to be pretty athletic, first as a swimmer and then as a shuttler. Sports was an integral part of my daily life. After entering class 11, my routine took a hit, the immensity of the course demanded that I study most of the time. By the time I graduated from high school, I had become obese, weighing 105kg and lost my self-confidence, all of which led to my poor performance in my exams. It was at this point when I knew I needed to do something. I had become too complacent and my body too comfortable. I had to get out of my comfort zone if I wanted to get out of this phase.
I decided to make radical changes to my schedule. I started waking up at 4:30 going for long jogs, exercising, making time to play despite the academic pressures. Over the next six months, I lost 27 kgs. I broke my body every day to keep it stern, attentive and fit. Not only did my physical fitness improve but my scores skyrocketed as well. It was a big risk to change my schedule so drastically so close to my exams and to bring in jogging and sports at a time when all everyone was doing was studying. It was hard to get out of my comfort zone and break myself every morning but it was impertinent for my own good. My failure taught me this important lesson; it was a bitter medicine, but, looking back, it was definitely worth it.
When was the last time someone relied on you? OR What did you do which was purely for someone else - a truly selfless act.
Post graduating from high school, I was very intrigued by the armed forces and gave my SSB (Service Selection Board) interview at the Bhopal centre. (*The SSB is the final test, a mandatory week-long interview process, that anyone needs to go through to become an officer in the armed forces. ) During the third day of my interview there, our ground task obstacles were going on. These were tricky obstacles we needed to clear and required us making bridges, pulleys etc. using wooden slabs and ropes to reach from one point to another. During the obstacle exam of one of my fellow cadets reached a point where he was unable to move forward. The GT officer gave him the option to call someone for help, on which he decided to call me. Looking at the obstacle, the only way possible to help him reach from point A to point B was for me to extend my legs, keep one of the wooden slabs on it, and use it as a load bearer. It meant that only one of us could cross the "river"(hypothetical river between the two points) and the other had to use his legs as a part of the "bridge". I decided to sacrifice myself and become his "bridge" as he easily walked over the wooden slab to his destination.
Tell us about a time when you disagreed with an opinion/idea/decision. What did you do about it?
During the summer of 2016, I worked as an intern with the World Food Prize organization and the Ministry of Rural Development on finding out the efficacy of the Krishi Sakhi model, a model of agricultural extension created for the empowerment of women. My co-intern was Samuel Gostomski, an Economics major from Baylor University. After collecting data from over 900 families across 5 villages in the Alwar district of rural Rajasthan we were supposed to run regressions, analyse the data and come to a conclusion whether the program was indeed effective or not and if it was then to what extent. We decided to consult one of our seniors in the office on how to go about the analysis. I had a differing opinion on treating the qualitative answers from her, but my co-intern was fairly fixated ongoing by what she had advised us. So, to explain my position, I established my credibility on the topic by showcasing my previous work and projects, showing I had experience in the subject. I followed that by citing other similar examples of such analysis from a data site which really helped me keep a strong point ahead. We finally used the methodology I had proposed.
What is the one thing you can claim to have some level of expertise or depth of knowledge in - it could be anything - a subject, a sport, a hobby, a venture, an initiative which has led you to do deep work in that field?
I would like to talk about my passion for mountaineering.
I started trekking in 2015 and fell in love with it instantly. Over the next year, I went on multiple treks going up to an altitude of 16000+ ft. including winter treks with temperatures dipping to -10 degrees. Very soon after that, I started trekking solo. I had my own tent, burner sleeping bag, and the mountains were my home. In 2017 I got the opportunity to work with IndiaHikes - the largest trekking company in the country as an intern, and I was responsible for leading batches of 25 trekkers each on high-altitude Himalayan slopes. I loved trekking and was very attracted to mountaineering, which is basically the technical sibling of trekking. I watched a ton of documentaries and read many books on it. Few of my favourite ones being "Into thin air" and "No shortcuts to the top". I planned on getting enrolled for the Basic Mountaineering Course (BMC) and then the Advanced Mountaineering Course (AMC) but could not do so due to the paucity of time. This still remains a goal to be achieved, and hopefully, someday, I will be able to climb the seven summits, much like one of my college seniors Malli Mastan Babu.
If 10 Million Dollars (approximately INR 75 Crores) is given to you to use it any way you deem fit what would you do with this corpus?
The two causes that I feel the most for is education for all and helping the old. And hence in the end, I would like to spend most if not all of what I made on these causes by the end of my life. Given that I get $1 million (INR 75 Cr.) (and assuming this after taxes). I'd like to invest it in the following ways -
$1 Million - Donate to Teach for India and Pratham ($500,000 each)
$1 Million - Donate to Help age India and Age well foundation ($500,000 eac)
$ 7 Million - Invested in equities + mutual funds (debt + equity-based)
$ 1 Million - Cash in the bank (for a rainy day or future investments)
I believe that I can donate much more than $10 Million to these causes and help them much more, which is why I would rather invest my money and provide these causes with a constant cash flow through the returns from these investments, which I believe will add up to much more than the initial principal over a larger period. Since the idea is to help as many kids as possible and as many old age people as possible, this is a more sustainable solution that will also increase the beneficiaries rather than donate the entire amount at once.
You may also like to read: