Imagine being in your final year of undergraduate college, engineering or other streams. You've worked hard throughout the years, been focused and good at academics, taken all the relevant internships, dotted your "i's and crossed your "t"s, only to opt out of final placements! Because you're dealing with depression. This is exactly what happened to Pratibha Goenka. She took a year off, traveled solo to Egypt, and came back to crack the CAT and make it MDI Gurgaon! It's this indomitable spirit that gets her a place as InsideIIM's Best 30 - one of the most employable graduates from the class of 2021! Read and find out how Pratibha conquered herself!
The following is Pratibha Goenka's set of responses to a questionnaire floated amongst MBA graduates to determine the top-30 most employable MBA graduates of the Class of 2021. Amongst the massive number of entries and responses being evaluated by the Founders of InsideIIM-Kampus Konversations, Pratibha's story and profile stood out. Here's her own story in her own words.
Take Your Career To The Next Level. Ask Our Experts Anything. We Will Respond Within 48 Hours.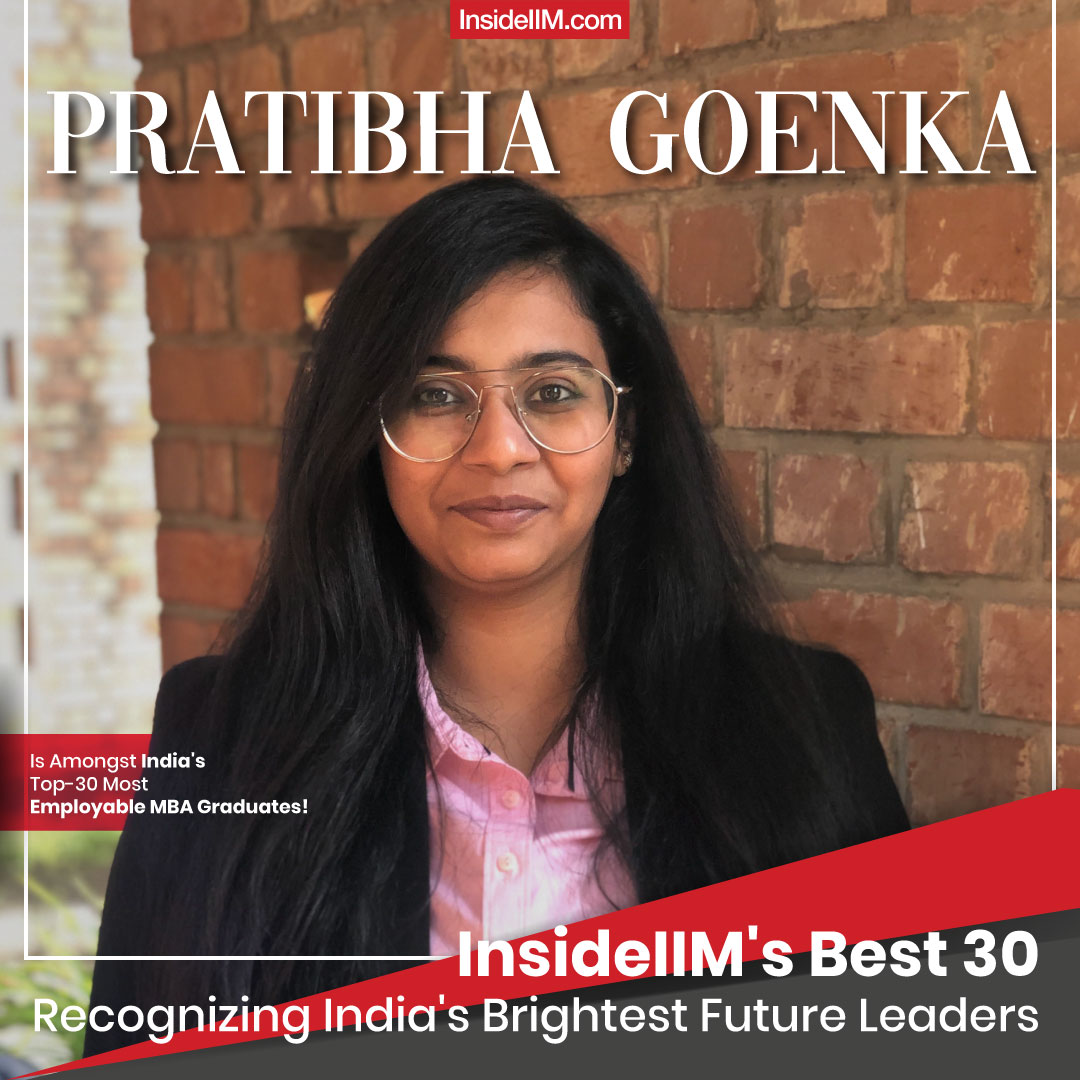 "I am a 2nd year PGPM student at MDI Gurgaon specialising in marketing and finance. I interned with Mars where I was awarded "Best Intern". I have a deep inclination towards understanding consumer behaviour and I have materialised it through several live projects in companies including Amul and Lowe Lintas. I am also a freelance content marketer and I have been working with InsideIIM for the last one year and stood 2nd in the Student Team. I am very particular about not wasting my time because of sorted priorities. My hobbies include writing, travel and stock market investments.
I have an inclination towards contributing to society in every possible means and try to make sure that it is an on-going process and doesn't get side-lined because of other works. At MDI, I am part of Samaritans where I have conducted mental health awareness workshops, NGO visits and blood donation camps. In this lockdown, I also worked with Prajaahita Foundation, an NGO based in Kerala to create a mentor on-boarding strategy to support children with locomotor disabilities and to develop the working model of the NGO and streamlined various projects for synchronisation.
I would call myself – sincere, responsible, and action-oriented. These qualities have helped me develop a tangible formula to stay productive on a daily basis. For example: I work for stretched hours without major breaks which has helped me increase my concentration, I abide by my to-do notes every single day and that too in the order of priorities. I believe in the power of incremental improvements and so I make sure that I don't leave anything in the middle or too early because only sustained efforts have helped me specialise in anything I am good at today. I take my inspiration from Indra Nooyi as I can relate a lot with her journey and live everyday by what she said, "When you do something, put your heart, hand and heads into it". Apart from that, I am a fun-loving person, I love to talk and I immensely believe in the power of stories. I was also awarded the Best Intern out of 21 other interns across India by Mars this summer."
Name an instance where you wanted something and went out of your comfort zone to achieve it OR Tell us the biggest risk you have taken so far in your life.
"In my final year of engineering, I suffered from clinical depression for 3 months. Final placements were arriving and I knew I didn't want to get into an IT company. I had always wanted to do an MBA for which I had done multiple live projects with IIM Ahmedabad (created basic maths and science videos for rural kids in vernacular languages) and IIM Lucknow (a project to understand the marketing mix through several case studies). I was also working in the core team of a media start-up for 2 years where I managed a team of 10+ people.
Amidst my depression phase, I decided to not sit for placements and asked my parents to give me a year to travel. This has been the biggest risk of my life but also the most rewarding in terms of getting me out of my comfort zone and imparting me with the confidence I needed. I went to Egypt solo for 1.5 months with AIESEC and represented India in a tourism-cum-volunteering project and also to many other places in India, something which was unfathomable of a small town Marwari girl. In Egypt, I was responsible for improving the travel perception of the country by making content on the culture of the country. I documented all my travel experiences in my blog thewandergirl.in and Instagram (3800+ followers built organically) and started freelancing and writing for several international travel publications like TheCultureTrip. I simultaneously worked relentlessly to prepare for CAT with a clear end goal in mind and cracked all the exams with flying colours, finally securing admission in MDI Gurgaon and had other calls from SIBM Pune, SCMHRD, IMT Ghaziabad and all the new IIMs."
When was the last time someone relied on you? OR What did you do which was purely for someone else - a truly selfless act.
"My peers rely on me every time it comes to learning something new or reaching out for help (be it life or career). I keep sharing resources (books, courses and useful links) with my friends and encourage them to stay updated. I have shared resources on learning about investments with all my friends so that it helps them in the long term. I have never kept things hidden from my friends in terms of career progression and have always helped them in finding internships and live projects.
Before joining MDI Gurgaon, I arranged a clothes donation drive single-handedly by bringing together the community of Kolkata's Toastmasters clubs. It was winter and I saw the condition in which people were sleeping in the railway station and I felt I needed to do my part. As a part of Samaritans, the social initiatives club of MDI Gurgaon, I have arranged several workshops close to my heart like on mental health awareness. Apart from that, I have organised NGO visits and blood donation camps. I also initiated the idea and led the preparation of a central repository of resources based on people's interests for the mutual benefit of everyone at MDI."
Tell us about a time when you disagreed with an opinion/idea/decision. What did you do about it?
"In academic projects and sometimes in case study competitions, it so happens that we as a team tend to resume work just before the deadline. Worse, the deadline for all the projects is almost the same. This leads to sub-par work because of the hurry which I don't like. I have always taken the initiative of arranging meetings well ahead of time so that this can be avoided. Every time I form a group, there are new people and I have to bring everyone on the same page regarding this. I disagree with anyone saying that it can be managed last moment and I think that is one big reason why I have always stayed satisfied with the submission quality. I make sure that the work is done throughout the semester and I keep arranging meetings for the same which sometimes lead to conflict which I don't mind resolving."
What is the one thing you can claim to have some level of expertise or depth of knowledge in - it could be anything - a subject, a sport, a hobby, a venture, an initiative which has led you to do deep work in that field?
"I have deep experience in content writing, content research and SEO. These tools have helped me to explore several genres including entrepreneurship, start-ups, CAT exam & MBA particulars and traveling. I have been writing constantly for 5 years now. It started with an internship at a media start-up where I was promoted to the core team in just 2 months during my 2nd year of engineering. After having worked there for two years on content writing, copywriting, editing and research, I moved to freelancing for start-ups like Railyatri and Peersome. I have been a guest blogger in renowned international publications including TheCultureTrip and The Himalayan Geographic. I maintain my own travel blog by the name of thewandergirl.in and do micro-blogging on travel on Instagram where I have 3900+ followers built organically. I have also been a part of InsideIIM's student team where I finished second with 1.94 Lakh unique page views on my articles and having answered 420+ queries of CAT aspirants. After that I moved on to freelance for InsideIIM where I currently write data-led research articles for the publication."
If 10 Million Dollars (approximately INR 75 Crores) is given to you to use it any way you deem fit what would you do with this corpus?
"This money will give me the security to undertake many such projects which I have not been able to work on until now. The structure of the capital division would look something like this –
5% (3.75 Crores) of the corpus will be kept for contingency because to spend the rest of the money with care and with precaution, I will need some cushion amount to fall back upon.

6% (4.5 Crores) of the corpus - I will fund 3 girls' education by properly judging their inclination towards further studies. This is my dream since very long which I intend to do when I have enough money at hand. For the right judgement, first I will make sure that they are already in some jurisdiction of a reputed NGO which knows them well. Second, all of them should have scored well in their 10th boards and have the potential and willingness to study till their masters and make a career. Thirdly, I will be mentoring them in their career with regular weekly sessions to help them out throughout.

30% of the corpus (22.5 Crores) I will be investing in various instruments and I will diversify the investment into debt and equity funds to minimise risk. Of the 22.5 Crores, the money will be divided 30% in debt, 40% in land (will be used for my venture), and 30% in equity (since I regularly invest in the stock market through thorough fundamental analysis). The money will be invested in PPF, corporate and government bonds, land, gold, insurance policies and equity (including equity mutual funds).

5% of the corpus (3.75 Crores), I will use to travel and document my journey which I have been doing currently and is my passion. I will be going for a backpacking trip and not a luxury trip because I believe backpacking helps you to understand the place in the most pure form.

Rest 54% of the corpus (40.5 Crores), I will divide in – bootstrapping my own business and investing in another venture. My business will compose 80% of the corpus used and if required 100%. My idea is centred around third-party manufacturing of different kinds of packaged food items. The investment in land will also be used here. After the organic farming products are in place, it will also be converted into a staycation to provide a rural experience which will be monetised further."
---
You Might Also Like To Read: