Getting a sense of the questions you need to attempt to reach a certain percentile can be very helpful during the last few days of your preparation. It can offer you the vision to tailor your preparation in the direction you will benefit the most from. To help you with that, we looked at data for the past 6 years from 2015 to 2020 and conducted individual surveys of CAT toppers to understand their number of attempts and the percentile it fetched them.
Before we dive into the predictions for 2021, let's take a look at key insights the data offers:
For CAT 2020, total attempts of 32 questions accurately would give you the 99 percentile. Between CAT 2015 to 2019 with the different patterns in place, you would need total attempts in the range of 52 - 60 with 100% accuracy to get to the 99 percentile level.
The above implies that accurately attempting 42 - 52% of the total questions will get you to the 99 percentile benchmark.
The 42% in the above range stems from evidence from CAT 2020 where a disproportionate reduction in questions vs time led to aberrance. However, IIM Ahmedabad, well aware of the same, has clearly announced a reduction in the number of questions for CAT 2021.
Take Your Career To The Next Level. Ask Our Experts Anything. We Will Respond Within 48 Hours.
Based on the above, here are our predictions for CAT 2021: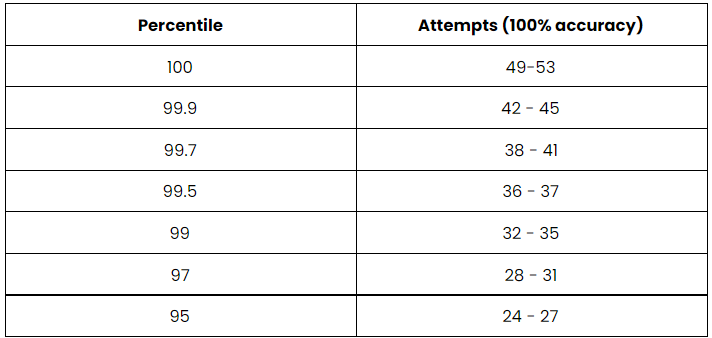 The range has been created to take into account the variation that results due to the level of difficulty of the paper.
If You're Interested In Knowing If Your Academic Profile Is Good Enough For the IIMs, SPJIMR, FMS, MDI Gurgaon, XLRI and more, check the following:
If you are a general engineer male fresher with more than 80% in both class X and XII, you will need a minimum of 99.7%ile to be certain that you shall get a call from the top 5 IIMs. The percentile would be lesser, likely in the range of 99, for a female with a similar profile. For others, it will vary, however, the 99%ile threshold will likely be reached with total attempts of 32 - 35 questions with 100% accuracy on CAT 2021.
Presenting InsideIIM's MBA Admissions Bootcamp - WAT-PI Edge.
You may apply for the screening here.
---
Recommended For You: