IIMs were conceptualised with the idea of honing the business skills of Indian students. Although a vast majority prefer taking placements in multi nationals post PGDM, there are a few who embark on their entrepreneurial journey. The below article is a descriptive interview of one such journey!
Dr. Peeyoosh Ranjan Maharana, who has previously been featured
here
, talks about how the seeds of curiosity were planted in his mind that led to his startup- the Bodhi tree. With the support of IIM Udaipur and the entrepreneurship spirit that prevails at his campus, he was shortlisted under the 'Top 30 Innovations' under 'University Challenge' across all universities of the country at an 'Innovation Tank' held at IIT Bombay on 24th June 2017. This is the story of the Bodhi Tree and the hurdles that were overcome to follow one's passions.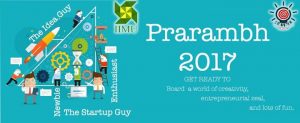 What made you take the entrepreneurial route?
Working as a resident physician at AIIMS, I wanted more than just a comfortable job that paid well. So, I decided to pursue an MBA with a focus on social entrepreneurship. I wanted to take on social problems, and I felt that through my love of travelling, I would learn more from my observations.
One area that caught my eye was the energy sector. India would, in the years to come, face an energy crisis that would require a shift from depending on conventional sources to renewable energy. Solar energy is one option, as the cost per unit of solar energy has gone down significantly. Solar energy being abundantly available only requires an efficient way to harness it. Inspired by the Canal Solar Power Project in Gujarat, the seeds of the Bodhi Tree emerged in my mind- an idea that could touch and change people's lives.
What is the Bodhi Tree?
Similar to the Bodhi tree that played a significant role in Buddha's Enlightenment, the modern Bodhi Tree aims to provide knowledge (through WiFi) and harness electricity through solar panels. It would provide free charging for mobile phones and laptops, act as a Wi-Fi station, serve as a source of public space lighting, and would have the capability to transfer surplus energy to the main grid. It would be in the form of a tree with four solar panels of 250 Watts each on the roof and would also have seating space below where people can sit and charge their phones.
It would use lesser space (90% less approximately) than conventional methods of power production and provides an efficient solution for space utilisation in cities. It could be implemented in public spaces, parks, streets, educational institutions, corporate offices, and airports. One Bodhi tree would save an estimated 1400 Pounds of CO2 emissions in one year which would be the equivalent of the carbon-absorbing capacity of 7 natural trees.
Who all are there in your team?
There are two co-founders
Peeyoosh R Maharana – PGDM (IIM Udaipur), MBBS(GMC Bhopal)
Ranjit Prasad – B.Tech(Electricals)NIT Tatanagar
Mentors
Arun Singhal – PGDM (IIM Bangalore), Operations Director(Asia-Pacific) Johnson & Johnson, Career service advisor, IIM Udaipur
Uma Mahesvaram Mandi – PGDM (IIM Ahmedabad), CEO- Indigram Labs Foundation
Project Partners
Indigram Labs Foundation – Has offered incubation, seed funding, and mentorship
IIM Udaipur Incubation Cell – Has provided incubation and mentorship
GITS Research and Development Cell – Has offered help in prototype design and IoT product installation support
How has the Bodhi Tree been received?
The Bodhi Tree was well received by everyone, starting with the reception it received at Prarambh, the annual start-up event hosted by Saksham, IIM Udaipur's entrepreneurship cell. The firm and supportive atmosphere that IIM Udaipur has for aspiring entrepreneurs played a significant role in the initial stages of my project. Additionally, the support tendered by IIMU's Incubation Centre helped me structure my idea. The Institute also offers a SEP (Sumer Entrepreneurship Program) wherein the college provides a stipend for budding entrepreneurs to work upon their ideas. I took advantage of all these facilities to work on my venture.
The Bodhi Tree was further showcased at 'Innovation Tank' held at IIT Bombay on 24th June 2017. It came under India Innovation Growth Programme 2.0. organised by Department of Science and Technology – Government of India. This was in conjecture with Lockheed Martin Corporation, Tata Trusts – Tata Centre of Technology and Design at Massachusetts Institute of Technology (MIT), IIM Ahmedabad – Centre for Innovation Incubation and Entrepreneurship (CIIE) and IIT Bombay. Our project was adjudged as one of the top 30 start-up ideas in the university challenge program which had participants from across the nation!
What are some of the challenges you faced while taking the entrepreneur route?
There are numerous hardships associated with any fledgeling startup. This was in stark contrast to the comfortable life I led back at AIIMS. During testing times, it is the thought of touching people's lives that kept me afloat and strived me to move forward. With the support of the entrepreneurial culture in IIM Udaipur, I am following my passion and trying to see it through- to go beyond sight and to follow my vision.
Are there any learnings that you'd like to share from this journey so far?
The journey has taught me the of the talked about art of patience. Starting an entreprenurial journey is often lonely and an uphill task. Everyday a new problem crops up to which you do not have a solution. You sit down and brainstorm and the net day is a new challenge! This teaches you to keep your cool and the MBA journey grooms you well for it. It is a lot like our assignments in which we research industries for problems and make reports on them. You go out seeking the unknown and put your head into the problem in search of a possible solution!
How has IIM U helped you take this plunge?
First and foremost, IIM U has been the breeding ground for the entrepreneur in me. The vibrant e-cell created the right atmosphere for me to take the plunge. Further college policies like 'Summer Entrepreneurship Program' gave me 2 months to actually go ahead with my plan. The plan has seen a lot of changes from the point it was conceptualised to today. This change has been facilitated by expert guidance from the experts that IIM U has for student guidance for entrepreneurs and the college incubation cell.
Your message for budding entrepreneurs?
It is all about taking risk and taking control over your life. I would say this is not for everyone as the hardships in the initial years are huge. But the biggest diamonds are found deepest in the quarry and the most successful start-ups are founded after years of hard work! My message to you is find the right guiding light and take the plunge. If this is your calling, you will enjoy this ride. Despite all the ups and downs, I think this journey would give meaning to your life.