Moving to Mumbai for work? Or to study? You're gonna love it! And just so you don't feel lost or stranded in this burgeoning city, we created something special for you. Here's introducing the Mumbai Starter Kit. Wondering how to find a home in Mumbai? Or what items you'll need to get settled? Want to unravel the train travel conundrums out here? We've got you covered. :) Click here to check out just what you'll get a feel for in the Mumbai Starter Kit...


Mumbai is a shopper's dream. If you're new to Mumbai, and want to decorate your home, liven up your office space, or just buy some knick knacks, chances are you'll find these easily. In the last part, part 4, we shared with you some shopping essentials. Basically, how do you dress to impress when you're in a metro like Mumbai.
Today, meet these fab flea markets in Mumbai.
Basically, these are the places where you shop for literally anything! Food, grocery, jewelery, crockery, clothes, glassware, plastic items, kitchen utensils, fruits and vegetables, you name it and it'll be there. We've compiled a list of 9 markets we love to shop at down below.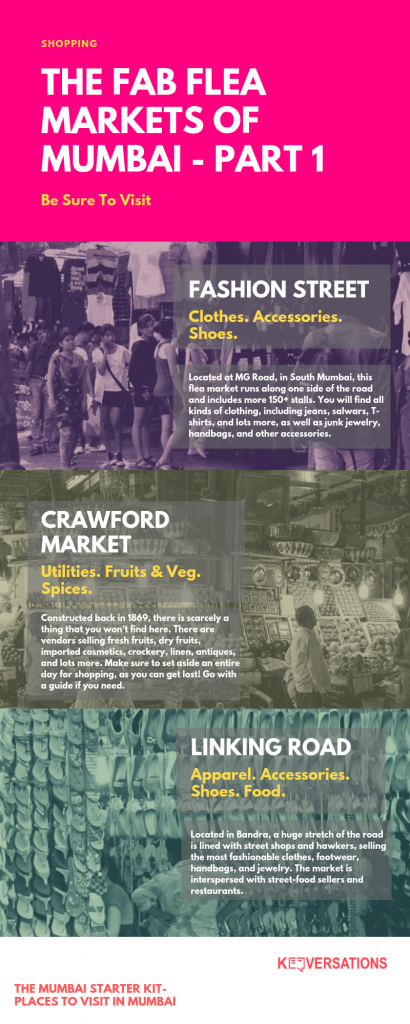 Want to get updates when a new part of the Mumbai Starter Kit is launched? Subscribe here:
These are the 9 places we heart. They are known for different items. And if you take a day out to visit (you'll need more than a day to traverse some of these markets!) you'll find this to be a unique experience in itself!
In the next part, we talk about Mumbai's lifeline - the local train. We unravel the secrets of traveling via trains in Mumbai, so stay tuned!
Here's what you get in this kit:
Introduction To Mumbai Starter Kit
How To Find Accommodation In Mumbai
How to Feed Yourself When Living Away From Home
Dressing To Impress - Mumbai Style
Shopping Destinations in Mumbai
How To Train Travel In Mumbai
Don't Drink & Drive - Local Travel In Mumbai
How To Have Fun In Mumbai - I
How To Have Fun In Mumbai - II
How To Beat The Rains In Bombay
Festival Time In Mumbai