IIFT Delhi will argue FOR the motion.
IIM Ranchi will argue AGAINST the motion.
The opening arguments of both teams are presented below. You can also read them here and here. This is a Live Debate and the debate will continue in the comments section of this article. The audience is also encouraged to participate in the debate. This debate will be live until 12:00 noon on Monday 8th September 2014.
IIFT Delhi - Arguing FOR the Motion
The Indian tango with Football
Before we kick things off, let me shoot with a few statistics which really make the rest of this article rather complementary.
The Football World Cup -
2002 - 34 million Indian viewers
2006 - 50 million Indian viewers
2010 - 63 million Indian viewers
2014 -160 million Indian viewers.Indian viewers for Cricket were 200 million, for the recored.
We'd say more, but you can do the math. Football isn't just growing, it's exploding in India. Cricket might pull off all the "reinvention" it wants, but the fact that Its need reinvention so bad is its veru death knell. The facts are right here. Cricket may yet have a larger base, but it's a somplyammter of time at the break neck pace of football.
A look at historical data further would show that this gap is narrowing down every passing minute. Because every passing minute a person in India is discovering a new Football player, a new club and is following it religiously. The revolution which started in the states of West Bengal, Kerala and Goa has now a contagion, spreading across the country. With the mushrooming of Manchester United cafes and apparel outlets in almost every major city of India, this phenomenon has captivated the Indian audience.
To a few hardliners who still might feel that football overtaking cricket is not possible, i have one word for you.
Hockey.
If India could have moved from hockey being its national sport(it still is) to cricket being its religion, then the transition to football is very much on the crowds.At this point i would like to point out the similar sporting revolution sweeping India.
Weren't we the World Champions of Hockey? We were the Barcelona (Football analogy) , the Australia (Cricket analogy) of Hockey- 8 Gold medals, 1 Silver medal and 2 Bronze medals and still (STILL) we are the most successful Olympic Team ever! Then what went wrong? How and when did Cricket overtake it? Let us see...
- 1932 - First Test Match ever, which we (obviously) lost. Arguments over how the team was led.
- 1952- First ever Test Win, After 20 years of defeats (some humiliating) and controversies.
- 1960s referred to as Dark Ages of Indian Cricket, mostly due to off-field antics of fans.
So far, Hockey is the superior sport. The countrymen take pride in it, while Cricket is struggling to find its way. But 1964, often cited as 'start of demise of Hockey' doesn't coincide with the gain in popularity of Cricket (which would be somewhere in 1980s). What happened all those years in between? That one and half decade? What happened is human nature! The game of Hockey changed, but the team's policy didn't. The Indian hockey lords were continuing in fool's paradise, while international standards were going up. They took pride in 'their' way of playing - of their touch and superb body language. They failed to adapt to the game, their methods became obsolete and outdated.
Now roll on to 1980s- the decade that changed everything.
Indian hockey was on its way down. They stuck to their motto of 'Grass is good. Synthetic pitch kills our artistic play.'
On the other hand in 1983, Indian won the Cricket World Cup. Following years saw emergence of some talented cricketers under the leadership of players like Sunil Gavaskar and Kapil Dev. And a massive boost was handed was the World Cup that was held on home soils 1987 and 1996. And then there was the legendary Sachin Tendulkar, the dependable Rahul Dravid, SauravGanguly, AnilKumble and so on. The Indian fans had found a new sport to follow, new gods to worship. And the reasons were there, Hockey lost its way, and Cricket took advantage.
Now cricket, basically is in a similar postion. It's a colonial hangover, that more an advertising extravaganza than a real sport. Breaks at the drop of a hat. Check. Captive audience. Check. Langourous pace of play. Check.
Now football, is a purists game. It's not called the joga bonito for no reason. Came rain, come snow come what may. The game goes on. One 15 minute break, and back to sheer flowing poetry. No wonder Indian's are lapping it up, tired of a game that packs its kit every time the clouds as much as grumble. And don't even get me started on the monstrosity called Duckworth Lewis. In addition to being the single greatest source of headaches since Navjot Singh Siddhu, it's almost more comical than that ex-cricketer, how a game gets decided by planchette beating hocus-pocus. Football is of course for simpler people, people who find that a sport should ideally be decided by play, and not turn in to a statistical farce every time it as much as drizzles.
The thrill in it is all about the outcome of the match. So When it comes to sports, the best the audience can be offered is giving them live feeds, in addition to of course, actually giving them a real game. Unlike watching a Game of thrones episode in India on a Monday morning before you rush off to your office and try to be the smartass giving spoilers to everybody, watching a sporting event after it has been telecast live is not thrilling at all. Hence, live broadcast is critical. All EPL matches are perfect prime time weekend watch. Fortunately the time zones match too and we as a country understand English.Also, the advent of the internet makes it easy for you to follow the sport. One can easily catchup on the missed matches, the hullabulla with giving a red card to a popular player or for that matter if someone wants to read an expert's take, even that's available. People start identifying with the club's history by reliving it through the internet. Live broadcast on the internet makes sure you never miss a match even if you do not have a television at your disposal. Internet has been the key and most vital instrument in the league becoming even more popular in India. The increase in subscription model of revenue for TV/Internet will ensure high content quality.
If you take up any newspaper in India, you'll often find that the top 3 newsblurbs featuring football and the news may involve something very intricate like the transfer of Ronaldo or Messi. This shows that not only are people taking interest in the game but it goes beyond the name dropping hero worship cricket inspires.
Manchester United, Barcelona, Arsenal and Liverpool all have academies for youngsters from ages 6 to 18 across big cities in India. A lot of money has been pumped in and they are professionally run. It is a matter of time before India throws up its own Messi or Ronaldo. We need somebody who can capture the emotions of the 1.2 billion people.
Few months back ,we saw team auctions of a new football league in India (ISL)where celebrities and cricketers bought football franchisees for cities across India. Criketers like Sachin Tendulkar, SouravGanguly and Bollywood celebs likeRanbirKapoor among others own football clubs in the India Super League. This league is under the aegis of one of the biggest corporate in India- Reliance. This is a small step towards a bigger dream. This league is no games, mind you. It's backed by IMG, one of the largest football talent firms in the world.Amongst others, MilindDeora a politician from Mahrashtra, runs a football competition for kids in South Bombay with the help of a few corporates.This is on the lines of famous celebrities in Europe and Latin American countries running such competitions.On the whole, people are already sensing a massive groundswell behind football, and All these developments are only to leverage the exponentially growing football fan base in India.Sleeping giants India starting to wake up, says SeppBlatter, FIFA President. When the president of the global football body says this, it's no longer children's play.
Just a few days, I heard a huge ruckus down one the street. When I looked for the sources, there was an veritable army of blue clad youth, yelling out "The Blues go steaming in!", replete with flyers, scarves and flags. Now this is isn't London, home to Chelsea's homeground, Stamford Bridge. This is Bangalore, where football is clearly marching on. You can happily choose to ignore the din, but the real question, how long before free long passes obliterate our colonial wickets?
If you really want to hear the groundswell, here is a photo of Rajib Roy. The son of a single mother Rajib,16, lives in the red light district of Kolkata, West Bengal, sharing a single-room home with his mother -a prostitute- and his brother. Only now, he is set to play football at Old Trafford after being spotted by talent scouts from Manchester United.
Football my friends, is the scrappy street wise lad who's out with a chip on his shoulder, and a point to prove. And just like Rajib Roy, you can put every obstacle you can find in its path, but the beautiful game will dribble past you all the same. You can try and fight it, and go out on a hit-wicket, or accept the inevitable, and join the chorus.
References:
http://www.espncricinfo.com/page2/content/story/521987.html
http://www.quora.com/How-long-will-it-take-for-football-to-replace-cricket-as-the-major-sport-in-India
http://world-a-team.com/odi-50-over-cricket/10656-20-20-cricket-could-overtake-soccer-the-worlds-biggest-sport.html
IIM Ranchi - Arguing AGAINST the Motion
Football Will Not Overtake Cricket In India
Will Football overtake cricket in India?
Our hearts scream 'YESSS', but our minds say 'No'!
Yours truly,
Adarsh (Tottenham Hotspur/Belgium) and Sayan (Barcelona/Argentina).
We are two of the most hardcore and passionate football fans you will ever get to meet. But, even we know when to accept the truth, however hard it may be to digest. Football is NEVER going to supplant Cricket in India.
1. Fanbase
It's true that it is becoming increasingly 'fashionable' to support an international football club in many parts of India. A few years back, people were falling over themselves trying to board the Manchester United bandwagon. Now with post-Ferguson Man United being the subject of open ridicule, the same bunch of fans didn't even think twice before hopping on to the flashier Chelsea 'bus'.
There are several thousand true football fans who have shed tears for their favourite sides. But, a major chunk of the football population in India will happily swap jerseys before you can say Jack Robinson. This will never deign to happen in cricket. Even if India gets whitewashed in a Test series in England or Australia, the unwavering support and devotion of the Indian fans will never change. There will be criticism aimed at the players, gleefully cooked up by the media of course. But, fans will not start rooting for Pakistan or Sri Lanka because of that.
So, unless there comes a day when a football player is worshipped by our country with the same fervour that is usually reserved for the likes of Sachin and Dhoni, the cricket fanbase will continue to dominate over the soccer fanbase.
Urban/Rural Divide (Fanbase):
Of the 121 crore Indians, 83.3 crores live in rural areas while 37.7 crores stay in urban areas according to the Census of 2011. It is typical for the rural populace to connect and identify only with things closer to home and remain alienated to the international happenings. Now, football in India is a myriad concoction of a lacklustre national team and few regional teams with glorious 'pasts'. If football has any craze among the general Indian population, then it is due to the swashbuckling dribbles and goals of international stars such as CR7, LM10 and the likes. Herein arrives the problem. With the myopic sports vision of rural India already stated, it is now an open secret as to where the future of football is headed in this country. The overwhelming media coverage of FIFA World Cups, EURO Cups and Champion Leagues merely scratch at the surface as they cater to the eyes and ears of mostly urban India. So, the next time you have a heated argument about a possible Renaissance in football with fellow passionate fans in a pub, just remember that you (urban India in this case) are merely the dregs of the wine barrel.

2. IPL vs ISL
India is playing host to a string of former 'have-beens' in the inaugural edition of Indian Super League (ISL). Former World Cup winners like Del Piero and Trezeguet are set to grace the competition.
Though it will be tempting to draw comparisons between ISL and its much richer elder cousin, IPL, it wouldn't actually make much of a contest because ISL cannot possibly hope to repeat the financial success of the IPL. The ICC sanctioned cricket league has a talent pool of all the best players in the world and the franchise owners are so spoilt for choice that legends like Brett Lee and Mahela Jayawardane can be allowed to be remain unsold.
ISL, even with the lure of millions, cannot expect to draw the elite players. With the league scheduled to take place from October and December, the best the founders of ISL can expect is the participation of some recently retired players or some free agent looking to make some quick cash.
It is true that the presence of reputed players like Nicolas Anelka will be a huge motivation for our crop of youngsters. But, expecting the next Lionel Messi to emerge from Kerala Blasters or Delhi Dynamos is just wistful fantasy. It is NOT going to happen.
The lack of adequate youth development programs has been holding back Indian football for more than four decades now. Although the AIFF has tried to change that in the recent past by starting regional academies, the progress has been excruciatingly slow. The I-League clubs should also take much of the blame for this as most of them still don't even have academies, with some clubs only assembling youth teams a few weeks before any tournament rather than running them throughout the year.

3. Infrastructure:
Another major problem in Indian football has been the continued absence of proper infrastructure. Even a club like Mohun Bagan, one of the oldest in Asia, doesn't have a proper home ground. Most I-League venues are multi-purpose stadiums and need major refurbishments. A majority of the venues either belong to the state government or local municipalities, and not to the football clubs. It goes without saying then that they are not maintained properly and are frequently made available for public shows and concerts.
Cricket, on the other hand, can boast of state-of-the-art facilities even in Tier-II cities like Ranchi and Mohali. However, the Salt Lake stadium in Kolkata (a metro) despite being the second largest stadium in the world is in a dilapidated state. So, football still has a lot of catching up to do.
4. No. 1 in ODI Rankings and No. 150 in FIFA Rankings
India is ranked at a lowly 150 in the latest FIFA Rankings. To put this into perspective, the puny nation of Maldives is ranked 5 places before us. It is hard to fathom how a nation of 1.2 Billion cannot even produce 11 footballers who can actually take our rankings to double digits. On the other hand, the same nation has managed to produce cricketers par excellence for decades. While it is unfair to compare the two rankings, owing to the insignificant number of cricket playing nations, the fact remains that Indian football is in the doldrums.
While the 'Men in Blue' can boast of three World Cups in their trophy cabinet, the best the other 'Men in Blue' can come up with is a paltry 4th place finish in the 1964 Olympics. The closest India came to the FIFA World Cup was in 1950 when they actually qualified for the event. But sadly enough, we blew the chance of a World Cup representation citing our inability to play with boots strapped on. It has been a downhill ride ever since. India craves so much for its representation in the world's biggest sporting spectacle that the nation actually went delirious when Vikash Dhorasoo (of Indian origin) was called up for France in 2006.
Watching football is a complex business. We have to go through a sea of emotions ranging from pure agony to unbridled ecstasy. But sometimes as we watch the English pin up their hopes on their perennially underachieving national side, we suddenly feel very small. That is when the crushing realization hits us. We can never realistically hope to see a team in Indian colours challenging for a World Cup. We might never hear the music of 'Jana Gana Mana' at a World Cup match (except perhaps in an EA Sports video game).
5. Telecast
This is another problem that a football fan has to suffer in India - telecast. The STAR network owns the rights to air the Barclays Premier League games live. But, it has reserved three of its four standard-definition channels — STAR Sports 1, 2 and 3 — primarily for cricket and cricket-based shows. And football, whose global fan base dwarves that of any other sport, has been relegated to STAR Sports 4. So if Manchester United and Tottenham Hotspur kick off their games at the same time, only one game will be broadcast. That means a Spurs fan who wanted to watch Eriksen and Lamela will either have to stream online or suffer watching reruns of 'Outstanding Ojha', a programme centred on the exploits of Indian spinner Pragyan Ojha.
A tweet on the fake twitter account of Pragyan Ojha concurs with us: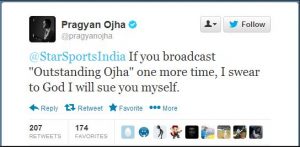 India might boast of a higher number of football fans than even Britain (owing to our superior population, of course). But, the stark reality is that India is languishing near anonymity in the global arena. We need to get our basics right and aim to conquer Asia first before even contemplating to venture out into the vast world.
Only when we have a football team in Indian colours to truly cheer for will some of the cricket fans even think about switching loyalties and completely embrace football. Until that day, cricket will continue to be 'Numero Uno'.
Will the 'game' in India ever change from 'cover drive' to 'free kick'? Well, sorry to disappoint the football fans. But, the answer is NO.
This is a formal entry for the semi-final #2 of the InsideIIM Debate.
Team Name: The Intellect Box
Team Members: Sayan Kar, Adarsh K A M
Institute: IIM Ranchi