Adity Bhattacharaya has done her BA (Economics) from Fergusson College, Pune university. She has worked as a journalist in print media for 3 years in brands like Times of India, AIR and coffee table magazines. She is currently a First Year PGDM student at Institute for Financial Management and Research (IFMR).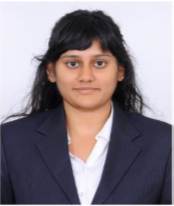 How does it feel to be one of the few non-engineers in the MBA programme?
I was initially very sceptical of running in the same race as engineers. My biggest nightmare has been mathematics unlike the others, and it is a given for engineering students to be better off at this. But I never really felt left out as the environment inside the institute promotes an encouraging spirit to take up challenges and excel in those spaces you never thought you will ever step in. Honestly, it feels kind of different - good different! I am an Economics (major) graduate and I exploit and enjoy my moments of being good at it at all the subjects from the same genre.
What prompted you to take management plunge and pursue an MBA?
I have always been ambitious and wanted to become an investment banker in the long run. Also, the scope of MBA has increased manifolds in all dimensions. To keep up with the trending world and stay upgraded it was very important to complete post graduation and MBA was completely in line with my dream plan.
Coming from the economics background how did you manage your CAT preparation?
I joined T.I.M.E for guidance. My major concern was mathematics hence I focused all my efforts practising it. I was also very regular at attempting mock CAT papers. There is no shortcut to cracking CAT but smart work helps in managing time. It isn't about how many mocks you take up, it's more about how many of them do you take seriously. I took up mock tests every Sunday and reviewed them till Wednesday so that I exactly knew how to improve my scores better by the next test date. It helped tremendously in increasing speed. Also reading is my hobby, so I read as many newspaper articles (my personal favourite was any news which was Economics centric or a Hindu daily). This made me better off in verbal and comprehension sections of CAT.
How has your journey been so far at IFMR?
It has been a rollercoaster ride for me here at IFMR, a thrilling and challenging journey filled with learning at every scope. I have been a member of Samarthan - the social committee, the music club, the speakers club and MUN organising team. The books taught me the theories of management, but the floor taught me the real managerial skills to deal with the resources. Having received an opportunity to intern with Credit Suisse, I would get a chance to use the theoretical knowledge gained from the college to put it to practical use. I don't remember complaining about any opportunity I never had, instead about the opportunity cost of not choosing the other given the plethora of opportunities. Here is a world away from the rest and the beauty lies in how far are you ready to push yourself to learn the most and make the best out the limited time you get in the next two years.
Did your academic background help you have any advantage?
Yes! It has helped me improve my knowledge and understanding of management. I learnt micro and macroeconomics during my graduation and enjoyed an edge over others in terms of quick and in-depth understanding of the same in the first year of this PGDM programme where it is compulsory to take up the two subjects in the first two semesters. I come from an arts background and am among the few non-B.Com students who appreciate accounts and finance in its true essence.
IFMR, besides the expertise in finance, also provides unique opportunities like financial engineering, the only one of its kind in the nation, and BFSI course. The learning experience and infrastructure here at IFMR are excellent and at par with many top B-schools. The faculty and student quality assure competition and demands excellence from all. Also, the atmosphere here at IFMR is very balanced with work and the festive season running parallel with many potentially good managers in the making.
Message for the readers...
Focus on entrances because it MATTERS! Even if you come from a non-engineering background you can succeed; don't let anyone tell you otherwise. It is your choice and only yours how to build up a successful career ahead and which opportunities to grab which to loose and what price to pay. Make wise decisions while selecting a B-school because it outlines your future in a broad way.
All the very best for all your future endeavours.
Click Here To Apply To IFMR.
'This is a Promoted Feature'