Mumbai's enterprising spirit has been celebrated time and again in cinema, literature, art and history. And yet, one can't help but notice new manifestations of this spirit even today. In this city of dreams, some make it to the towering skyscrapers but some remain on the streets in the midst of all the dirt and grime. From this dirt and grime have emerged some fascinating stories of drive and innovation. In a city where property rates have gone through the roof, there endures a story of enterprise on the one place where it costs almost nothing to set up shop - its footpaths. We give you the colorful street-side bookstalls of Fort, Mumbai.
Man of the bazaar and his employees
Meet Mr Rajendra Chandel, the head of book sellers in the Fort area. He started selling books on the footpaths of MG Road Fort, which was a huge book market 25 years ago. Many street side shops closed down but his carried on. He is your go-to guy for MBA prep books, law books, famous novels and rare books. People from all age groups, from an eight-year-old to an eighty-year-old person, shop at his bookstall. The bookstall is functional from morning 10 am to 8 pm every single day. Today, Mr Rajendra is in charge of around 2-3 book sellers who are his employees. These employees are educated till 10th or 12th and they start off as helpers. In a month or two they learn the business which includes interacting with the customers, assembling and displaying the books, packing the books at night etc. At night, the books are stored on the footpath itself and a few employees keep guard. Mr Rajendra pays his employees around 10-12k per month. The inflation has hit even the businesses on the street as Mr Rajendra didn't have to pay this much to his employees a few years back.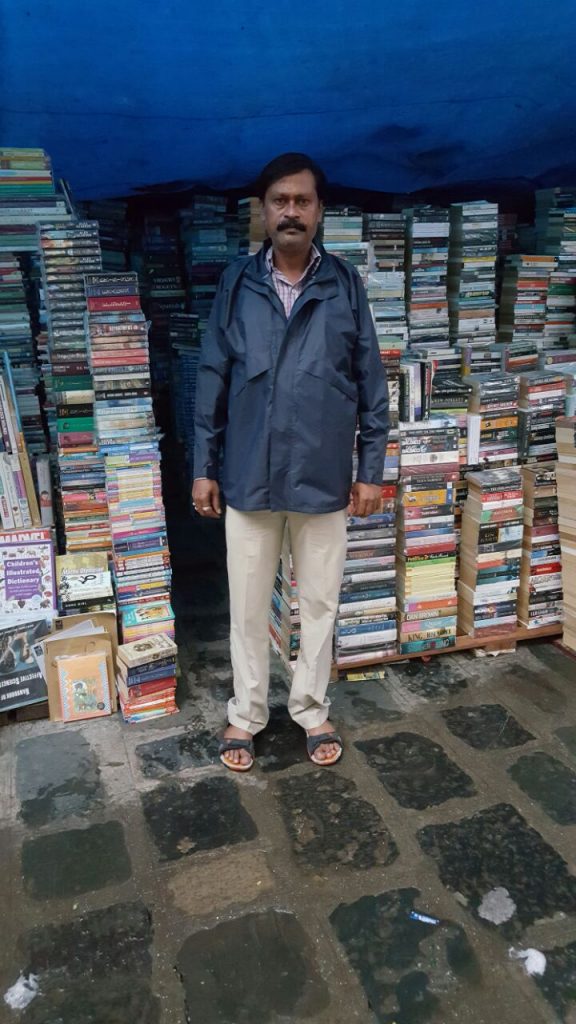 Running a business on the footpath comes with its additional expenses. Like paying the cops as selling on the footpath is illegal. But Mr Rajendra has a solution for that too. He said, "Even cops have children who need books. So they sell books to the cops at the cost price."
Fort Book Bazaar has an association called the Mumbai Nobel Book Welfare Association which was formed in 2008-09 to assemble all the book sellers and to protect their rights and fulfill their demands.
But from where do they get so many books? Entire Mumbai! The books or the 'maal' as they call it, is collected by the maal-waale. Maal-waalas scout for books from raddhiwalas, bookstores and the customers themselves. The customers even give their address to the book sellers and the maal-waale collect it from the customer's house. The business model is simplistic. The book bazaar gives cash to customers in exchange of books and cash and/or credit from the maal-waale for the books. The books are bought for Rs 20-30 from the customers and the maal-waale, being the middle man, sell it to the booksellers for Rs 40-50 and they sell it to the end consumer for Rs 70-80.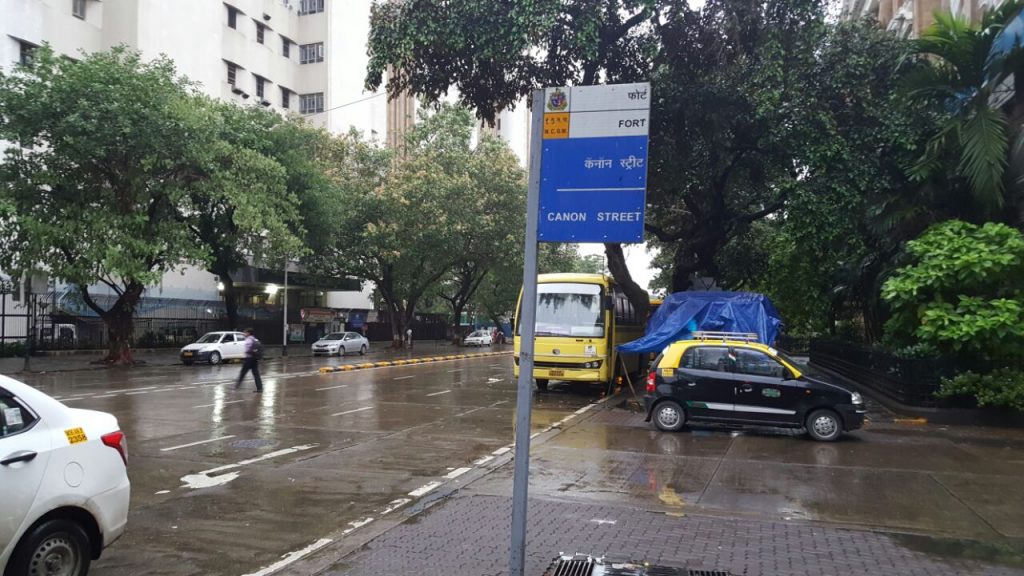 Once they receive the books, they are arranged according to their genres such as fiction, non-fiction, medical, fantasy, romance, historical fiction, chick-lit, comic books and any other genre you can think of. You name it and they've got it. After all, they have over 2 lakhs book combined and individual sellers have on an average 20-25k books.
They even have rare books which aren't available anywhere else. These rare books are mostly related to the history of Maharashtra and India depicting a heart-felt connect these book sellers have for the same. For example, they sell books like History of the Great Marathas (James Grant Buff – 1873), Bajirao the First (Srinivasan - 1961), 4 volumes of The cultural heritage of India (Sumiti Kumar Chatterjee, Nirmal Kumar Bose, A D Pulaskar and Nalinaksha Datta – 1958), Bajirao the second and The East India Company (Pratul Chandragupta – 1964), Chatrapati of Kolhapur (Manohar Malgaonkar – 1971) etc.
The employees know exactly which book will go where because they arrange the books according to the preferences of their customers. Their interaction with the customers helps them know which books are good and they use that knowledge to pitch to other customers. One thing that amused us the most was, how do these people remember exactly where each book by each author is kept? Here sometimes we can't even remember where we kept our keys/phones. What Mr Rajendra told us was that him and his employees interact with these books and authors day in and day out. After that it is difficult not to remember.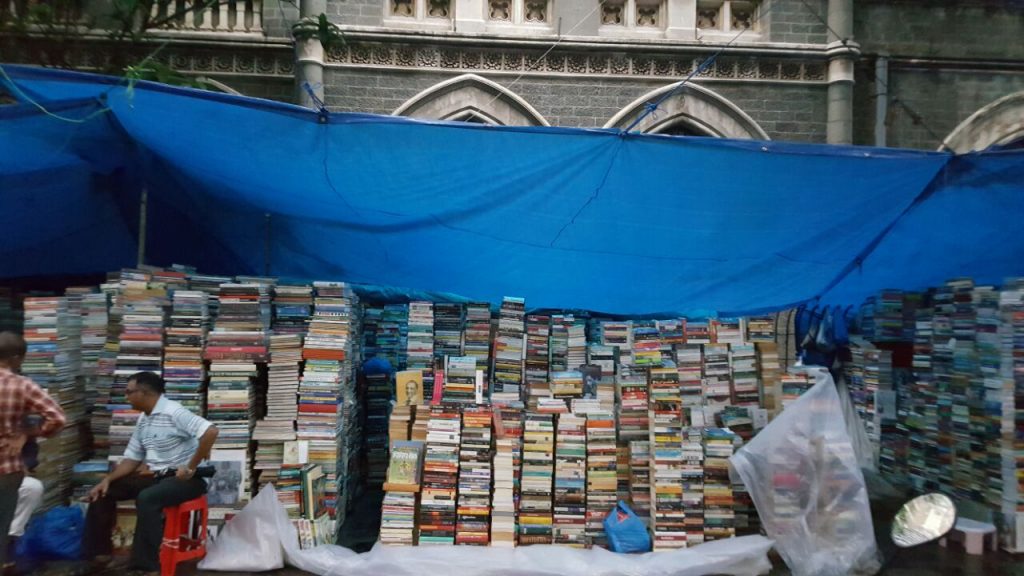 On pricing strategy and competition
In this field, a transaction will rarely happen without a customer bargaining. Mr Rajendra says "Customer bargaining karna hi karna hai. Footpath ka maamla hai. Fixed price toh rakh nahi sakte". So the sellers keep a margin of Rs 40-50 on every book.
With so many book sellers huddled next to each other on the same footpath, competition will be really tough - right? Wrong! It depends on which seller has what collection. No seller will have the same collection so you'll find only one seller selling a particular book. "Sabka collection same ho hi nahi sakta" says Mr Rajendra. If they have the same books, then a customer will come to the seller closest to him, buy the book and go away leaving other sellers without any business. Mr Rajendra also added that every seller's collection is 60-70% different than the other seller. In this way he contradicted himself. We believe what he meant was that the common books that the sellers have are the most popular ones.
What is his view on competitors like Amazon and Flipkart? Mr Rajendra says, "They (Amazon/Flipart) can't sell the old rare books that we are able to sell. They are able to sell only new books."
Nevertheless, due to the advent of technology and e-commerce, the business has been affected as compared to 25 years ago. But true book lovers will come to them and buy real books to get the joy and satisfaction of reading. This book bazaar can provide the reader with the reading experience that no kindle or e-book can provide.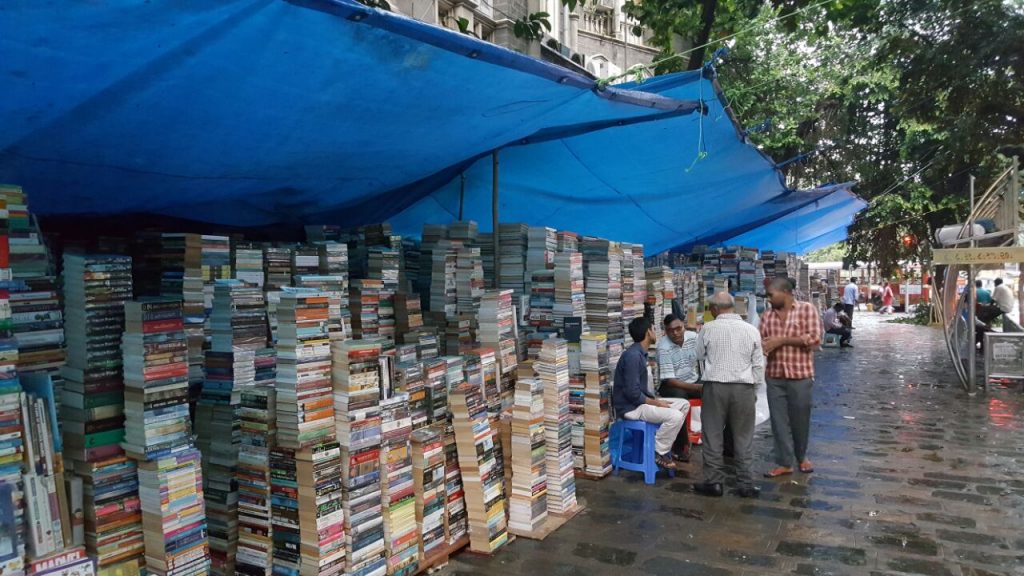 Time changed the reading habits
25-30 years back, there was a craze for books and they sold like hot cakes. It's not the case anymore. People used to buy books for Rs 15-20 but now they pay Rs 150-200. They also have a rental business (like a library) where they used to charge Rs 2 for reading a book whereas now is Rs 15-20. Despite these modifications, the sales of books have gone down indicating that reading as a hobby is scarcely prevalent. Mr Rajendra himself is an avid reader. Though he doesn't read books in English, he urges everyone to read extensively for the plethora of knowledge it provides.
Mr Rajendra has two kids for whom he dreams to have a well-educated life so that they never have to work on a footpath. He has enrolled his kids in school and aspires for them to have advanced degrees which has been possible so far due to his road-side bookshop. Bombay is truly the bazaar of dreams.
1- Unorganized business is a huge but underrated market.
2- What worked 25 years back, may not work now. Change it or find a way around it.
3- It is important to interact with your customers and learn from them. This will only come with first-hand experience.
4- Unorganised trade seems to be unorganised but there are organisations running it behind the scenes. There's more to it than what meets the eye.
5- There is a niche market for everything. Identify it.
As told to Edgar Stephens and Sonali Kapoor