The results of InsideIIM's annual Recruitment Survey are here, and Indian MBA students from India's leading b-schools have revealed their list of top companies to work with after MBA! In 2021, students from IIMs, FMS, XLRI, ISB and other leading MBA colleges have declared an e-commerce behemoth as their dream company to work with after an MBA, followed by one of the world's most valuable companies. Also amongst the top three is a consumer goods company that has consistently featured amongst Indian MBA students' company of choice. Here is the complete list of the top 25 companies to work with after MBA!
Which companies do India's brightest minds want to work with after their management education? To find out, we asked MBA students from across the country to tell us which companies would feature in their list of dream companies to work with. Based on responses gathered from the MBA batches graduating in 2022 and 2023, we've compiled a list of the top companies after MBA!
---
Amazon, Google, HUL Most Desirable Companies To Work With For Indian MBA Students
Take Your Career To The Next Level. Ask Our Experts Anything. We Will Respond Within 48 Hours.
In 2021, MBA students from across the country have voted Amazon as their most desirable company to work with after MBA! Amazon, that has the fifth highest market cap in 2021, is one of the most valuable companies in the world. The e-commerce giant hires in significant numbers at Indian b-school campuses, and was amongst the top recruiters at the IIMs in 2020-2021. As compared to last year, the company has improved its 'Dream Companies' rankings to emerge as a more desirable recruiter than even Google!
Google and Hindustan Unilever are, once again, amongst the top three companies to work with for MBA students. Google, which was right at the top for the past two years, finds itself in the second position this year. Both Google and HUL find themselves regularly at the top in InsideIIM's 'Dream Companies' rankings; in fact, HUL has featured at the top ever since the inception of these rankings!
In 2021, the top 25 has been dominated by companies in the consulting, consumer goods and the tech & e-commerce sectors. Amongst Consulting firms, the MBB come out on top, with McKinsey featuring amongst India's top-5 dream companies. About 20% of the companies in the top-25 are of Indian origin.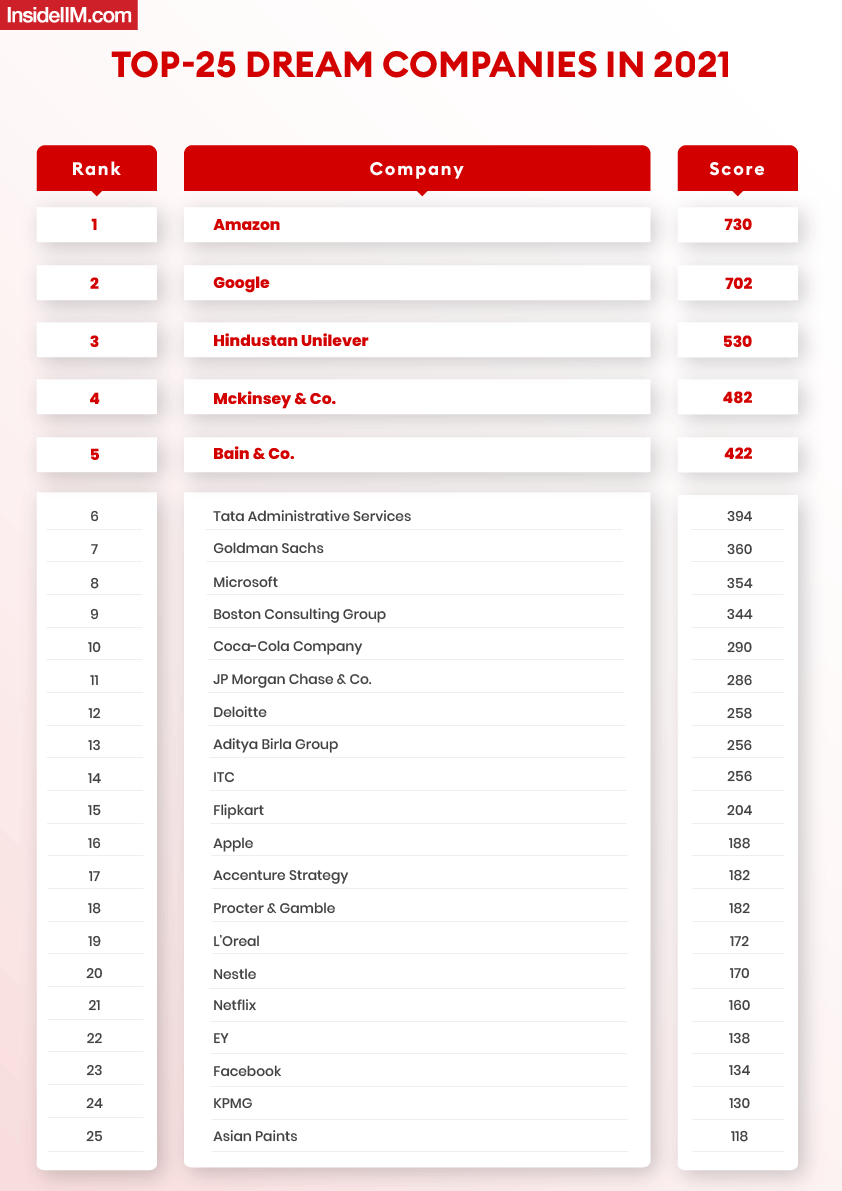 ---
TAS, ABG, ITC Top Indian Dream Companies For Indian MBA Students
In 2021, TAS has been crowned as the most desirable Indian company to work with for MBA students. The Tata Group's highly prestigious leadership program, which hires from a select few campuses in India, has been voted as a dream company for the second consecutive year. Also amongst the top-3 are the conglomerates ITC and ABG, both offering some of India's most prestigious leadership programs for fresh MBA graduates.
The Indian top-25 list is dominated by conglomerates and consumer goods companies, and also features successful startups like the recently-listed companies PayTM and Nykaa. Also to be noted is that 20% of the top-25 are made up by Tata companies - an indicator of how desirable the Tata Group is as an employer.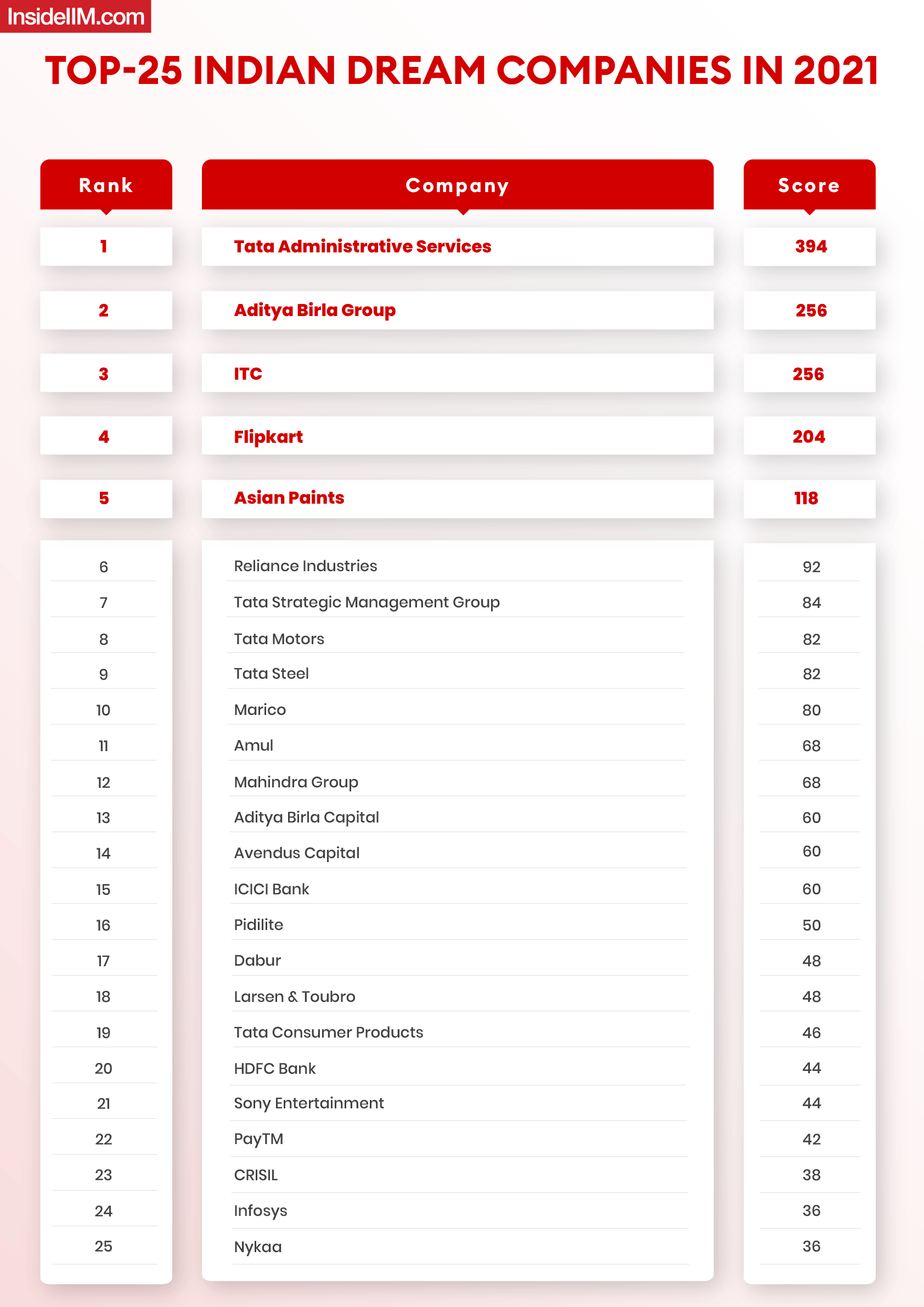 ---
How Did We Create This Report?
In 2021, we reached out to the batch of 2022 and 2023 across India's top MBA colleges to tell us about their thoughts on the b-school recruitment process. One of the questions the survey asked was for MBA students to reveal their top-5 dream companies to work with. Based on the responses received, an overall weighted score was computed, using which the overall rankings were arrived at.
Students responding to this survey belong to business schools like IIMs ABCLIK, as well as second and third generation IIMs. Respondents also belong to campuses such as FMS, XLRI, SPJIMR, ISB, MDI Gurgaon, SIBM Pune, IIFT, and NMIMS Mumbai amongst others. Other campuses include IMT Ghaziabad, SCMHRD, Welingkar, KJSIMSR, XIMB, IMI New Delhi, and the IITs.