It is now an undisputed fact - consulting is, by some margin, the most desirable sector to work in for MBA students across India's top IIMs and other top-ranked management institutes, and for good reason; management/strategy consultants are some of the highest paid professionals in the world, and consulting provides an opportunity to gain exposure to a plethora of industries and diverse business problems. So, which consulting firms do MBA students from the country's top b-schools want to work with the most? Beyond the MBB firms, which organizations do MBA students consider their dream workplaces? To answer this, InsideIIM has come out with the 2020-2021 rankings of the top consulting firms to work with after an MBA!
Every year, the InsideIIM Recruitment Survey reveals the most desirable companies for MBA students across various sectors/domains. One of the most popular amongst these reports is that of the top consulting firms to work with after an MBA. This is also one of the reports where the top three are consistently unsurprising, having been dominated by McKinsey, BCG and Bain.
Take Your Career To The Next Level. Ask Our Experts Anything. We Will Respond Within 48 Hours.
However, a career in consulting is not limited to the MBB firms; every year hundreds of students are hired from India's top campuses by the likes of Accenture, EY, Deloitte, PwC, KPMG, etc. for consulting roles. So which of these firms do MBA students want to work with the most in 2021? The answer was revealed in the results of the latest InsideIIM Recruitment Survey.
---
MBB Firms Continue To Dominate, Deloitte & Accenture Amongst Top Five Consulting Firms
To create these rankings, we asked respondents to rate over 30 companies offering consulting roles at Indian b-school campuses. The ratings were on a scale of 0 to 5, with '0' indicating no interest in joining firm XYZ, and '5' indicating a keen interest in joining firm XYZ. Finally, a weighted score was calculated to create the rankings below.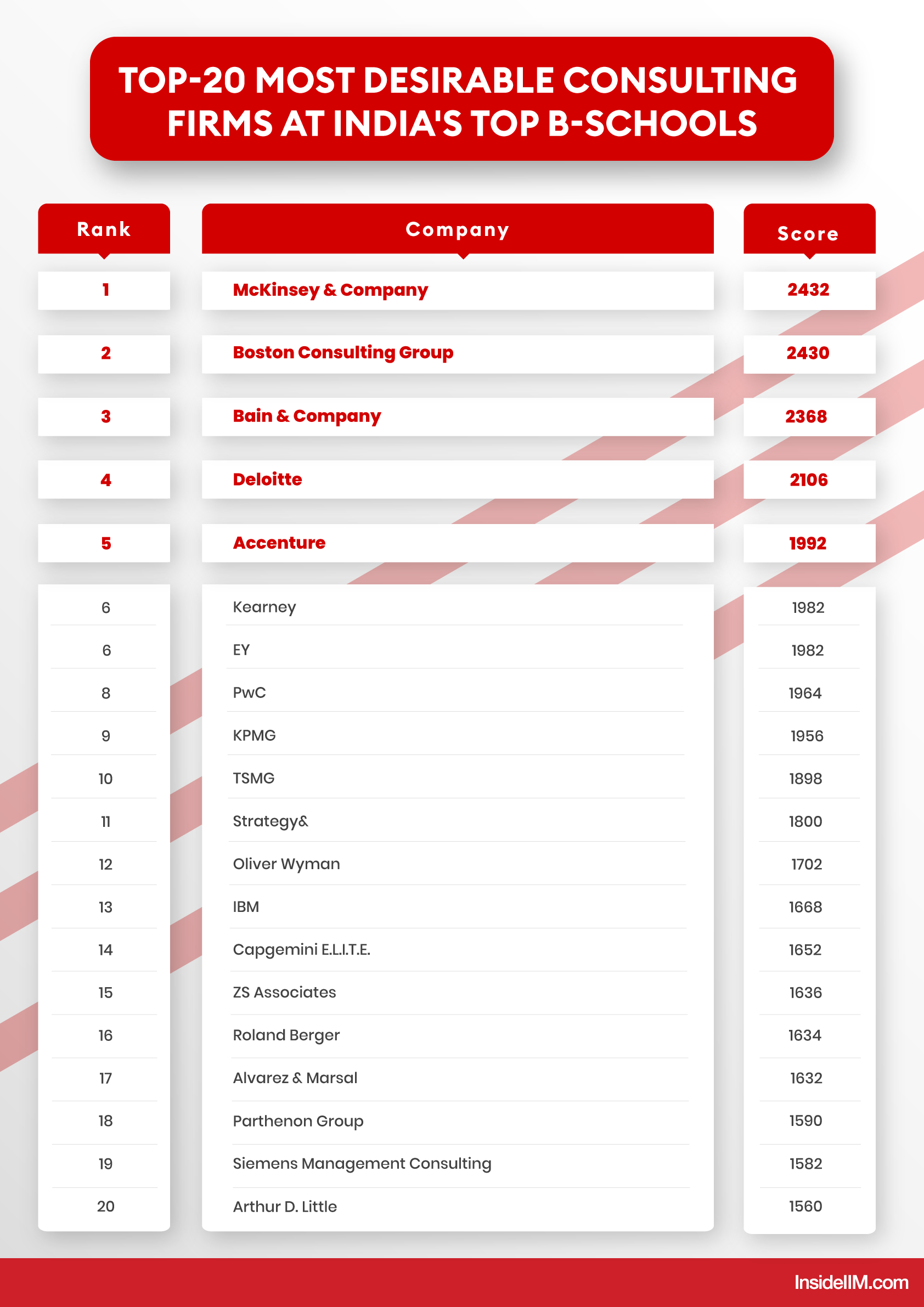 To no one's surprise, the MBB firms dominate the latest rankings. The Boston Consulting Group was pipped by McKinsey & Company for pole position, while Boston-based Bain & Company took the third spot in these rankings. These three firms have never slipped out of the top three since the inception of these rankings.
Deloitte, hot on the heels of Bain, comes in at the fourth position, followed by Accenture which is one of the largest recruiters on top b-school campuses. The big four, i.e., PwC, KPMG, EY and Deloitte feature amongst the top ten most desirable companies to work with for consulting roles. Also featuring amongst the top ten is Chicago-based Kearney, earlier known as A.T. Kearney before dropping the initials of its founder. The global firm has a rich history and is amongst the best paymasters for management consulting positions, which could perhaps explain its position in our rankings.
Also featuring amongst the top ten is the Tata Strategic Management Group (TSMG), which recently transitioned from offering its services to other companies into becoming the Tata Group's internal cadre of consultants. In the past three years, top minds from top consulting firms have been flocking to TSMG which has now officially become the strategy center of excellence for the Tata group. TSMG is also the only Indian-origin firm to feature in these rankings.
---
MBB Firms, Big Four Amongst Most Desirable Consulting Firms At Top-10 Indian Business Schools
While creating the rankings below, a simple filter for respondents from India's top-10 business schools was applied, and a weighted score was calculated. Respondents belonged to IIM ABCLIK, XLRI Jamshedpur, FMS Delhi, MDI Gurgaon, and IIFT Delhi.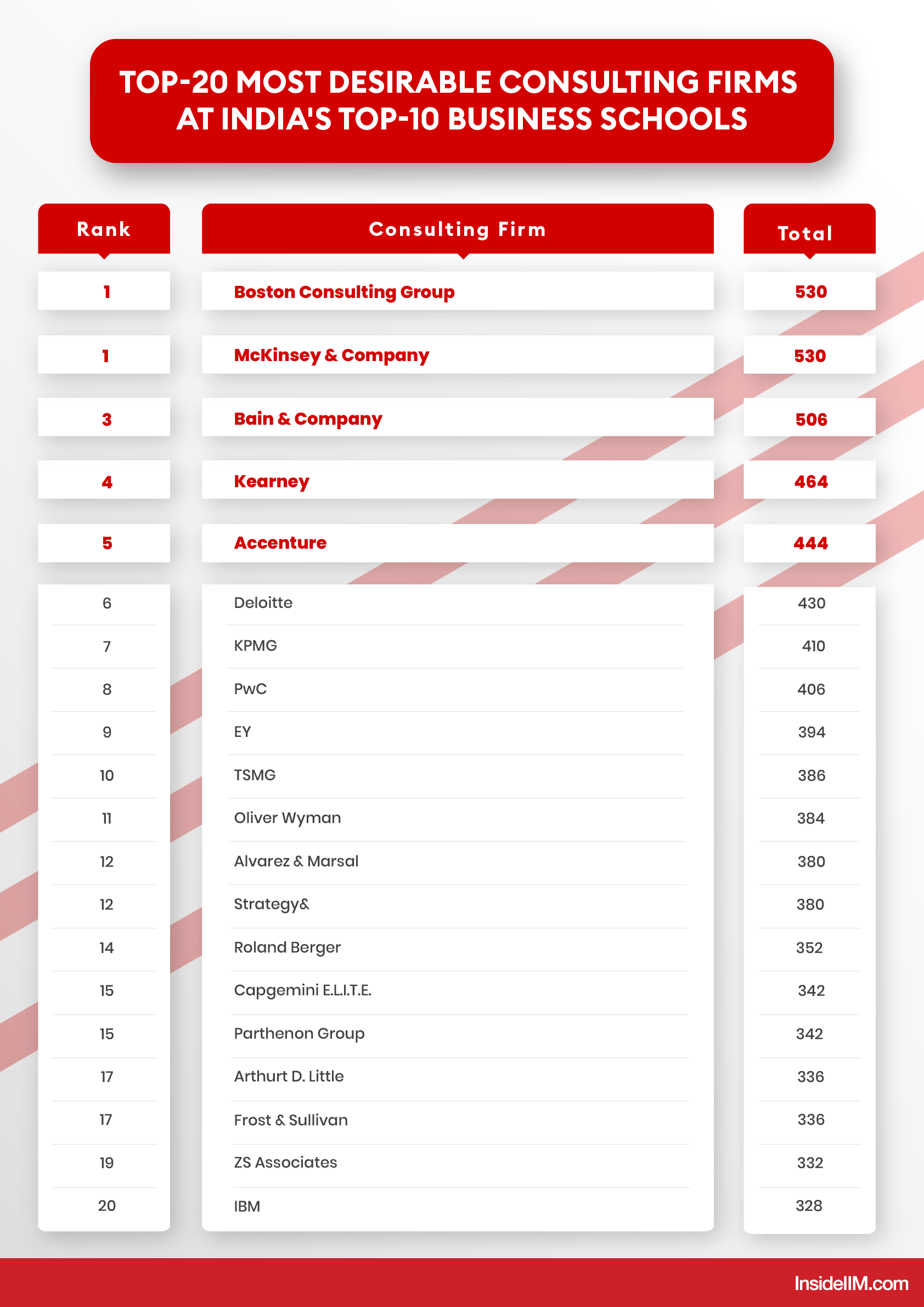 Compared to the overall rankings across all b-schools, there are only minor shifts in rankings, the most notable being Kearney slipping into the top five, replacing Deloitte. California-based Frost & Sullivan is a new entrant, not featuring amongst the overall top 20 rankings. Siemens Management Consulting has slipped out of the top 20 altogether. BCG and McKinsey have tied for first place at the top IIM and non-IIM campuses.
TSMG continues to be the only Indian-origin firm to feature in these rankings. When compared with the overall rankings, IBM has seen the biggest slip, dropping by seven positions but continuing to retain a spot in the top 20.
---
How We Created This Report - Methodology
In August 2020, we reached out to first and second year MBA students across India's top business schools to tell us about their thoughts on the b-school recruitment process. As a part of the survey, MBA students were asked to rate companies that belonged to their most desirable sector or offered roles in their most desirable domain. Based on the responses received, a weighted score was calculated to finally arrive at the rankings of the most desirable consulting firms on Indian b-school campuses.
Students responding to the InsideIIM Recruitment Survey belong to business schools like IIMs Ahmedabad, Bangalore, Calcutta, Lucknow, Indore, Kozhikode, as well as second and third generation IIMs. Respondents also belong to campuses such as FMS Delhi, XLRI Jamshedpur, SPJIMR Mumbai, ISB, MDI Gurgaon, SIBM Pune, IIFT, and NMIMS Mumbai amongst others. Other campuses include IMT Ghaziabad, SCMHRD, Welingkar, KJSIMSR, XIMB, IMI New Delhi, and the IITs.