The InsideIIM MBA Rankings - a list of the top MBA colleges in India, has been released for 2020! Find out why ISB continues to slip in our rankings, why SJMSoM IIT Bombay has been ranked better than an old IIM, and why SCMHRD has been the biggest gainer in the 2020 InsideIIM rankings of India's top MBA colleges!
B-school rankings are and have been one of the most influential factors in helping MBA aspirants decide which business schools to target, especially with the advent of the (infamous?) NIRF MBA rankings. In recent times, we have also discovered that campus recruiters visiting top MBA colleges in India include MBA rankings amongst their top-3 factors in deciding whether they should hire from a particular business school. We first came out with the list of India's Most Desirable B-Schools in 2018, and this is the third report in this annual series that has become extraordinarily popular within the MBA community.
Here is the list of the top MBA colleges in India in 2020:
Top MBA Colleges In India 2020 | InsideIIM MBA Rankings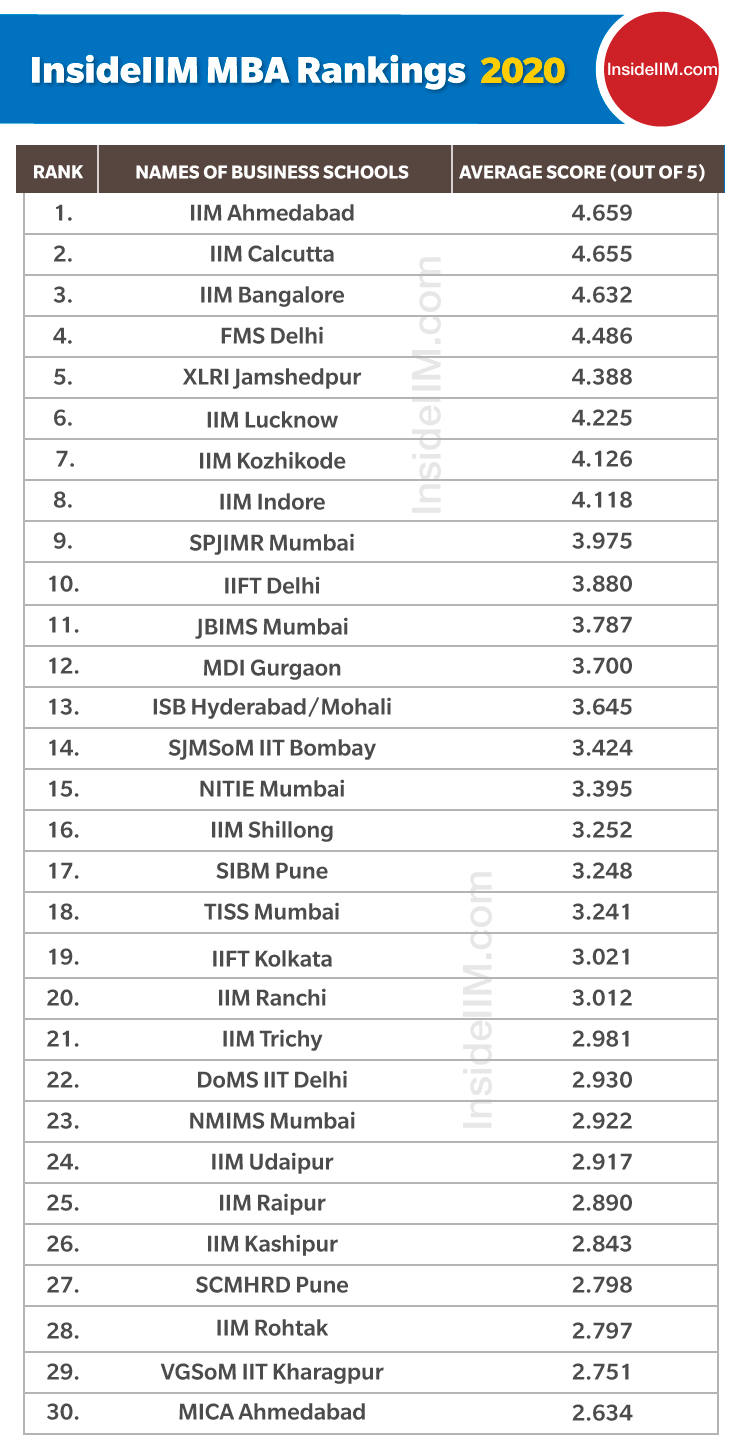 To establish these rankings of the top business schools in India, we adopted the opinion survey format of data collection. We floated a questionnaire to our aspirant user-base which simply asked them to rank MBA institutes across India on a scale of 1 to 5. We then computed average scores per institute to reveal the most desirable business schools.
InsideIIM has not factored in any other components such as RoI, Batch Size, Fees, Location etc. to compute the mean scores of these institutes. The scores are purely based on brand perception.
Read previous years' reports here:
Top MBA Colleges In India 2020 | Rank 1 To 15
---
The Meteoric Rise of SJMSoM In MBA Rankings
ISB Slips Down In Rankings - Too Expensive For The Average MBA Aspirant?
The other significant observation from the InsideIIM MBA rankings for 2020 has been the sharp drop in popularity for the Indian School of Business, which used to feature amongst India's top business schools till two years back. One major reason for this continuing fall could be the Rs. 36 lakh price tag that is attached to the 1-year PGP program at ISB. Despite being ranked as India's best business school by FT, clearly, MBA aspirants no longer view the institute as a lucrative option.
Return on Investment Is The Name of The Game - FMS, JBIMS Highly Desirable For MBA Aspirants
Return on investment seems to be on the minds of most MBA aspirants. FMS Delhi, despite increasing their fee for the MBA program to Rs. 2 lakhs, continues to be popular amongst aspirants and is preferred over XLRI Jamshedpur for the third consecutive year. Even after increasing their fees nearly ten-fold, FMS continues to be a high-RoI management institute, offering excellent placements and continuing to solidify their status as the 'Marketing campus of India'. JBIMS, another institute with a fantastic RoI, has missed out on the uber elite top-10 group by a whisker.
MDI, NITIE Rise In Rankings, XLRI Retains It's Reputation As One of India's Top-5 Business Schools
MDI Gurgaon, SJMSoM, and NITIE are the biggest gainers this year. NITIE Mumbai, having slipped in the previous year, has regained its position amongst India's top-15 management institutes, and is ranked above bigwigs like IIM Shillong and SIBM Pune. It is possible that, were the institute to open up admissions for the PGDIM program to applicants from all academic backgrounds, the institute could further improve upon its rankings and even reach the top-10.
XLRI Jamshedpur has been counted amongst India's top-5 business schools for the third consecutive year, and is one of the only few business schools that is viewed to be in the same league as that of the old IIMs. However, the institute continues to be unable to surpass FMS Delhi in popularity, and is unlikely to do so unless FMS sharply increases its fee for the MBA program.
IIM Ahmedabad, IIM Calcutta, IIM Bangalore Continue To Dominate MBA Rankings - Business As Usual
IIMs A, B and C have consistently been on top not just in our rankings, but in lists released by most portals. IIM Calcutta has, yet again, edged over IIM Bangalore.
Top 15 MBA Colleges In India 2020 - InsideIIM MBA Rankings 2020
Rank in 2020
Rank in 2019
Rank in 2018
Business School
1
1
1
IIM Ahmedabad
2
2
2
IIM Calcutta
3
3
3
IIM Bangalore
4
4
4
FMS Delhi
5
5
5
XLRI Jamshedpur
6
6
6
IIM Lucknow
7
7
8
IIM Kozhikode
8
8
9
IIM Indore
9
9
11
SPJIMR Mumbai
10
10
10
IIFT Delhi
11
11
12
JBIMS Mumbai
12
13
13
MDI Gurgaon
13
12
7
ISB Hyderabad/Mohali
14
17
16
SJMSoM IIT Bombay
15
18
15
NITIE Mumbai
Top MBA Colleges In India 2020 | Rank 16 To 30
---
SCMHRD Biggest Gainer, Rapidly Rises Up The Rankings To Enter The Top-30 Group
SCMHRD, having never been featured amongst the top-30 business schools in India, has been ranked 27th by MBA aspirants in terms of overall desirability. Amongst private institutes, the institute ranks 7th, putting it in the list of the top-10 privately owned business schools in India. SCMHRD has been the biggest gainer in this overall report on the top MBA colleges in India in 2020, rising up by 5 places compared to 2019.
TISS Mumbai Slips Out of The Elite Top-15 Group, SIBM Pune Moves Down Slightly
TISS Mumbai, counted amongst India's top-15 management institutes till 2019, has now slipped down by three positions and finds itself in the 18th position. Despite being a high-RoI institute with a small batch size, the institute has been ranked lower by MBA aspirants. SIBM Pune also finds itself ranked slightly lower as compared to its position in 2019, but only by a whisker and therefore not an alarming update for the institute. It is expected that, given the rate at which ISB is slipping down in rankings, SIBM Pune may find itself back on the 16th position in 2021, or could do even better.
IIM Rohtak, IIM Udaipur Slip Down In Rankings, IIM Ranchi Enters The Top-20 Group For The First Time
IIM Rohtak, which till two years back used to find itself amongst India's top-25 business schools, has continuously fallen in rankings and finds itself on the 28th position in 2020.
While IIM Rohtak sees itself slip down, its counterparts have only risen in rankings, with IIM Kashipur moving up two places compared to 2019 when it was ranked even below third generation IIMs. IIMs Raipur, Ranchi and Trichy have also moved up in rankings.
Last year, when not a single second generation IIM featured in the top-20 business schools of India, we asked the question - have these new IIMs diluted the IIM brand? IIM Ranchi has responded to our concerns with rising up the rankings and finding itself in the 20th position in this list of India's top MBA colleges - the first new IIM to feature amongst the top-20 in the InsideIIM MBA Rankings series. We are hopeful that these rankings improve further for the institute, and that more new IIMs follow suit.
VGSoM Enters List of Top-30 Business Schools, MICA Just About Manages To Retain Its Spot
VGSoM, an institute with a relatively low fee and a small batch-size, has significantly improved its rankings and is now counted amongst the top-30 management institutes in India in 2020, making it the second IIT in this report to have bettered its performance since last year. Could the IITs be on their way to dominating the MBA education space as well? That remains to be seen in further iterations of this report.
MICA has, for the first time since the inception of this series, slipped down in rankings but has managed to retain a spot in the elite top-30 group. Perhaps the launch of the new general PGDM program, in addition to their flagship PGDM-C program that is heavily marketing oriented, could go a long way in improving MICA's rankings.
NMIMS Mumbai Still Not Able To Break Into The Top-20 Club, IIT Delhi Slips Down
In 2018, SBM-NMIMS was ranked amongst India's top-20 business schools - an elite club reserved only for the most desirable management institutes of the country. In 2020, despite improving upon its ranking by one position, NMIMS continues to be unable to re-join the top-20 league. Contributing factors could be the extremely large batch size, the expensive examination process, and the increasing costs of the already expensive full-time PGDM program.
Top B-Schools In India 2020 | Rank - 16 to 30 | InsideIIM MBA Rankings 2020
Rank in 2020
Rank in 2019
Rank in 2018
Business School
16
14
14
IIM Shillong
17
16
22
SIBM Pune
18
15
17
TISS Mumbai
19
19
19
IIFT Kolkata
20
21
20
IIM Ranchi
21
22
24
IIM Trichy
22
20
21
DoMS IIT Delhi
23
24
18
NMIMS Mumbai
24
23
25
IIM Udaipur
25
26
26
IIM Raipur
26
28
27
IIM Kashipur
27
32
31
SCMHRD Pune
28
25
23
IIM Rohtak
29
31
28
VGSoM IIT Kharagpur
30
29
29
MICA Ahmedabad
Do you agree with these rankings? Which business school(s) do you feel has/have been incorrectly ranked? What in your opinion can be done to improve the InsideIIM MBA Rankings? Let us know your thoughts and suggestions in the comments below! We're happy to know what you think.
We know how badly you want to get into your dream b-school in 2020, and we also understand that the competition is really tough. But guess what - we're here to help you out with your WAT-PI preparation, and we'll do it completely free of cost! Interested? Then register for the Unilever Change Makers program and take one massive step closer to your dream MBA institute.