Here is a list of the top-10 for MBA aspirants. Read the full article for the top-25 for MBA students and MBA graduates!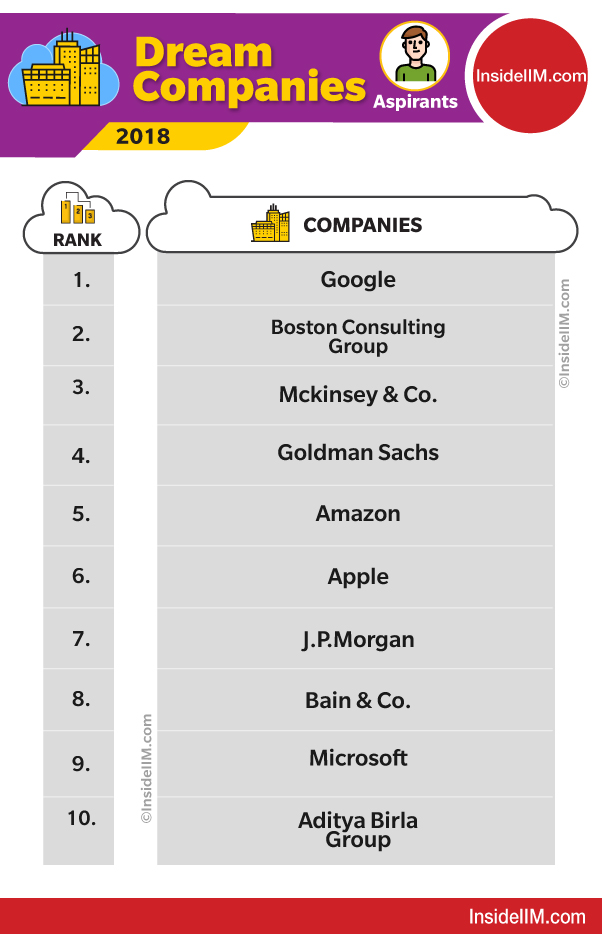 An MBA is one of the most sought-after post-graduation degrees in India. In 2018, 2.4 lakh people appeared for the CAT examination for taking admission in the elite IIMs. But what is all this actually worth? What is the level of job satisfaction in terms of work-life balance, compensation, job environment, growth prospects, etc. after you graduate from an Indian B-school? How happy are alumni really with the kind of jobs they have and the money that they are earning?
This report answers these key questions and many others. For instance, only 50% of our MBA alumni respondents found that the expectations that they had from their jobs actually turned out to be the reality. Nearly 1/4th of the respondents were actually completely dissatisfied with their jobs when looked at from the prism of the match between expectations and reality. Read more in this report.
Also take a look at the InsideIIM Alumni Report series for 2019, where we take a look at where the alumni of top B-schools are working today!
Sales & Marketing is the most sought after role at some of India's top management institutes such as FMS Delhi, MDI Gurgaon, and MICA amongst others. In this report on the top Sales & Marketing recruiters, we take a look at which companies across industries such as Technology, FMCG, Telecommunications etc. are the most desirable when it comes to Sales & Marketing roles.
Additionally, we also take a look at the top FMCG companies that MBA students and MBA alumni want to work with. We'll also give away the name of the #1 Consumer Goods company as ranked by the MBA community - Unilever; the company that has been right at the top since the inception of the InsideIIM Recruitment Survey. Take a look at the other companies in the top-10 here.
Consulting is one of the most desirable roles across B-schools, owing to the much higher-than-average pay packages and the glamour quotient associated with the industry. In this report, take a look at which firms make it to the top-10 most desirable Consulting firms in 2018/2019.
Here are the top-10 Consulting companies for MBA students: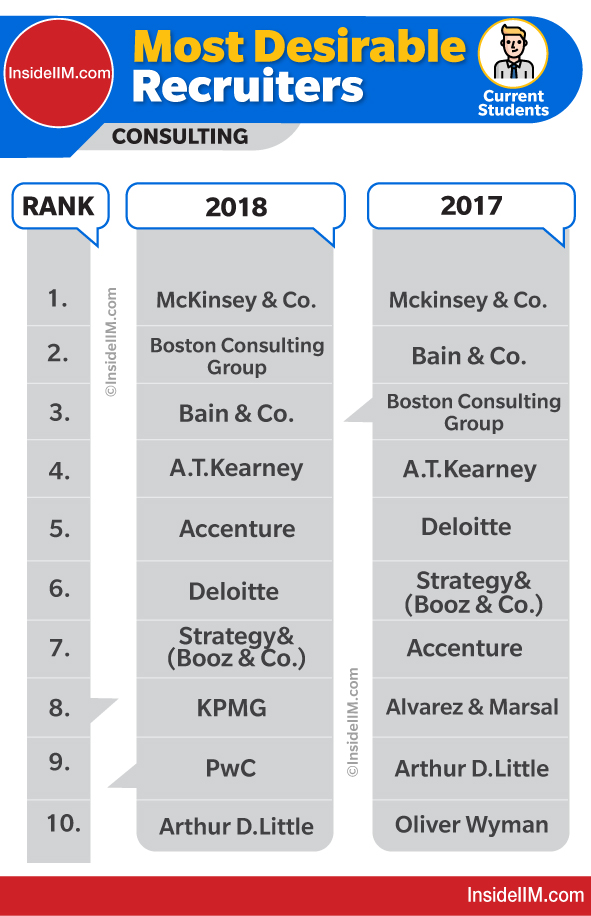 Banking and Finance is one of the most sought after roles at a B-school campus, perhaps second only to management consulting roles that have an equally (if not more) glamourous aura about them. At top B-schools such as the IIMs, FMS Delhi, MDI Gurgaon, JBIMS Mumbai etc., Finance roles have been the most desirable for students, as is clear from the placement reports of these institutes. In this report, take a look at the top BFSI companies for the MBA community.
Here are the top-10 BFSI companies across the globe, as per MBA aspirants.

Take a look at the overall rankings here.
Technology & E-commerce companies are some of the most valuable companies in the world. The Top-5 most valuable companies in the world are also companies that you will find in the same positions in this report on the Most Desirable Technology & E-commerce recruiters. This report takes a look at the Most Desirable Technology & E-commerce recruiters, as chosen by the MBA community!
Below are the top Tech & E-Commerce companies for MBA graduates in 2018, compared with rankings in 2017: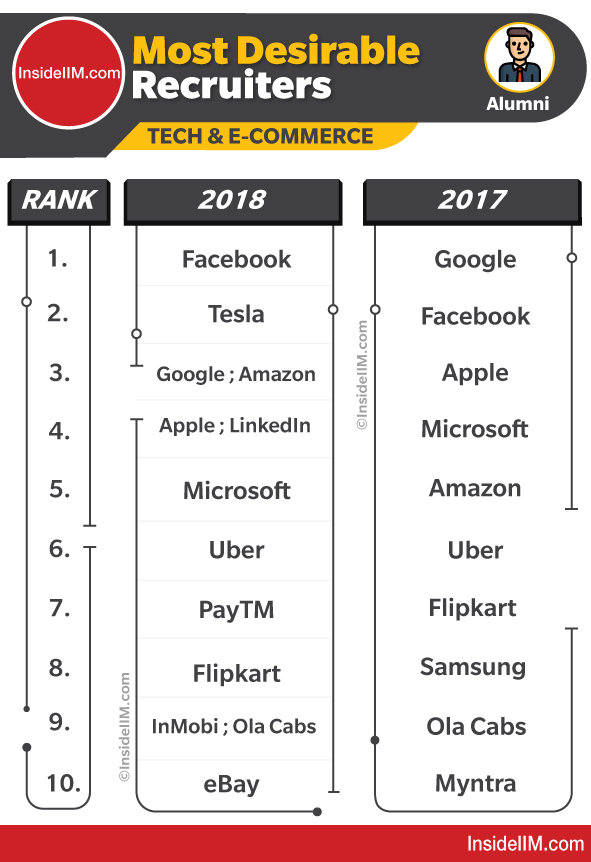 For MBA Aspirants
In 2018, we released our first ever B-school rankings and received an overwhelming response to it, which pushed us to release rankings for 2019! These rankings are based entirely on the brand equity of the top B-schools in India. A must-read for all MBA aspirants looking to set their target B-schools post-CAT 2019!
Here is a glimpse of the rankings for 2019 - top B-schools ranked between #16 to #30.
India's Best Colleges For MBA – MBA Rankings 2019 | Rank 16 – 30
Rank In 2018
Rank In 2019
Names of Business Schools
22
16
SIBM Pune
16
17
SJMSoM IIT Bombay
15
18
NITIE Mumbai
19
19
IIFT Kolkata
21
20
DoMS IIT Delhi
20
21
IIM Ranchi
24
22
IIM Trichy
25
23
IIM Udaipur
18
24
NMIMS Mumbai
23
25
IIM Rohtak
26
26
IIM Raipur
34
27
Third Generation IIMs
13
28
IIM Kashipur
29
29
MICA Ahmedabad
–
30
DoMS IIT Roorkee
Why MBA? For the money, of course! But beyond the monetary returns of an MBA, what is it that motivates and pushes MBA aspirants to take tough national entrance exams like CAT and enter a B-school? Is there something equally important as money that drives lakhs every year to pursue an MBA? Absolutely. Find out, in this report, what drives your peers to pursue an MBA, as well as the factors that are important to them while selecting a business school.
For MBA Students
Did you know, nearly half of the B-school students that responded to the InsideIIM Recruitment Survey were dissatisfied with the communication by recruiters around in-hand salaries? Or that over 60% of the respondents were heavily dissatisfied with communication by recruiters around even the basic selection criteria for job interviews! It's not a hidden fact - B-school placements are no rosy affair. In this report, you can find what MBA students in top B-schools really think of the placements process at B-schools, and what matters to them when choosing to sit for a job interview.
If you're a B-school student reading this, how many points by your peers and seniors do you agree with? Let us know in the comments!
What is the expectation for MBA students when it comes to the first in-hand monthly salaries that they receive after graduating? Are these expectations unreasonable and incongruent with industry realities? And what is the effect of the lack of communication by recruiters on such expectations? Find out in this in-depth article on salary expectations, as well as the most desirable cities to work in for post-MBA professionals, as well as MBA students.
What do you think of such salary expectations? What in-hand monthly salary would you expect after paying a huge sum to pursue an MBA? Let us know in the comments!
*****
If you liked this set of reports, you may also be interested in reading our Alumni Report series for different sectors, including Banking & Finance, Technology & E-Commerce, Consumer Goods, and Consulting.