Prof. Parama Barai is VGSoM, IIT Kharagpur's Professor of The Year 2020! An XLRI Jamshedpur fellow, Professor Barai has 8+ years of teaching and 6 years of industry experience. Discover why Professor Barai is a favourite amongst her students at VGSoM!
Note - The winner(s) of the InsideIIM Professor of The Year at any given campus has/have been chosen by current MBA students of that campus. The voting process began in the month of February 2020, and MBA students could nominate their favourite professors here. The professor(s) with the maximum number of votes has/have been declared the winner(s) in 2020!
Also, read - Here's Who DMS IIT Delhi Students selected As Their Professor of The Year In 2020!
Meet Prof. Parama Barai - Assistant Professor at VGSoM, IIT Kharagpur and InsideIIM Professor of The Year In 2020!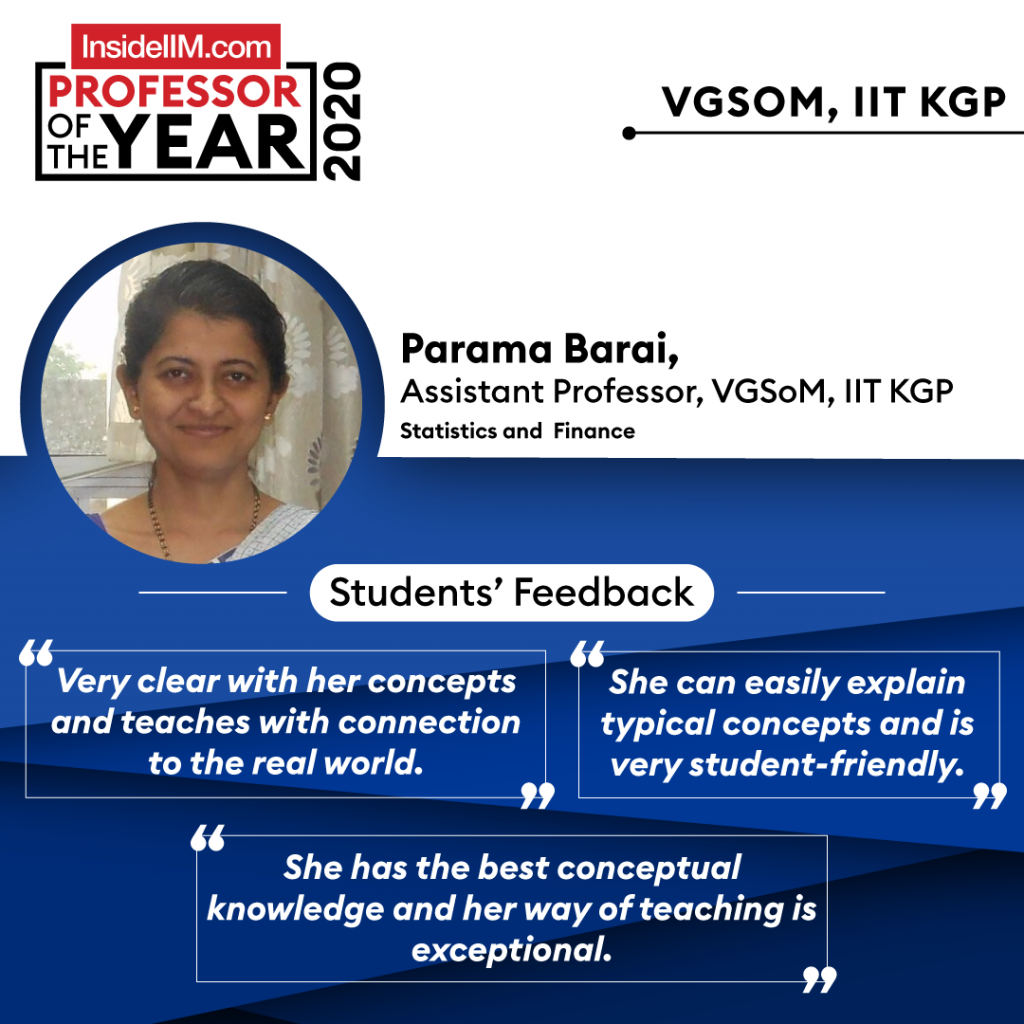 Parama Barai is an Assistant Professor and a faculty in finance. She teaches subjects like statistics, spreadsheet modelling and financial modelling. Her research interests include Investment Management, Financial Risk Management, Financial Analytics and Corporate Finance. Before joining VGSOM, she worked with Tata Steel for six years. She has published papers in journals and conferences, both National and International.
She has three publications under her name. First one is, "Time-varying industry beta in Indian stock market and forecasting errors" by Das, S. and Barai, P. International Journal of Emerging Markets (2015). The second one is, "A study on the antecedents and consequences of customer Delight by Dey, S., Ghosh, S., Datta, B. and Barai, P. Total Quality Management and Business Excellence, (2015) and Role of industry relatedness in performance of Indian acquirers - long and short-run effects by Barai, P and Mohanty, P Asia Pacific Journal of Management, 1-29 (2014)
Here's What Students Have To Say About Professor Barai!
"She is dedicated to teaching students the concepts of statistics and engages the students in the classroom with live assignments, sets interesting question papers and helps students in understanding case competitions."
"She explained the subject very well so that even a person with no prior knowledge in statistics could learn it easily and pick up the pace."
"Her methodology is unique and immersive. I learnt a lot from her before I had even realized about it."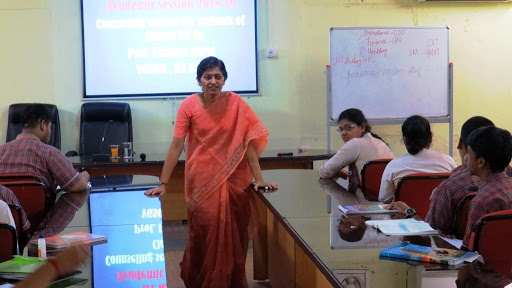 (Above) Prof. Parama conducting a class at VGSoM, IIT Kharagpur
The following are professors at VGSoM, IIT KGP who just missed out on winning the title of InsideIIM's Professor of The Year in 2020, but are still loved by VGSoM students:
Prof. Biswarup Ghosh: "He does case-study discussions in almost every class. He makes class very interactive and engaging. He even helps students with B-School competitions!"
Prof. Vimla Rani: "She explains concepts really well and gives adequate time for clearing doubts and is very student-friendly."
Prof. Srabanti Mukherjee: "Makes class interactive and concepts easy to understand."
---
Liked This? Here's What We Recommend What You Look At Next: