Why IIFT Is Not Just Another IIM
Strength lies in differences, not in similarities
–          Stephen Coley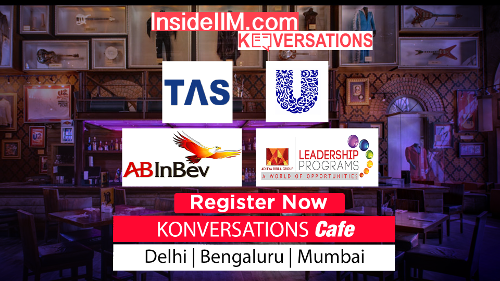 Many of my friends and colleagues have often had this one question in common irrespective of the discipline they belong to. How is IIFT different from any other IIM? I don't blame them. It is the nature of our education system that we see the ROI (read pay packages) and heritage (read longevity) as the factors to judge an institution of knowledge on the scale of competency and success. Howsoever flawed it might be, IIFT has often fallen into the trap of measuring its competency on the lines of other premier b-schools that have a different course to offer and pedagogy on papers as well as in principle. You cannot compare apples to oranges and hence, it is paramount for us to point out the differences between the two institutions (IIFT and IIMs) and list out the plethora of opportunities that only IIFT can offer.
First and foremost, to defunct the biggest misconception of all, IIFT does not stand for Indian Institute of Fashion Technology and neither we have so many female candidates that a fashion technology institution often commands (enjoys). IIFT as an institution was first conceived under the Ministry of Commerce in 1963 that came into being merely as a think tank for the Indian Govt to provide insights in the field of foreign trade, as there are multiple nuances that had to be taken care of.  It gradually grew as a famous abode for multiple intellectuals and experts that provided specific International Trade related courses to cater a niche field that was rapidly growing by leaps and bounds. IIFT soon became the playground of many civil service employees that have a limited understanding of International commerce and trade, and were the first breed of professionals that passed out of this, now famous, institute.
Post liberalisation, as the foreign trade grew, a need was felt for more number of professionals that had exclusive knowledge of Trade and commerce as there was no other institution in India, which offered International Trade related courses, or anything remotely close to that. IIFT really started to take off after 1991, when many graduates and working professionals rushed to take up any course on international trade from the most coveted and niche institute in the country. It was then, that the administration decided to initiate a course on the lines of an MBA program that provided a unique pedagogy that not only mirrored the rigour of a post graduate program on management but also imparted specialised insights in the field of International Trade and commerce. Therefore, you will find courses like Trade Analytics and International Finance Management only in a regular two-year residential MBA program, that is now ranked amongst the most sought after courses along with PGDM from IIM's.
As a former aspirant, I used to get fascinated by the brand IIFT and the course it was offering (MBA in International Business, sounds important!) but was woefully ignorant about the differences, or rather opportunities that this curriculum promised. After completing (rather scraping off) almost one year in IIFT, I can safely say that I have a competent understanding (and by no means an expert opinion!) as to what MBA (IB) offers me other than the quintessential degree that is being awarded in scores of other institutions.
A degree from IIFT allows you to explore the opportunities that are available to only selected few! The field of International Trade is one of the oldest and most skill driven domain that offers a high-flying career akin to any other sought after roles in the field of Finance or Consulting, with similar or in some cases, better-paying positions. The summer internship program in IIFT is the only course that offers hands-on experience to work in International Trade Organizations like WTO or OECD. It's no secret that the top four trading organisations in the world, hire exclusively from the stables of IIFT, and the highest pay packages transcend the pay packages being offered in top three b-schools in the country.
So, in the end, you still want to know what makes IIFT unique? Is it the tag of top trade school in Asia? Or is it the reputation of being the official think tank for the Ministry of Commerce? Or is it the niche courses that only IIFT offers set us apart? Or is it the combination of these factors. The answer cannot be in pure black or white. There are fifty shades of grey in between and the truth probably lies in one of them, but as the quote in the starting of the article depicts, our strength lies not in similarities, but rather the difference that we bring to the table, and that aptly concludes this discussion.
—————–
About the Author:
Divyansh Vashishth, MBA (IB) 2016-18, IIFT-Kolkata Campus