A lot is being said on selection criteria of B-schools especially IIMs and most people seem to oppose the change that management selection processes have undergone in last 2-3 years. However one should also look at the logical thought-process that directs these changes.
Good old days??? ……What was happening then?: Earlier apart from IIM Bangalore, all IIMs were selecting students on the basis of CAT scores; general trend was A-B-C-L-I-K, which implied that IIM I &K were not getting the CAT top rankers anyway. Later on all the IIMs had rapid seat increases, because of reservation norms and MHRD directives all the IIMs nearly doubled their intake. Apart from this many new IIMs also started their operations. The old approach appears to fail here because of administrative problems as well as problem of getting candidates filtered out by old IIMs.
Diversity: Industry is giving a lot of importance to diversity these days. Organizations are trying to enhance their talent pool by maintaining a diverse workforce. The penchant for diversity is not only driven by Research from Academia but within industry itself:- See Ernst & Young & Mckinsey & Co. Recruiters are given targets and Human resource department continuously endeavors to maintain certain gender ratio and other diversity indicators. B-schools which boast themselves for dynamically improving their processes to cater the industry can't remain passive in such case.
The push for non-engineers & female Continuing the above argument on diversity, every B-school prof. around the world will vouch for the fact that diversity enhances classroom discussions and learning. Diversity can be in form of gender, education, work-ex, nationality etc. Even if one focus on placements, in each placement season Placecomm members rack their brains to somehow showcase diversity in the brochure. As mentioned earlier companies try to inculcate a healthy diversity among the students recruited across the campuses. Additional marks that are given to some backgrounds/female is statistically arrived at after analyzing the applicant pool and is very much similar to extra marks given to people with work-ex.(anybody for fresher v/s work-ex debate?, after all quality of experience/profile is not checked at initial stage)
Individual IIMs cannot modify entrance test as per their own philosophy: In this highly competitive scenario and with increase in number of seats/institutes IIMs can't afford to produce assembly line managers. Each institute develops its own identity and expertise and hence caters to a special segment, like IIM-C in finance or IIM-A in Strategy. In order to find right student mix for such approach, ideally each institute should have different type of entrance test, but IIMs don't have this privilege. If one explores the entrance exams of MICA, TISS, XLRI & (FMS & JMET earlier) one can easily understand that how these tests are made in a way to select aspirants as per their philosophy. This is also the reason why many institute give unequal weight to different CAT sections. In any selection process validity (construct and concurrent specially) is very important. Many studies in IITs/IIMs and other top institutes have repeatedly showed that "there is strong correlation of performance in b-school with previous academic performance and none with scores in entrance tests."
The Application rating & '69-71' problem: Just a small gap in 10th/12th marks and a big difference in application rating. Well on surface the problem seems to be big and can drive emotions. But that's not how business decisions are made. Consider the application pool, among them how many would have 69/79 types of marks, among them how many will actually score the sufficient percentile to get a call and among these how many will actually lose a call because their application rating was poor (i.e. other factors didn't compensated for this rating loss). The number of such cases will be very small and their occurrence is statistically not significant enough to alter a policy. Rules are not made by exceptions. Additionally Rating is a yardstick, it's just showcases academic & professional quality of applicants and it doesn't matter how much you score, until you are above a certain rating point.
The Normalization of grades/percentages: Most of the institutes (e.g. IIM-K & S) use statistical tools [mainly mean (µ) and standard deviation (σ)] to compare and standardize the scores across boards/streams. Standardization and normalization are very important for equitable treatment of candidates exposed to different condition. Think this way; your own 99%ile in CAT is effect of a normalization process. IIM-A application rating however uses absolute score, but it should be kept in mind that it can be compensated by other parameters and as mentioned earlier and it doesn't matter how much you score here, until you are above a certain rating point. It should be noted that people who got marks in higher 80s or 90s and got less scaled score in IIM-K scorecard, it's just because your percentile in your respective boards is less. IIM-B has been using similar scaling process for long time; only thing is they don't have such high weightage for 10th/12th marks.
Why not profile screening like foreign B-schools: One simple reason is IIMs receive far more applications (that too with 100% overlap) than the Ivy-league. One way to overcome this could be profiling of applicants who obtain a minimum score. SPJain-Mumbai selects candidates on similar lines, but if someone explores the SPJAIN selection forums for last 4-5 years in websites like Pagalguy one would find hundreds of posts from students who got rejected, writing about their profile and showing discontent with selection policy. Same is true with Foreign B-schools also, only thing is most of us don't visit such forums. Now imagine IIMs following the similar process, multitude of RTI applications and court cases will be in pipeline after the selections. However institutes like SPJain & ISB Hyderabad are immune to RTI. This forces IIMs to go for an objectively quantifiable profile screening.
The struggle after entering the B-school: The significance of consistent academic performance can be understood only after entering a B-school. People with poor academics, either earlier or currently struggle to get good offers in summers & final placements. Keep in mind that even in same campus for each guy going to BCG and Mckinsey, there is a guy going to a god-damn company I don't want to name here. The Guy who generally gets these coveted offers is from the "academically consistent" category. People who are keen to get into "hallowed portals" or get a brand attached, please understand the harsh realities of B-school placements. Once you enter a B-school you will also realize that criteria used by companies for selection is apparently much more random. Why most educational websites & coaching classes are telling you a poles-apart fairytale (and also opposing the changes in selection criteria), it's just because their incomes depend on you, but as you mature professionally you will realize that "There is no such thing as free advice".
Notes: Some of the terms used may be technical in nature and readers are requested to visit the hyperlink if required for complete understanding.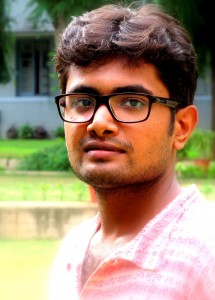 (The author is an HRM student at XLRI –Jamshedpur. A 99-percentiler in XAT, Anusheel is alumnus of MANIT-Bhopal. After graduation he worked for a leading oil & petroleum sector consultancy. He has profound interests in Training & coaching. Anusheel is also a freelance photographer and writer)
You may also like to read articles by other XLRI alumni:
Other articles by Miti Vaidya here