XLRI as an institute has always been a flag-bearer of inculcating a spirit of Social responsibility and ethical code of conduct in its students. With its various initiatives in diverse social spheres, XL has definitely shown the world that the "Magis", we talk about in our mission statement, is not just a word but a way of living.
Let's have a look at different accomplishments by the institute and student community in the same direction.
GIVING BACK To Society-How we do it at XLRI
Village Exposure programme
As the term started in June, we were sent for a village trip in groups. It was dismaying to see the social gap within a few miles range. This programme is a step in direction of bridging the rural-urban divide and grooming future leaders with a conscience and empathy for the disadvantaged. This is XLRI's way of making future managers socially responsible. This is meant to orient them to the situation in rural India from the very beginning. It's more than exposure — we had to stay there, live with the villagers and eat with them. For most of us, who come from a predominantly urban upbringing and have limited exposure to village life, it was a rude shock.
Joyfest or the Joy of Giving Week is organized every year at XLRI. The campaign has initiatives, which aims to promote acts of kindness like giving one's time, money and skills freely to the needy. This year, a group of XLRI students recycled used A-4 sheets into notebooks, which were distributed to schools for the underprivileged. Students also trained village women in business development skills. Event ended with JGW concert by Bodhitree, the college band.
The Silent Auction: A fund raising activity in which, both students and faculty unreservedly participated. The silent auction saw donation of objet d'art like paintings, artifacts, clay-work, wall-hangings etc. and services such as providing wake-up calls, cleaning of room, teaching bike riding, photography. However as it turned out "take me on a date", by a senior girl was something that realized highest bid. Foreign exchange students also came forward in the initiative and auctioned services like- French lessons and Belly dance tutorials.
Groups of XL students performed Nukkad Natak (street plays), at various public places to raise awareness on social issues and on JOY OF GIVING. "I am always interested in dramatics, but doing a street play for a cause, gives an immense sense of satisfaction" says Ankita Sharma a first year student in HRM.
Street beautification drive: A bunch of students decided to take the initiative to the roads. We as a nation are infamous for using road side walls for all the wrong reasons. XLRI students decided to change this. With mops in their hands and hankies on their nose, they cleaned up a big length of a roadside wall in broad daylight to make a strong statement to the public of Jamshedpur. Later in the day they used their artistic imaginations to paint the wall with striking colours. "I have tried my hands on canvass, however wall painting gave me a feeling that I have done something worthwhile for my city and community at large" exclaims an animated Smriti Khanna, another junior student.
XL teaches: First year students of XL visited different schools in Jamshedpur and gave guidelines on career decisions to over 1500 senior school students.
Teaching tribal students for XAT/CAT: Many XL students were seen with quant books and mock XAT/CAT papers a couple of weeks before the entrance season started. No they were not planning to give XAT again, but were teaching some tribal students, who wanted to pursue their higher studies in management. Prateek Seth, the quant God at XL was most sought after teacher. According to Sandeep HS, a BM student- "Some of the students showed good flair; they could reach great heights, if right facilities and apt guidelines are provided to them"
BCLP (Basic Computer Literacy Program): We call students from local schools every Sunday and teach them basics of Microsoft office and Internet.
Many other sundry initiatives like medical camp, Bike-rally & Mini-marathon for sensitization of community etc. are also organized by XL.
A Core course in "business ethics and corporate citizenship"
XLRI is one the first institutes to have a core course in ethics. As per Father E. Abraham, the director of XLRI-Jamshedpur, the role of ethics in the B-school syllabus has become even more relevant in an environment of corruption in both the government and private sector in India. XLRI believes that, if implanted with a sense of ethics, professionals will certainly think twice before undertaking wrong business practice.
Social entrepreneurship
XLRI has signed a memorandum of understanding (MoU) with California-based Santa Clara University (SCU) to promote and foster social entrepreneurship in the country.
Each year GSBI screens and selects around 15-20 social ventures from across the globe and incubates them by providing technical inputs, mentoring support and some grant to make them investor-ready.
Since its inception in 2003 there have been about 30 GSBI alumni social ventures in India, which include some of the globally well-known organisations such as Gram Vikas, Jaipur Rugs, Drishtee, Mother Earth, Husk Power Systems, Video Volunteers, Naandi Foundation, etc.
As the Indian partner, faculty from XLRI provides post-incubation mentoring support to the Indian social ventures. XLRI Jamshedpur will be organizing its 4th National Conference on Social Entrepreneurship from January 27 to January 29, 2012.
"All the social works done by XL students are done primarily under the aegis of SIGMA (Social Initiative Group for Managerial Action) and also under CII-YI (Confederation of Indian Industries- Young Indians). Street plays are coordinated by DRACULA (Dramatics and Cultural Association of XLRI)"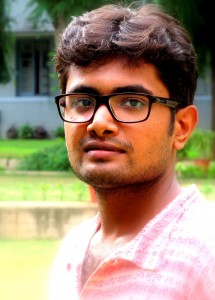 (The author is an HRM student at XLRI –Jamshedpur. A 99-percentiler in XAT, Anusheel is alumnus of MANIT-Bhopal. After graduation he worked for a leading oil & petroleum sector consultancy. He has profound interests in Training & coaching. Anusheel is also a freelance photographer and writer)
You may also like to read articles by other XLRI alumni:
Other articles by Miti Vaidya here