A for Apple, B for Ball
C for Cat, D for Doll.
It sounds familiar, right. Every possible soul reading this article has started his/her English classes back in the school with these words. But wait, C for Cat? Did it ring the bell? It's the thing that led some of you here and will lead some others in future. Well, let's update our school days' vocabulary with the b-school one. These are the words that will hover over your mind and become a part of your daily vocabulary as soon as you place yourself on the name-plated desk (so typical of a b-school).
So, we shall begin with the word that has been buzzing our ears and our relatives mind since the phenomenon of examination happened to us: Grades or GPA. Before joining, I used to live with the belief that the life in a b-school will be more practical-oriented than theoretical. But the abundance of bookworms, grade-thirsty students offering cut-throat competition have gravely proved me wrong. And to add to the nightmare arrives the concept of "relative grading", which was introduced to give a glimpse of competition in the corporate world. Well, apparently you are not only graded just on the basis of your answers in the examinations but also on how much you "actively" participate in the class discussions, the process affectionately christened as "Class Participation" or CP, as we call it. The more you give your valuable inputs the more marks you get and the more popular you become. And a LoC exists there as well that demarcates between CP and DCP i.e. Desperate Class Participation, where you participate to overpower your presence over others.
For a b-school grad, there is one thing that becomes an integral part of their daily routine, Quizzes. Initially you will feel like getting bombed every now and then with the mails of these Quizzes which are mostly very short-noticed but with each passing day, your mind and body will get in tune with these hectic schedules and you will know how to cope up with the terror of these quizzes and in fact, by the time you end up completing your first year the quizzes will be just another thing (P.S. toppers are exception). In a b-school, you just don't breathe oxygen you inhale competition too. Off the academic arena, you will be put forth to fight with the rest of your batch-mates to grab the belt of PORs, i.e. Positions of Responsibility (in MBA we love giving nicknames). The trigger for this blind race lies in differentiating yourself from the crowd. Well, frankly, being a two-POR holder, I cannot still comment on the differentiation part but yes if you are sincere and hardworking, nobody can stop you from the plethora of learning and networking opportunities that you will get.
Could not manage to get good grades? Could not become a POR holder? No worries. There is a third weapon to your rescue: Case Competitions and Live Projects floated by the companies. In this regard, you are tested on the basis of your ability to analyse the challenges and provide feasible solutions to combat them. And here, you will get a chance to compete with the best-brains around the country. So a serious participation will not only enable you to pile up your resume points but will also kindle the birth of a solution-seeker in you.
But what is the need of all this differentiation, be it through academics or PORs or Competitions? Placements, a simple answer for such a tangled process. Right from the beginning till an offer is secured at the hand, each drop of sweat is mostly (read mostly) dropped to grab the job of your dream.

And I saved it for the last, the word that has become the mantra of MBA, "globe". What jugaad is to engineering, globe is to MBA. Whether you manage to imbibe anything from finance, marketing or operations matter very less as compared to your ability to learn how to globe which is a major takeaway of a B-school life. Globing basically refers to the ability to speak anything but the thing that makes sense to the topic being discussed. The art of globing helps you save face in many situations, be it when you are in the race to score in the CP component or when you are presenting an under-prepared "outsourced" presentation in the classroom.
This vocabulary list of a B-school is basically aimed at enlightening the CAT aspirants who will soon be living them in a few months. The sources have been taken from all my gyaan accumulated at the back of my head during the first year at Planet-I. But MBA is much more than this. At the end, it all boils down to how you perceive it. You need to run, a lot, but in MBA each day is fun.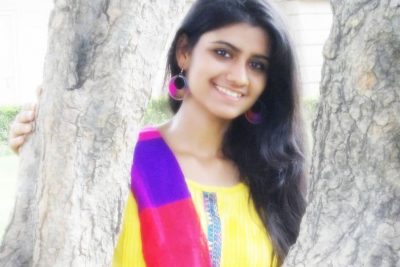 "Paint Sing Write Dance, Give life Another Chance", These words pretty much sum up the author, Sindhuja Gantayet. A Civil Engineer from NIT Rourkela and currently pursuing Post Graduation Programme in Management from IIM Indore, she loves to try her hand in most of the things she could. Though academics is her priority but her passion lies in dancing. She loves to scribble, be it on canvas or on paper. Art, she believes, is a wonderful way of expressing the unexpressed feelings. Poetry becomes her companion in solitude. An optimist by heart she believes in this quote by Hellen Keller: Keep your face to the sunshine and you cannot see a shadow.